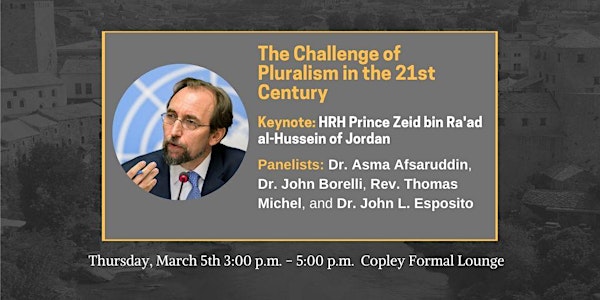 The Challenge of Pluralism in the 21st Century
Event Information
Location
Copley Formal Lounge
3700 O St NW
Georgetown University Main Campus
Washington, DC 20007
Description
Hosted by Georgetown University's Alwaleed Center for Muslim-Christian Understanding
The Challenge of Pluralism in the 21st Century
Featuring Keynote Speaker Prince Zeid bin Ra' ad al-Hussein of Jordan and four distinguished panelists.
_____________________________________
Thursday, March 5, 2020
3:00 p.m. to 5:00 p.m.
Copley Formal Lounge
Georgetown University Main Campus
3700 O St NW, Washington, D.C.
_____________________________________
Keynote: HRH Prince Zeid bin Ra'ad al-Hussein
Prince Zeid bin Ra'ad al-Hussein of Jordan served as United Nations High Commissioner for Human Rights from 2014-2018. He was a central figure in the establishment of the International Criminal Court, and is currently Distinguished Global Leader-in-Residence at University of Pennsylvania's Perry World House, and Chair of the International Olympic Committee's Advisory Committee on Human Rights. In 2019 he joined the likes of Ban Ki-moon, Ellen Johnson Sirleaf, and Juan Manuel Santos as a member of The Elders, an independent group of global leaders working together for peace, justice and human rights founded by Nelson Mandela.
_____________________________________
Panelists:
Dr. Asma Afsaruddin is a professor of Near Eastern Languages and Cultures in the Hamilton Lugar School of Global and International Studies at Indiana University, Bloomington. She is the author of Contemporary Issues in Islam (Edinburgh University Press, 2015), Striving in the Path of God: Jihad and Martyrdom in Islamic Thought (Oxford University Press 2013, winner of the World Book Award in Islamic Studies from the Government of Iran), The First Muslims: History and Memory (Oneworld Publications 2008, winner of the Dost Award, Turkkad, Istanbul), and Excellence and Precedence: Medieval Islamic Discourse on Legitimate Leadership (Brill 2002).
Dr. John Borelli is Special Assistant for Catholic Identity and Dialogue to President John DeGioia at Georgetown University. He served over 16 years at the Secretariat for Ecumenical and Interreligious Affairs at the U.S. Conference of Catholic Bishops, and was a consulter to the Vatican's Pontifical Council for Interreligious Dialogue for 17 years. Author of five books and over 200 articles, today, he maintains relationships for Georgetown University with the Council for Interreligious Dialogue and with the Pontifical Council for Promoting Christian Unity, the Pontifical Council for Culture, the Pontifical Institute for Arabic and Islamic Studies, and other offices in Rome.
Rev. Thomas Michel, S.J. is Vice President for Academic Affairs at the Xavier Learning Community in Chiang Rai, Thailand. He served as Head of the Vatican Office for Relations with Muslims (1981-1994), Secretary for Interreligious Affairs for the Catholic Bishops of Asia (1994-2008), and faculty member at Georgetown University School of Foreign Service in Doha, Qatar, and taught for many years in Indonesia, the Philippines, Europe, and Turkey. Fr. Michel is author of numerous articles and books, including A Christian View of Islam (Orbis 2010) and Reflections on Said Nursi's Views on Muslim-Christian Understanding (Istanbul 2005).
_____________________________________
Respondent:
Dr. John L. Esposito is the Founding Director of the Alwaleed Center for Muslim-Christian Understanding and is currently a university professor within the Edmund A. Walsh School of Foreign Service at Georgetown University. Former President of the American Academy of Religion and the Middle East Studies Association, he has published over 75 books, and received numerous awards, including Georgetown's Distinguished Career Research Achievement Award and the American Academy of Religion's Martin E. Marty Award for the Public Understanding of Religion, and five honorary degrees.
Date and time
Location
Copley Formal Lounge
3700 O St NW
Georgetown University Main Campus
Washington, DC 20007