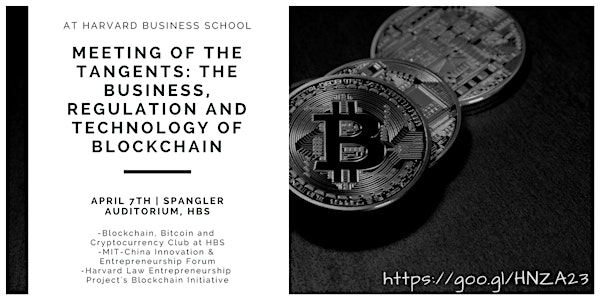 The Business, Regulation and Technology of Blockchain Conference at HBS
Location
Aldrich 112, Harvard Business School
Harvard Business School
Boston, MA 02163
Description
Blockchain, Bitcoin and Cryptocurrency Club (a Student Club of Harvard Business School)'s first annual conference, held in conjunction with MIT-China Innovation & Entrepreneurship Forum and the Harvard Law Entrepreneurship Project's Blockchain Initiative.
Sponsored by: Circle (https://www.circle.com/en/) and Z-Park Innovation Center
Official Media Sponsor: BlockPulse 360 (https://www.blockpulse360.com)
Thanks to our featured industry sponsor Circle, all attendees who check in at the event will have their tickets refunded in Circle Pay credit!

Join us for keynotes and four panels featuring proven industry entrepreneurs, investors and other thought leaders to discuss a variety of topics:
Opening Keynote
What is the Intrinsic Value of Digital Assets?
How Should ICOs be Governed?
Keynotes
How Will Smart Contracts Change the World?
What is the Killer App on Blockchain?
Closing Keynotes
Speakers include:
Amber Baldet (J.P. Morgan)

Andy Bromberg (

Coinlist)
Anil Advani (Inventus Law)
Bennett Collen (Cognate)
Caitlin Long (

Wyoming Blockchain Coalition

)

Darren Marble (

CrowdfundX)

David Yermack (NYU Stern)

Elisabeth Carpenter (Circle)

Evan Schwartz (ILP & Ripple)

Ignacio Fuentes Ribas (MIT Sloan)
Jared Tate (

DigiByte

)

Jennifer Jiang (

Z-Park Innovation Center)

Joe Raczynski (

Thomson Reuters Practical Law)

Joshua Klayman

(Wall Street Blockchain Alliance)

Kendrick Nyugen (

Republic.co)

Lee Schneider (

McDermott, Will and Emery)

Mark Wetjen (DTCC)

Miha Grcar (

Bitstamp)

Milan Koch (Alphanode Capital

)
Navroop Sahdev (

MIT)

Patrick Murck (Cooley)

Patrick Stanley (Blockstack)

Ryne Miller (

Sullivan and Cromwell)

Vojta Drmota (Harvard College)

And more...
Registration gives you access to panels, keynotes, lunch and a networking reception to close the day.