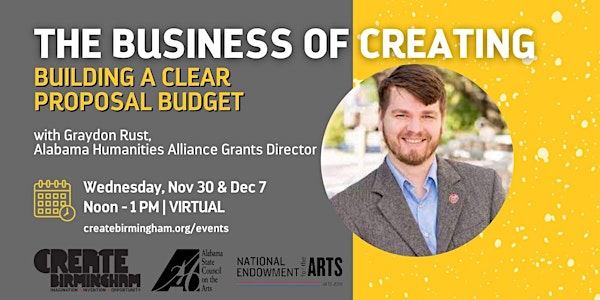 The Business of Creating: Building a Clear Proposal Budget (Part 2)
Demonstrating your financial plan for a project is just as important as your description of the work itself.
About this event
How do you craft a budget to meet your needs that is clear and achievable, especially when different budget templates are required for different applications?
Join us for The Business of Creating: Building a Clear Proposal Budgetwith Graydon Rust, Alabama Humanities Alliance Grants Director.
___
The Business of Creating, our virtual webinar & workshop series for artists and arts and culture organizations, is back this fall with a focus on successful grant writing. Each month will tackle a key element of grant proposals in two parts.
The first session each month will feature a presentation from an expert in the field that includes a take-away exercise and an opportunity for Q&A. The second session each month is a group workshop for feedback on the completed exercise. Each session lasts one hour, and participants are invited to book 1-on-1 Office Hours with Create Birmingham staff for additional follow-up.
The series is free, but space is limited. Register early to secure your spot!
This program has been made possible by grants from the Alabama State Council on the Arts and the National Endowment for the Arts.