Description
There's a lot to think about, know, plan for, and consider when running a business. We've got the no-nonsense business essentials you need. In this panel, you will get the critical information you need as it relates to legal, accounting, human resources, and marketing from a panel of experts in their fields. After listening to the panel you will be armed with the resources and tools to address the business essentials that apply to you.
Schedule
6:00-6:45 - Registration & Networking
6:45-6:50 - Introduction by WOD leadership
6:50-7:30 - Workshop with icebreaker and learning activities (40 min)
7:30-7:50 - Breakout discussions with 3-5 attendees
7:50-8:00 - Debrief and closing
+ Light appetizers and refreshments will be served
++ Parking is available in the adjacent lot at Forty45 Coworking
PRESENTERS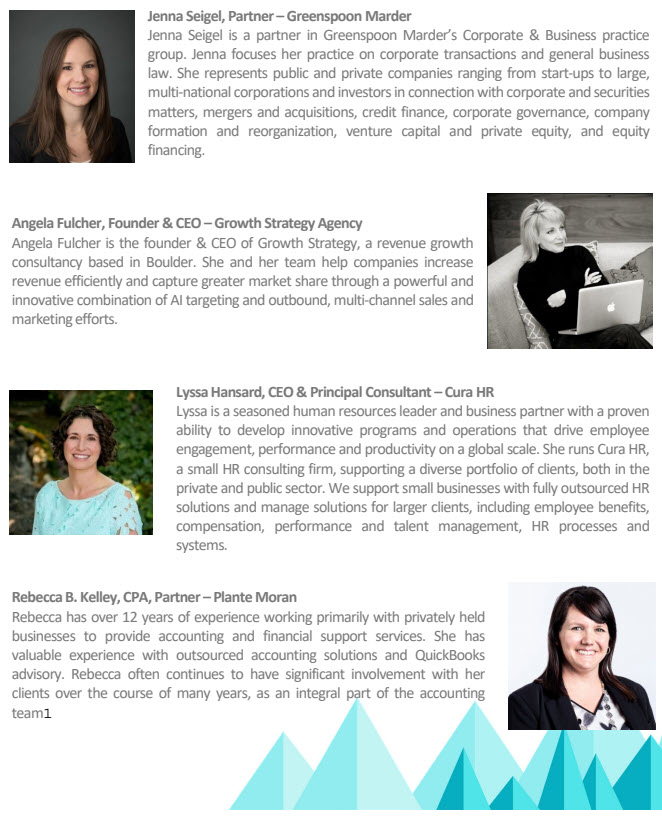 ABOUT WOMEN OF DENVER ENTREPRENEUR TRACK EVENTS
Our small business training provides education to support revenue growth by building sales acumen, increasing financial knowledge, and connecting entrepreneurial leaders for feedback and collaborative business opportunities.
ATTEND OUR EVENTS COMPLIMENTARY
Become a Women of Denver Impact Member and get access to all of our events for only $35 per month. Become a member today.
Exchange/Refund Policy: Event exchanges are accepted at anytime prior to the event. Please email hello@thewomenofdenver.com to request a coupon code for future event use. Refunds are accepted up to 24 hours prior to the event and will be provided within 72 hours of request with the Eventbrite fee (Usually between $3-7) deducted from the total.