Description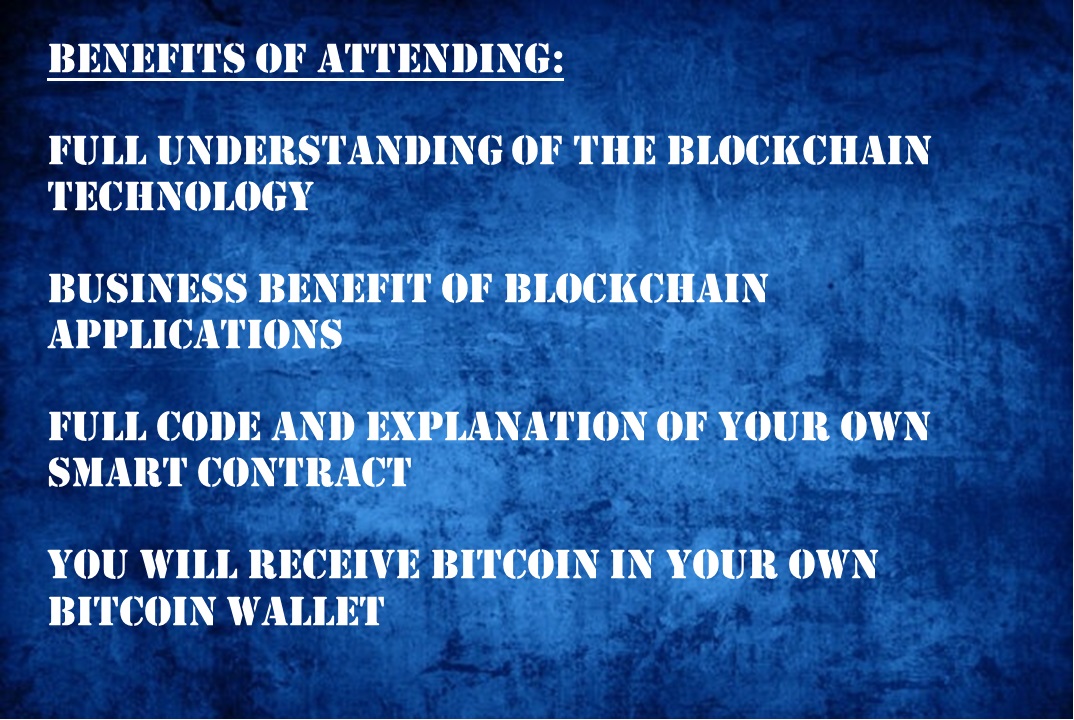 ---




---
Full Course Curriculum
---


09:00AM TO 09:30AM REGISTRATION AND WELCOME


BLOCKCHAIN FUNDAMENTALS
Definition and Advantages
Smart Contracts
Applications covering Stampery, Steemit, Qeditas, Ethereum, Bitcoin
Hands-on demo
BITCOIN IN REAL WORLD
History and relation to currency
Hands-on demo and examples from real world
Coinbase, Blockchain.info, Dash, Namecoin
Hands-on demo
SMART CONTRACT TECHNICAL AND BUSINESS ESSENTIALS
Ethereum basics
Intro to Smart Contract & Examples
Programming A Smart Contract
Hands-on demo


CRYPTOGRAPHY BASICS
Use Cases
Public And Private Keys
Hashes
Hands-on demo
12:00PM TO 01:00PM NETWORKING LUNCH


ETHEREUM TECHNICAL FOUNDATIONS
Bitcoin 2.0
History
World Computer
Hands-on Demo
PRIVATE BLOCKCHAINS & SECURITY CONCERNS
Private Blockchains & Hyperledger
DAO & Mt. Gox Attacks
51% Attacks & Centralization
Hands-on Demo


FUTURE OF BLOCKCHAINS
Legal Battles
Decentralized Governance
Anonymity & Scalability
Hands-on Demo
04:50PM TO 05:00PM CLOSING REMARKS & CERTIFICATES AWARDING CEREMONY
---
Course Developer and Presenter
---


Christian Seberino, Ph.D., is co-founder of Blockchain Partners in London, UK. He is also an adjunct professor at a community college as well as a secondary school instructor in computer science, computer programming, mathematics and natural science. He has done classified cryptography and networking software for the National Security Agency (NSA). He has also held various other technology positions over more than two decades in industry, government, the military and academia including Google, Qualcomm and the Space and the US Naval Warfare Systems Center. He has deep knowledge of blockchains and teaches all levels from beginner to developer.
Dr. Seberino develops blockchain educational programs for Input Output, one of the premiere companies in the blockchain space. He is also a well known figurehead in the Ethereum Classic blockchain technology community.
His blockchain related podcast show "Let's Talk ETC!" is currently watched all over the world. Dr. Seberino not only understands the technologies extremely well, his decades of experience as a teacher means he can deliver the knowledge you need to deep dive into this technology, accelerate your business, eliminate world poverty and much more!
LINKS:
Blockchain Partners - blockchain-partners.com
Input Output (IOHK) - iohk.io

Webinar "Let's Talk ETC!" https://www.youtube.com/playlist?list=PLKO8sMfwkZQqM444-qiILRDooRsvjV4_5
Articles: steemit.com/@cseberino and https://medium.com/@cseberino
FAQs
What are the pre-requisites?
None. Just a willingness to learn about the next great technology
What can I bring into the event?
Laptop is highly recommended
What's the refund policy?
You can cancel by November 14th for a 100% Refund.
A 50% Refund by December 1st.
No Refunds later than December 1st.
Do I have to bring my printed ticket to the event?
Yes. If you lose the printed ticket you can show the pdf.
Is it ok if the name on my ticket or registration doesn't match the person who attends?
Yes of course.
Who can I contact if I have any questions about the event?
Francisco Sanchez, Coordinator of the event
fsanchez@kudosconsult.com