Description
About the Summit
This one-day conference seeks to bring together government, industry leaders, financial institutions, investors and academia to discuss innovative strategies and solutions to the applications of Blockchain. The Blockchain is still in its infancy and facing challenges to overcome in terms of cross-border collaboration, including technical difficulties, information asymmetry across geographies and ambiguities regarding business applications. Through actively engaging thought leaders in the field, we hope to help attendees develop a better understanding of Blockchain and its role in bringing further innovation to the economy. This event covers Blockchain innovations and developments in financial industry, IoT, regulations and compliance, crowdfunding, crowdsales, international trades, data management, energy and supply chains areas.
The conference will act as an open forum for issue-driven dialogues, strategies and collaboration among Blockchain trailblazers. We expect to discuss a range of specific real-world applications across markets and industries, such as finance, IoT, and philanthropy through keynotes, panels and shark tanks, followed by startup pitch demo. What makes the summit even more exciting is that government officials, influencers, regulators and compliance from China will join our discussion on how to achieve widespread Blockchain prosperity. All of these will contribute to building a clearer picture for the future of Blockchain.
Whether you are a Blockchain novice or evangelist, this summit will be the premier forum for today's leading minds interested in leveraging Blockchain to revolutionize the future of business. We would like to extend a warm welcome to all of you to join us in January 2017 to enjoy the rich programs in the summit.
Topics: This event will cover following topics. There will be 2 startup pitch demo in the day, one coming in the morning and another in the afternoon.
Topic 1: Compliance and Regulation: Blockchain regulation and governance
Topic 2: Finance Industry: what does Blockchain mean for financial institutions and market?
Topic 3: Private vs Public Blockchain: Hyperledger
Topic 4: Blockchain IoT Protocol
Startup Pitch Demo (Morning session)
Topic 5: Blockchain applications in Internet of Things

Topic 6: Blockchain + 3D Printing
Topic 7: How can Blockchain benefits social society and be accessible to everyone?
Topic 8: Investment landscape: How to invest in Blockchain?
Topic 9: Blockchain + Cloud
Startup Pitch Demo (Afternoon Session)
Speakers
Over 30 leading experts in Blockchain area from different industries and present at our conferences.
Confirmed speakers:
Adam Draper - Founder of Boost VC


Brian Behlendorf - Executive Director of Hyperleger

Feng Cao - VP of Hande Finmaker

Hongjun Lu - The Dean of IFCA

Jonathan Littman - Founder of SmartUp.Life

Joseph Salvo - Director of GE

Qiang Ye - Chairman of Puer Bank

Sean Barclay - Interactive Creative Director of IBM Blockchain

Spencer Bogart - VP Equity Research of Needham & Co

Wendy Spies - Director of Microsoft


Wenxian liu - President of Guiyang Crowdfuning exchange

Xinxin Sheng - Principal Big Data Strategist for Blue Cross and Blue Shield in North Carolina
Government and regulators:

Former Mayor of Cupertino, Barry Chang

Mayor of Fremont, Lily Mei

Chinese state government

China Security Regulatory Commission
Startup:
Align Commerce - Marvan Forzley

BitWage -

John Lindsay and Yibai Shu

BlockCypher - Karen Hsu

BlockSeer - Danny Yang

ConsenSys - Andrew Keys

Chronicled - Rebecca Migirov and Maurizio Greco

Dianliang.com - Xianghui Kong

GooCoin - Marven Wang

Filament - Shilpi Kumar

Gliding Eagle - Duan Jack

Skuchain - Elle Yang

and

Zaki Manian

String Labs - Tom Ding

Patientory - Chrissa McFarlane

Tendermint - Jae Kwon

Waterhole - Jason Nguyen

WeTrust - George Li

Please send an email to info@nablockchain.com for speaking engagements.

About the Partners
IBM

Blockchain technology presents opportunities for disruptive innovation. It enables global business to transact with less friction and more trust. From startups to enterprises, from paper-based businesses to technology companies, businesses can use flexible platforms and infrastructure offerings to design, deploy and manage blockchain networks. http://www.ibm.com/blockchain/
IBM Debuts Blockchain Ecosystem To Help Accelerate Growth of Networks on Hyperledger Fabric: Blockchain has the potential to transform the way industries conduct business transactions. This will require a complete ecosystem of industry players working together, allowing businesses to benefit from the network effect of blockchain. To help support these organizations, IBM (NYSE: IBM), announced today a blockchain ecosystem to help accelerate the creation of blockchain networks. Press Release: ibm.biz/BdsPnn.
About Shanghai Institute of International Finance (SIIF)

The Shanghai Institute of International Finance (SIIF) is the first Sino-foreign cooperative professional institute of international finance. Established in May 1994 under the approval of the Higher Education Bureau of Shanghai Municipal Government [Shanghai higher education (94) no. 297], the Shanghai Institute of International Finance aims to provide intelligence services, cultivate senior management talents and financial talents for the financial reform of China and the construction of Shanghai international financial center. It has been positioned as "international financial talent pool and financial research think tank" since inception, and has been gradually featured as high-level, cross-cultural, specialized and independent.
Guiyang Government 贵阳政府

Guiyang, known as "Zhu" for short, is the capital of Guizhou Province with a total area of 8043 square kilometers and a total population of 4,721,800. It consists of 6 districts, 1 county-level city and 3 counties as well as a national economic and technological development zone, a national high-tech industrial development zone and a national free trade zone.
By the end of 2007, Guiyang has established the guideline for its development on eco-civilization. In past years, the government is endeavored to strive for this target and has received various national honors on eco-civilization, including "National Model City for Environmental Protection", "Top Tourist City of China", "National Forest City", "National Model City for Green Landscape", "National Garden City", "Best Summer Resort in China", "National Civilized City" and "National Sanitary City". Eco Forum Global Annual Conference was successfully held in Guiyang in 2013,2014 and 2015, which has exerted far-reaching influence on eco-civilization both at home and abroad.
About International Financial Center Association (IFCA)

The International Financial Centers Association (IFCA) is an international, non-profit academic association that focuses on studying international financial centers. Renowned economists and financial experts launched the association in 1994 at the First Conference on International Financial Centers held in Shanghai. The conference was organized by the China International Study Association for Cross-Cultural Human Resource Development (IHRD) and the People's Bank of China Shanghai Branch. The World Bank, the North American Finance Association, the European Finance Association, the Asia-Pacific Finance Association, and other international financial institutions were actively involved in creating IFCA and supporting its various exchange activities.
Tianfeng Exchange
Tianfeng Innovation investment

Tianfeng Securities Company Limited (hereinafter referred to as "Tianfeng Securities"), located in Wuhan, Hubei Province, is a mixed ownership securities company founded in 2000. Throughout its history, Tianfeng Securities has grown into a national comprehensive securities company with full licences and its registered capital reaches 4.662 billion CNY, becoming a medium-sized securities company. Currently, Tianfeng Securities pays more attention to the duties towards industries, societies and our country, assisting with the growth of multidimensional values based on the overall layout of industry chains in big financial world.
Special Thanks to SVC Venture Club
Co-organizers
Association of Chinese Entreprenuers (ACE) at Berkeley
AG AngelsGlobal
Cardinal Pitch Center (CPC)
Chinese Entreprenuer Organizations (CEO) at Stanford
海纳百川
International Business Machines (IBM)
Innospring
Peking Univesity Allumni Association- North California
Silicon Valley Business Institute
SVCAFES.COM 硅谷食堂
SVC Angel
SVC Venture Club
SVHI Haina Incubator
TEEC Angel Fund
TF Securities
TiPark Silicon Valley
Tsinghua University Allumni Association - Silicon Valley
Ufrate
Zhongguancun Development Group (ZGC)
ZJ Future 浙江创新中心
Media
SVInsights 硅谷密探
Silicon Valley Women 硅谷佳人
JPM.cn 金评媒
www.dingding.tv
Co-organizers and Media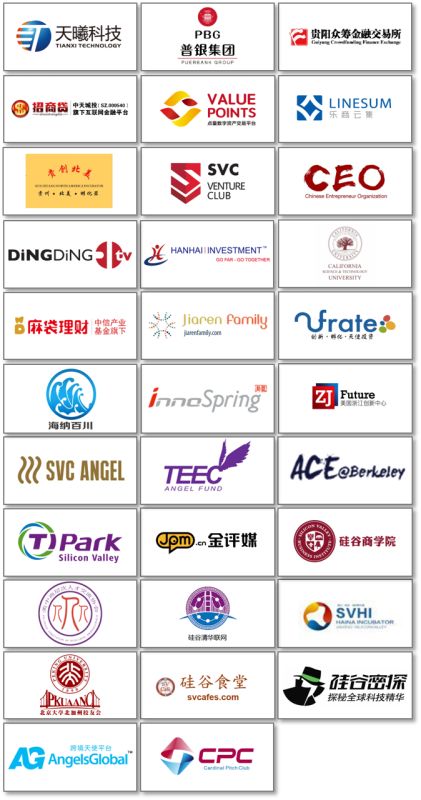 Keywords: Blockchain, Bitcoin, Ethereum, Chain, Coin, R3, Crowdfunding, Crowdsale, Venture capital, Theoretical application, Fintech, cryptocurrency, digital currency, e-payment, digital asset, FOREX, international trades, data management, big data.
Agenda: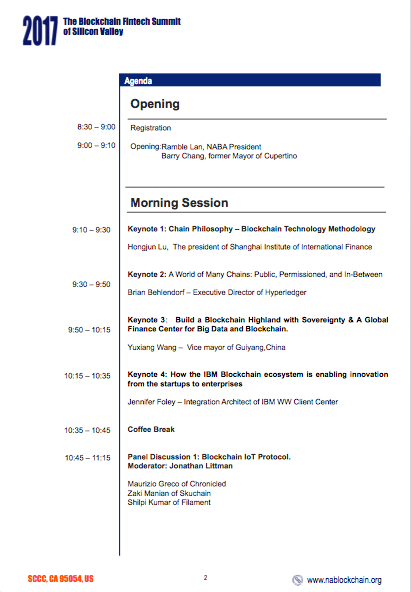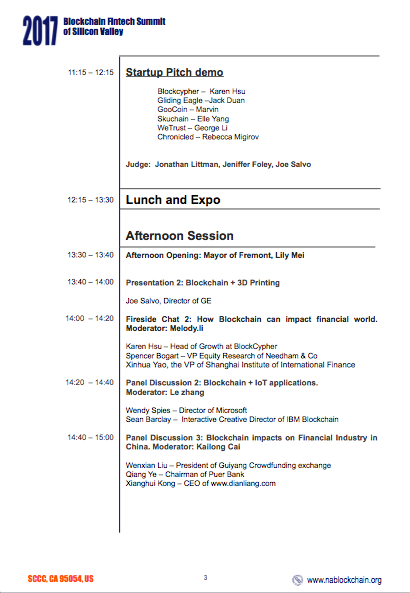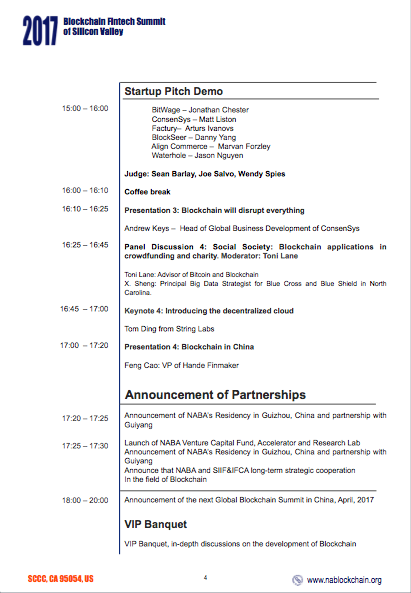 For volunteers, here is parking instructon: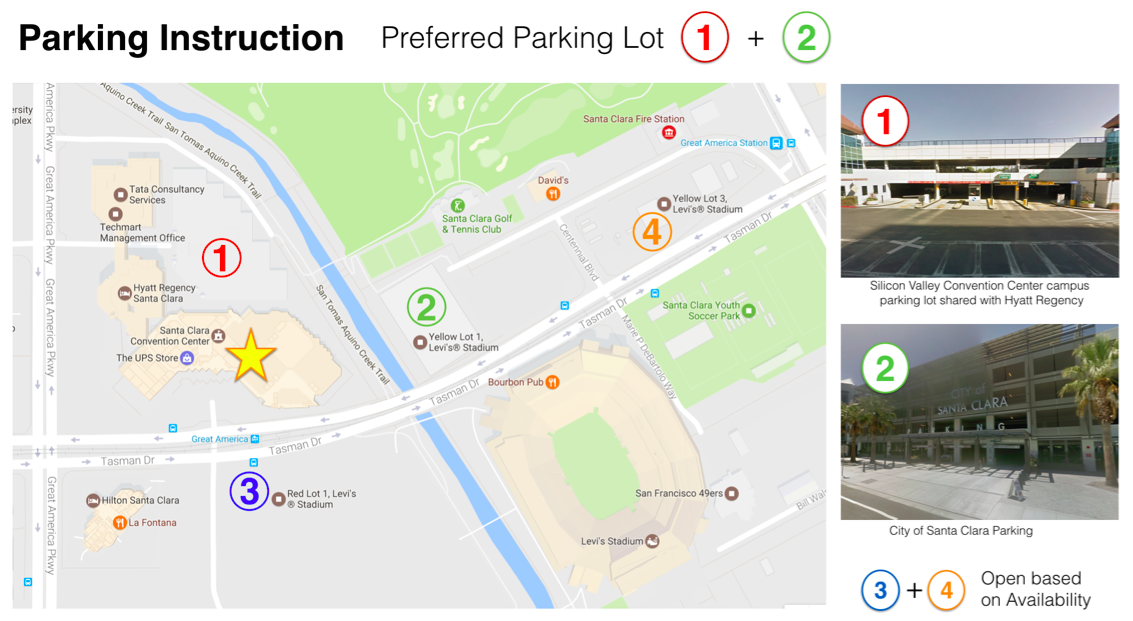 Organizer of The Blockchain Fintech Summit of Silicon Valley
About NABA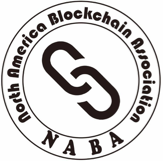 The North America Blockchain Association (NABA) aims to initiate, connect, organize and facilitate blockchain technology initiatives which call upon participants to explore with new forms of leadership and collaboration. Sector-specific collaboration among industry, government and academic leaders helps create conditions which enhance the potential for technology innovation and business applications. As the industry leader, we are disposed to forms of collaborative leadership and engagement which enable the origination, socialization and execution of novel approaches to economic development. 
Follow us on Wechat