Event Information
Location
Pen + Brush
29 East 22nd Street
New York, NY 10010
Description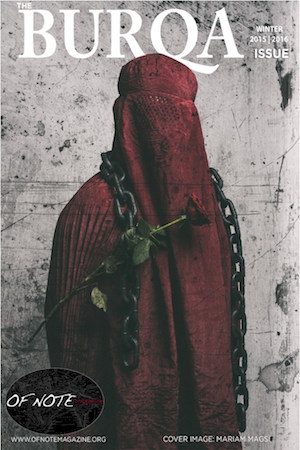 Soldiers of Delusion © Mariam Magsi, 2015. Courtesy of the artist.
The Event
Join OF NOTE Magazine's featured artists and writers from The Burqa Issue as they explore how deeply complex the burqa is in all its beauty, contradictions, and failures.
Co-hosted with Pen + Brush and the Afghan Women's Writing Project. Event is free and open to the public. RSVP required.
Who'll be there—
Featuring My Motherland (2015) video installation by Fazila Amiri and Hangama Amiri.

The Burqa Issue
The burqa—an aesthetically stunning style of the veil, usually blue or black, with a mesh over the eyes—has evolved into the controversial and the divisive. While many employ the burqa as fodder for debate, the artists featured in The Burqa Issue use their creative voice and art practice to trouble our perceptions and examine the complicated experiences of the women who actually wear the burqa—by choice or by force.
In The Burqa Issue, women speak for women. They bring to bear roots from Afghanistan, Algeria, Canada, Guyana, India, Iran, Nigeria, Pakistan, Saudi Arabia, United Kingdom, and the US to elevate the voices of the women who wear the burqa.
The Reviews
"Exquisite work. Artwork, writing — you will see, feel differently." — Stacy Parker Le Melle, Communications Director, Afghan Women's Writing Project
"Thank you all for putting this issue forward despite the unfolding tragedies in the world. Many would have chickened out and chosen caution to avoid a dialogue about the burqa and Muslim women. . .But you all put it forward and are now encouraging conversation and debate." — Brishkay Ahmed, Filmmaker



Date and time
Location
Pen + Brush
29 East 22nd Street
New York, NY 10010