Description
The Art of Conscious Change from Human 2.0 is a revolutionary system on practical awareness for creating sustainable happiness, success, and self-liberation. Over 16k people from all over the world have benefited from its logical, practical, and effective inner-technologies to reach their potential.
Acquire the reliable use of your awareness and consciousness abilities to accomplish anything in your life. Break free entirely from all limiting beliefs, disturbing emotions, negative concepts, and distractive thought patterns. Participants testify their results to be effective with over 96% satisfaction.
Results participants experience:
- Sustainable happiness, creativity, productivity, and performance
- Emotional intelligence, freedom, well-being, and collaboration
- Enhanced leadership, self-management, and relationships
- Elimination of fear, stress, anxiety, laziness, and blocks
- Activation of your super conscious genius qualities

The course includes:
- Two-day experiential, practical course taught by Ingvar Villido
- Practical easy to apply awareness based techniques and practices
- Course material workbook and 4-week follow-up support webinar series
Time and location:
The course takes place on Saturday, October 19th and Sunday, October 20th; 9 AM to 7 PM at Hotel Spero, located in downtown San Francisco.


About Teacher Ingvar Villido
Ingvar Villido, is an enlightened modern wisdom teacher, researcher, and best-selling author who combines ancient yogic traditions with scientific knowledge and empirical research to be accessible, logical, and practical for everyday people. He's described as the Leonardo da Vinci of our inner world, consciousness, and self-realization. After incubating his research in Estonia, he's on a mission to help others reach their conscious potential.
Ingvar is the creator of The Art of Conscious Change system, described as a "revolutionary new teaching for humanity" by European media. Ingvar is also the founder of The School of Practical Awareness, an internationally recognized awareness school; Human 2.0 - a global consciousness based educational platform, and Lilleoru; an eco-village and Kriya Yoga center.
Ingvar's teaching career spans over 25 years, 3,000 lectures and 15,000 students around the world. He is recognized for authoring the domestic bestseller "Emotions. Humanity's Biggest Addiction" and for his pioneering research in "Awareness as the New Paradigm for Personal Sustainability".
Ingvar holds the distinct honor of Acharya (master teacher) of Babaji Kriya Yoga along with other prestigious spiritual name recognitions in Buddhism, Dzogchen, Hinduism, and others. The roots of Ingvar's approach are based on his authentic yogic lineage, particularity from the ancient Siddhas of India - perfected individuals who have attained intellectual powers called siddhi by constant practice of certain educational & scientific disciplines.
After the result of intense personal practice between 1981-2000 Ingvar underwent a series of "inner transformations". Since then he has remained in the "lasting state of deep peace and bliss". He now serves the mission to upgrade people to "awareness as a new paradigm" by providing knowledge and methods to liberate humans from their internal automatic reactions of emotions and thoughts to living free and in the primacy of consciousness.

About Human 2.0
Founded by Ingvar Villido, Human 2.0, is an educational platform with the mission to upgrade humanity to our highest conscious potential. In 2017, Human 2.0 was chosen as Estonia's most successful educational company. Europe's leading public thought leaders, politicians, business executives, entrepreneurs, celebrities, medical experts, and academic educators testify their success to the Human 2.0 system, among 16,000 others around the world. Independent 3rd party research has found the results to be highly effective, with a 96% satisfaction rate. Participants attribute positive improvements in their happiness, health, mood, motivation, and leadership when making awareness the source of true stability in life.


What does the course cover?
The Art of Conscious Change teaches unique inner-technologies and techniques, based on the practical use of awareness, which brings inner peace and clarity, reduces the effect that negative or exhausting emotions have on your life, and gives you a better understanding of who you really are. The course provides a practical skills 'toolbox' for applying awareness in everyday life to effectively 'mend' any situation you might encounter.
Part I: Me, my inner world and the five bodies
On the first day, you will gain a better understanding of your inner world and discover your true essence. You will also learn techniques that enable you to start using your awareness practically (i.e. "become aware"). Using those techniques always brings you back to the present moment (the "here and now"), and makes you better connected to your true self. Remaining in the state of awareness brings you focus, clarity, creativity, and inner peace.

Part II: Releasing emotions that disturb my life
On day two, you will learn various techniques that can be used in the state of awareness to consciously release ("get rid of") any emotions that disturb your peace of mind. You can use those techniques to liberate yourself from any negative emotions that make you suffer, create problems or are just exhausting. This will help you to focus your energy much more effectively.


Why is awareness so beneficial?
By integrating these acquired skills into one's practical life this way, they become the basis for adopting a more aware view of one's daily life. This view contains less noise and mess and by adopting it, one gradually takes life under actual control, which effectively is the natural way things should be. The driving forces and guides of our daily lives – emotions and thought patterns – will become our tools, and we will become the ones who decide for ourselves the time and place for using them. Inspiration and intuition, which only reveal themselves occasionally, will also become readily available and usable to us. From the background of everyday noise, a singular state of being – awareness – will start to emerge. Acting in this state raises the quality of life remarkably compared to what one has experienced before. In practical life, our true being, of which we only had theoretical ideas or rare glimpses of - if lucky, will start to reveal itself.
What participants are saying:
"Had such an amazing life-changing time at The Art of Conscious Change course. I feel way lighter, much smarter, and very powerful." - Nancy Githoito, Founder
"Groundbreaking! It exceeded my expectations! A very clear and basic framework of how to perceive the world!" - Miles Robertson
"The Art of Conscious Change is so much more than the words you see. It's a series of tools to a person's freedom to be, do, and have anything in life! I love this work so much!" - Susan Duong
"The course gave me the skills to run 6 businesses all at peak performance and with high energy levels. I like the precision of the techniques and why it works." - Ville Jehe, Entrepreneur
"Emotions can be a powerful motivating force when you know how to use them. Know how to free yourself from unnecessary emotions." - Aigi Vahing, Former Host of American Idol


Further information/media:
Listen to Lecture on The Art of Conscious Change (Soundcloud)
Watch Estonian National Television Program on Ingvar Villido

Biography on Awareness & Wisdom Teacher Ingvar Villido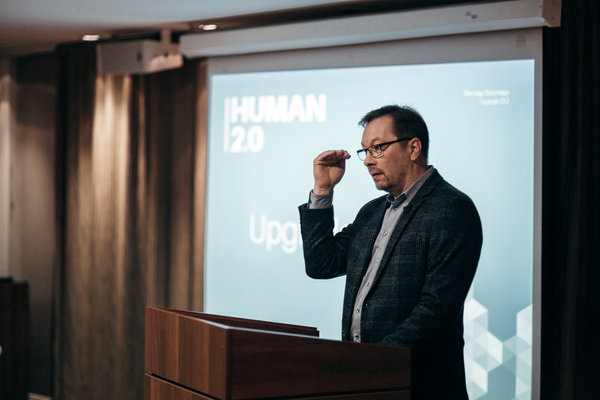 #meditation, #mindfulness, #wellness, #well-being, #awareness, #consciousness, #wisdom, #emotional intelligence, enlightenment, professional development, self-development, personal growth, motivation, spirituality, yoga, productivity, performance, focus, clarity, business, wealth, health, leadership, success, energy