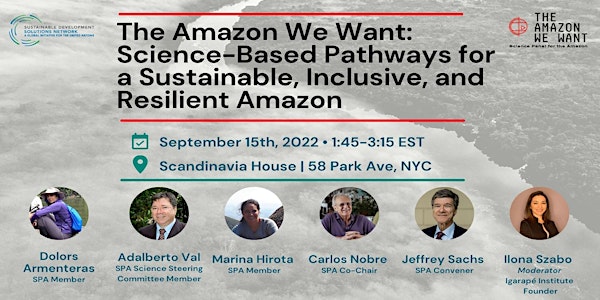 The Amazon We Want: Science Based Pathways for a Sustainable, Inclusive, an
Science Panel for the Amazon presents "The Amazon We Want: Science Based Pathways for a Sustainable, Inclusive, and Resilient Amazon"
When and where
Location
Scandinavia House 58 Park Avenue New York, NY 10016
About this event
*This event is at capacity for in-person participation. You may be interested in our Science Summit event on 9/16, which still has in-person tickets available. Livestream tickets are still available for both events.*
Join the Science Panel for the Amazon during UNGA! "The Amazon We Want: Science Based Pathways for a Sustainable, Inclusive, and Resilient Amazon" will take place in person at Scandinavia House (58 Park Avenue, New York) on September 15th from 1:45 pm-3:15 pm EST alongside the United Nations General Assembly. It is co-hosted by the Sustainable Development Solutions Network (SDSN) and the Science Panel for the Amazon (SPA). The Science Panel for the Amazon, inspired by the Leticia Pact, is the first high-level science initiative dedicated to the Amazon.
In light of the 77 UNGA focus of "International Year of Basic Sciences for Sustainable Development", the Science Panel for the Amazon will gather to cover the state of the Amazon since the launch of the landmark Amazon Assessment Report at COP26, what is at stake with the loss of the Amazon, and the solutions offered in the report that can catalyze sustainable development in the region and beyond. A live stream will also be available for those unable to attend in person. If you are interested in viewing it online, bookmark this page.
This event will make a case to mobilize policymakers, practitioners, and researchers into action using the many solutions offered in the Amazon Assessment Report. By working together and investing in the Amazon, the world can stand with the Amazon and invest in an ecosystem of global significance, a major climate asset, and in sustainable development for the peoples and biodiversity of the region.
Speakers include:
- Jeffrey Sachs (speaker)
- Carlos Nobre (speaker)
- Dolors Armenteras (speaker)
- Marina Hirota (speaker)
- Adalberto Val (speaker)
- Ilona Szabo (moderator)