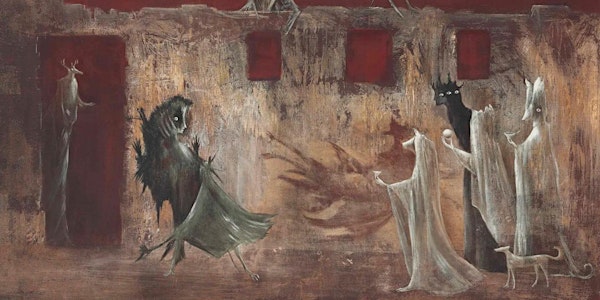 The After Path: A Samhain Spirit Workshop with Pam Grossman
This Samhain, learn how to honor the spirits in this online workshop led by author and witch, Pam Grossman
Refund Policy
Contact the organizer to request a refund.
Eventbrite's fee is nonrefundable.
About this event
This class *will* be recorded, and available for attendees to rewatch for one month.
The format will be webinar style with only Pam's screen visible, unless she calls for volunteering participants who may choose to turn on their audio and/or video when called on.
Due to high demand, there will be no refunds issued within seven days of the scheduled event. Thank you for understanding!
Communing with our beloved dead is possible at any moment, but this spirited season is when many believe the veil between worlds is thinnest, and contact with the otherworld most clear. Samhain, All Hallows Eve, Día de los Muertos, and Fête Gede are but a few of the holy-days celebrated at this time, and they provide moments of contemplation and connection with those we have lost.
In this visually-rich online workshop, Pam Grossman will cover various magical methods of honoring one's ancestors (including biological, chosen, or spiritual), and cover the key components for creating a practice of spirit veneration. Though this class will focus primarily on Samhain traditions, these gestures may be utilized any time throughout the year, whenever one feels called to give thanks, ask for guidance, or simply say hello to those who have crossed over.
Students will come away with everything they need to begin deepening their ancestral connections safely and lovingly - even if they have a complicated relationship with said spirits, or know very little about them. Our familiar spirits can support us, as we can support them!
This workshop is open to all, from the curious newbie to the occult devotee.
Please bring the following to class:
- Some incense or burnable herbs of your choosing and/or a small bowl of salt water
- A candle and something to light it with
- Any items honoring your beloved dead (e.g. photographs, jewelry or items that belonged to them, letters from them)
- Favorite food(s) / drink(s) of your beloved dead, plated and/or in a bottle/cup
- The most beautiful flowers you can find
- A key (skeleton key preferred, but any key will do)
- A tarot deck or oracle deck of your choosing
- Paper and something to write with
Pam Grossman is the creator and host of internationally beloved podcast, The Witch Wave ("The Terry Gross of witches" - Vulture), the author of the critically acclaimed books, Waking the Witch: Reflections on Women, Magic, and Power (Gallery Books) and What is a Witch (Tin Can Forest Press), and the co-editor of the WITCHCRAFT volume of Taschen's Library of Esoterica series. Her writing has appeared in such outlets as The New York Times, The Atlantic, Time, and Ms. Magazine. She is cofounder of the Occult Humanities Conference at NYU, and her art exhibitions and magical projects have been featured in such publications as Artforum, Art in America, and The New Yorker. She lives in Brooklyn with her husband and their two feline familiars. You can find her at PamGrossman.com and @Phantasmaphile.
Please note: this class has suggested sliding scale pricing. If you are unsure of how much to pay, please see this handy graphic as a guide.
Pam will be donating a portion of the proceeds from this class to:
The National Network of Abortion Funds
[Image: Leonora Carrington "The Cockcrow" 1946 (crop)]