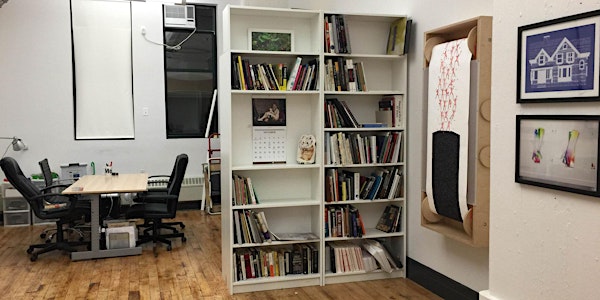 The AFC Workshops: 21st Century Survival for Artists
When and where
Location
The AFC Offices 20 Jay Street, Suite 309C Brooklyn, NY 11201
Refund Policy
Contact the organizer to request a refund.
Description
From URL to IRL, how does an artist stake out their territory in the 21st Century? By teaming up with peer-run initiatives outside the scope of traditional institutions to skillshare and collaborate. Enter, the Art F City Workshops, a series of courses led by artists, educators and art-world insiders designed to give artists the tools they need to get ahead. From learning how to make an online exhibition to figuring out a digital archiving plan for your artworks, these workshops will not only give attendees the skills they need to work in more digital mediums but help them to manage their art online and off.
Limit 20 participants per workshop. Participants are required to bring their own laptops and power sources. For further information please contact: Susan DeSeyn, susan@artfcity.com.
The AFC Workshops 2016 series have been co-programmed by Paddy Johnson and Rea McNamara, and coordinated by Susan De Seyn.
WORKSHOPS AT A GLANCE
Saturday, May 21 (10AM-6PM)
Best Practices: Digital Art Storage with Anthony Antonellis (10:30 AM - 12:00 PM)

Grant Applications, the TL;DR Overview with Eleanor Whitney (1:30 PM - 3:00 PM)

How to Make Pro Art GIFs

with Faith Holland (3:30 PM - 6:00 PM)
Saturday, June 18, (10:30AM - 5PM)
Understanding Your Internet Presence with Devin Kenny (10:30 AM - 12:00 PM)

Desktop Productivity: Artist Website, Blog and Email Essentials with Rhett Jones (1:30 PM - 3:00 PM)

How to Make an Online Exhibition

with Daniel Temkin (3:30 PM - 6:00 PM)
COST
Individual workshop: $20

Single day module (three workshops in total): $50

Entire program (six workshops in total): $75
WORKSHOPS IN DETAIL
SATURDAY MAY 21, 2016
Best Practices: Digital Art Storage
PRESENTER: Anthony Antonellis, Independent Artist
TIME: May 21, 10:30 am to 12:00 pm
LOCATION: Art F City Office: 20 Jay Street, Suite 309C, Brooklyn
Description: You are your own digital art museum and archive. This workshop will cover the 0's and 1's of maintaining your collection, online and offline. Since hard drives crash, servers fail, and software updates, bad file hygiene can lead to link rot and data loss. The class will survey different preservation methods artists and institutions have developed and we'll discuss common facepalms and their solutions. For good file hygiene, all parts of your digital art practice must be organized. Save as, saves ass.
About the presenter: Anthony Antonellis is an artist who is based on the internet. He is a graduate of Savannah College of Art and Design, BFA in painting, and Bauhaus University, MFA in new artistic strategies. He lectures at SUNY Purchase College and is the creator of netartnet.net, an online-gallery listing and directory. His practice involves various forms of net art and curating exhibitions in alternative spaces, such as the 1-kilobyte chip implanted in his hand.
Grant Applications, The TL;DR Overview
PRESENTER: Eleanor Whitney, Community Marketing Manager at Dev Bootcamp
TIME: May 21, 1:30 pm to 3:00 pm
LOCATION: Art F City Office: 20 Jay Street, Suite 309C, Brooklyn
Description: Grant applications can be painful. So many questions, specific requirements and supporting documentation! What do funders really want anyway? In this interactive workshop you will learn strategies that will take the pain out of grant writing and resources to learn more about fundraising. You will develop techniques to identify and apply for grants that are the right fit for your project and about how to develop a fundraising toolbox and templates for more effective applications and fundraising. You will work with other participants to develop a mission and goals for your project, which is the starting point for writing any grant.
About the presenter: Eleanor Whitney is a Brooklyn-based community manager and marketer, writer, and educator. She is currently the Community Marketing Manager at Dev Bootcamp and has also worked at Shapeways, the New York Foundation for the Arts, the Rubin and the Brooklyn Museum. At NYFA she ran the Fiscal Sponsorship program, which supports artists in identifying, applying for grants and managing funds for ambitious projects. She is the author of Grow, a practical field guide for starting a creative business. She holds Bachelor's Degree in Cultural Studies and a Masters in Public Administration.
How to Make Pro Art GIFs
PRESENTER: Faith Holland
TIME: May 21, 3:30 pm to 6:00 pm
LOCATION: Art F City Office: 20 Jay Street, Suite 309C, Brooklyn
Description: This GIF workshop will cover the basics of making a GIF in Photoshop. We will begin by importing video into frames and move quickly into different strategies of manipulation. We will also discuss animating still images through what Photoshop calls 'tweening.' The focus of the workshop will be on collaging--bringing together multiple moving image sources into a singular piece through masking and reanimating. Particular emphasis will be on workflow and organization of a complex composition. Students are encouraged to bring in their own materials (stills, videos, pre-existing GIFs) to work with; the workshop will conclude with one hour facilitated lab time. Some Photoshop familiarity is recommended. Note: This is a 90 workshop with 60 minute lab to follow.
About the presenter: Faith Holland is an artist and curator whose practice focuses on gender and sexuality's relationship to technology. She received her BA in Media Studies at Vassar College and her MFA in Photography, Video, and Related Media at the School of Visual Arts. Her work has been exhibited at Elga Wimmer (New York), Axiom Gallery (Boston), the Philips Collection (Washington, D.C.), DAM Gallery (Berlin), and File Festival (São Paulo). She had her first solo show at Transfer Gallery in 2015 and is currently an artist-in-residence at Jamaica Center for Arts and Learning and Harvestworks.


SATURDAY JUNE 18, 2016
Understanding your Internet Presence
PRESENTER: Devin Kenny
TIME: June 18, 10:30 am to 12:00 pm
LOCATION: Art F City Office: 20 Jay Street, Suite 309C, Brooklyn
Description: As the means to create media and artworks increase for large swaths of the population along with the ways to distribute it, the social network becomes increasingly charged. Should one approach the internet as a place to extend the parameters of your practice? Is it a tool to help you find 'fellow-travelers', an artistic milieu that's not geographically-specific, and build community? Is it a battleground for hashing out ideology? Is it only a place where you can engage in self-promotion? Through through sharing of the tools he uses to navigate and produce online, Devin Kenny will present a guide to approaching art in the contemporary era of network culture with a focus on research, production and promotion. He follows more people than is followed by on twitter, so be forewarned.
About the presenter: Devin Kenny is an artist, musician, and curator working across several mediums.
Hailing from the south side of Chicago, he relocated to New York to begin his studies at Cooper Union. He has since continued his practice through the Bruce High Quality Foundation University, Skowhegan School of Painting and Sculpture, SOMA Mexico, the Whitney ISP and performances at various art and music venues in New York City, Chicago, Los Angeles, and internationally including: Het Roode Bioscoop, Biquini Wax, Artspace Auckland, REDCAT, MoMa PS1, Freak City, and Santos Party House. He received his MFA in 2013 from the New Genres department at UCLA and is an alum of the Whitney Independent Study Program.
Desktop Productivity. Artist Website, Blog, and E­mail Essentials
PRESENTER: Rhett Jones, Independent writer, editor and filmmaker
TIME: June 18, 1:30 pm to 3:00 pm
LOCATION: Art F City Office: 20 Jay Street, Suite 309C, Brooklyn
Description: This is a workshop for the beginner to intermediate user that will focus on streamlining the non-linear (and distracting) nature of desktop productivity. Jones will giving an overview of productivity techniques and tools that can help an artist progress their work and career. The 90-minute workshop will cover methods as simple as using a pen and paper while at your computer and as complicated as automating routine tasks. Along the way we'll discuss basic art world resources, computational methods for working through ideas and the proper way to write an email. Workshop attendees will receive an email with links and instructions for implementing all of the subjects discussed.
About the presenter: Rhett Jones is writer, editor and filmmaker based in Brooklyn, NY. He has been the development officer for Art F City, staff writer for ANIMAL New York and culture editor for Hopes&Fears. He holds degrees in Digital Media and Business Management, both of which he's only ever used professionally when trying to be more productive as an artist and writer.
How to Make an Online Exhibition
PRESENTER: Daniel Temkin, Independent Artist
TIME: June 18, 3:30 pm to 5:00 pm
LOCATION: Art F City Office: 20 Jay Street, Suite 309C, Brooklyn
Description: With the ever rising cost of real estate, the traditional format of an exhibition in a gallery is giving way to the infinite possibilities of online shows. This class will look at the particular challenges of curating in a medium that is very much still a new frontier. While a show online offers possibilities beyond what can be accomplished in a physical space, many are conceived without incorporating the unique advantages of the medium, hewing conservatively to the paradigm of the white box. This class will survey past online exhibitions, looking at those which expand what an exhibition can be and others still, that artificially re-introduce the limits of physical work or use formats that compete with the work itself. We'll consider what is best shown online and how to inspire meaningful interaction from the viewer, while exploring the process of putting together an exhibition from concept to execution. The course will also offer an introduction to tools available to the curator for display and archiving, and consider when it is best to build your own.
About the presenter: Daniel Temkin makes images, programming languages, and interactive pieces that explore systems of logic and language. He has curated online shows such as netvvorth.com, which invited net artists to create work impersonating other artists. He has presented at conferences such as SXSW, SIGGRAPH, CAA, and Media Art Histories, and his work has been a critic's pick for Art News, the New York Times, and the Boston Globe.
SUPPORT
The Art F City Workshop series is funded in part by Art F City through public funds from the New York City Department of Cultural Affairs, in partnership with City Council.
Art F City also acknowledges the outreach support of NEW INC and Electric Objects.