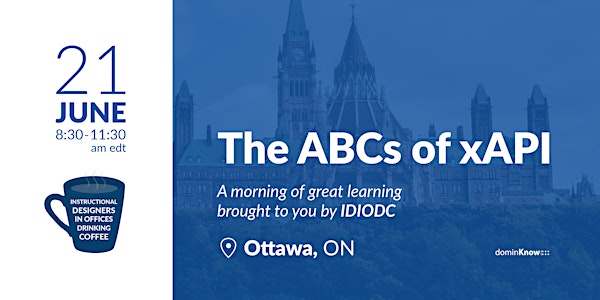 The ABCs of xAPI - an IDIODC event in Ottawa!
Heard of xAPI but not sure how to use it or what it's all about? Join your Ottawa peers and get the basics down so you can get started!
When and where
Location
dominKnow Learning Systems 183 Michael Cowpland Drive Ottawa, ON K2M 1P6 Canada
About this event
xAPI opens up a huge range of possibilities for tracking and reporting on learning activities in the real world in which they occur.
It could be revolutionary - if you know about it!
This session will walk through the basics of xAPI, providing an understanding of what it is and how it works and, most importantly, share examples of how organizations are using it to solve real world problems.
Featuring live host Chris Van Wingerden and virtual host Megan Torrance, here's the session agenda:
8:30-9:00 Registration opens, coffee and light breakfast
9:00- 9:55 The ABCs of xAPI with Chris Van Wingerden: All the basics you need to know about what xAPI is, how it works, the types of things it can be used for and how it's different than SCORM
9:55-10:05 - Break
10:05-11:00 xAPI in the Real World with Megan Torrance: A walk through of some of the ways the Torrance Learning team has used xAPI for client projects.
11:00-11:30 - Open discussion, questions
Come be IDIODC with us!
Hosted by dominKnow's podcast program, Instructional Designers in Offices Drinking Coffee (#IDIODC), this event is NOT product specific - it is not focused on dominKnow's own tool set.
Want to learn more about IDIODC?
Chris Van Wingerden is co-host with Brent Schlenker of Instructional Designers in Offices Drinking Coffee, a weekly interactive video cast on Wednesdays at 9 eastern. In his other work, he's Sr. VP of Learning Solutions at dominKnow Learning Systems. He also regularly leads sessions at learning and technology conferences, including recently presenting the ABCs of xAPI at the ATD international conference in Washington, DC.
Megan Torrance is the Chief Energy Officer of TorranceLearning, an elearning design and development firm outside of Ann Arbor, MI. She has spent over two decades knee-deep in projects involving change management, instructional design, consulting and systems deployment. In addition to winning awards for client project work, the Torrance Learning team also organizes the xAPI Cohort, a free 12-week program for those interested in learning an applying xAPI. The cohort draws up to 700 participants for its fall and spring sessions.