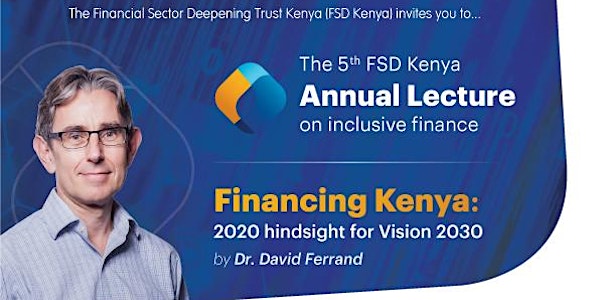 The 5th FSD Kenya annual lecture on inclusive finance
FSD Kenya is pleased to announce that its 5th Annual lecture on financial inclusion will be delivered by Dr David Ferrand.
When and where
Location
University of Nairobi - Chandaria Auditorium. University Way Nairobi Kenya
About this event
The annual lecture is FSD Kenya's flagship event. Held every year since 2015, the annual lecture highlights new thinking and raise cutting edge issues in the field of financial inclusion. Past speakers have included Dr. Tavneet Suri, a development economist and associate professor of applied economics at the Massachusetts Institute of Technology (MIT) Sloan School of Management; Consumer protection expert Rafe Mazer; leading British Economist and author of Other People's Money, John Kay; and accomplished Entrepreneur Julian Kyula, founder of MODE Group, a fintech spanning over 26 countries in Africa, Asia and the Middle East.
Now in its fifth year, event promises to facilitate debate on the long-term vision of the financial sector in Kenya.
This year's speaker, Dr David Ferrand, is a long-time observer of Kenya's financial sector. He played a key role in FSD Kenya's inception nearly 20 years ago and served as its director until June 2019. Dr Ferrand will deliver a lecture titled "Financing Kenya: 2020 hindsight for Vision 2030," in which he will share reflections on the past few decades of Kenya's financial inclusion journey, and provide insights on the kind of financial sector that will help deliver Kenya's long term aspiration to achieve middle-income status.
Join the conversation on Twitter: @FSDKe #FSDLecture
About FSD Kenya
The Financial Sector Deepening Trust Kenya (FSD Kenya) was established by the UK's Department for International Development (DFID) in early 2005 to support the development of financial markets in Kenya to stimulate wealth creation and reduce poverty. Working in partnership with the financial services industry, the programme's goal is to expand access to financial services among lower income households and smaller enterprises to create value through financial inclusion. It operates as an independent trust under the supervision of professional trustees, KPMG Kenya, with policy guidance from a Programme Investment Committee (PIC). Current funders include the Swedish International Development Agency (SIDA) and the Bill & Melinda Gates Foundation.
In 2015, FSD Kenya launched a series of annual public annual lectures to stimulate debate on financial inclusion and its role in the long-term vision for the financial sector in Kenya. For more information about the annual lectures and to download past presentations, visit www.fsdkenya.org/annual-lecture/.