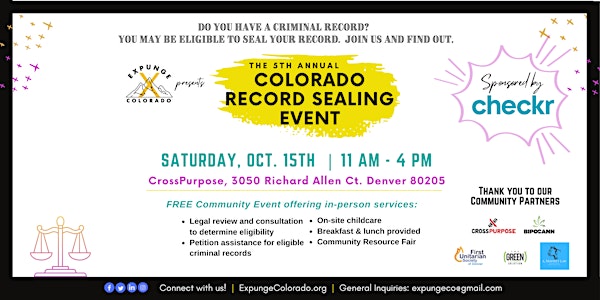 The 5th Annual 2022 Colorado Record Sealing Clinic
The 5th Annual Colorado Record Sealing Event is happening Saturday, October 15th, 2022 from 11 AM to 4 PM at CrossPurpose in Denver CO 80205
When and where
Location
CrossPurpose 3050 Richard Allen Court Denver, CO 80205
About this event
501c3 nonprofit, Expunge Colorado is dedicated to providing education, training, consultation and access to legal services for record sealing and expungement of eligible criminal cases in Colorado. Since 2018, the founders of Expunge Colorado have provided and hosted a free annual record sealing event serving all Coloradans with criminal cases eligible for sealing.
Having a criminal record has devastating lifelong consequences that can affect families for multiple generations. Colorado law permits many charges to be removed yet few individuals experience the relief of a sealed record due to the complicated and costly process. Expunge Colorado exists to alleviate the legal and financial burdens put on individuals who want and deserve a fresh start. Record sealing can help restore access to housing, employment, education, public assistance, and voting rights.
Join Expunge Colorado for the 5th Annual Colorado Record Sealing event on Saturday, October 15th at CrossPurpose in Denver 80205.
What: The 5th Annual Colorado Record Sealing event
When: Saturday, October 15th 2022 from 11 AM to 4 PM MST
Where: CrossPurpose, 3050 Richard Allen Ct. Denver, CO 80205
Who: People with Colorado criminal cases interested in record sealing services
Why: Expunge Colorado offers free legal support services for record sealing serving all Coloradans with cases in Colorado
What to expect at the event: Complimentary breakfast and lunch will be provided. Childcare will be available. Additional services, resources and a Community Resource Fair will also be offered to this community. Due to the unique offering of pro bono services, the number of people that show up to our record sealing event increases year after year. Prepare that it can be a long day.
Volunteer legal advisors and attorneys will help answer questions and determine eligibility for record sealing. Determining eligibility can be a lengthy process. We need permission to pull and review your records. It can be time consuming per person depending on the number of cases. We appreciate your patience and understanding. Note: The criminal case must have happened in Colorado in order for Expunge Colorado to determine eligibility for record sealing. EDITED: **Update Oct.12th -- Our lead attorney looked more in depth into the present law over the last few days. DUIs and DWAIs are still not expressly not eligible to be sealed. We will not be attempting to seal DUIs and DWAIs at this year's clinic.**
This service is free and open to the public. This is a volunteer-led effort and expect to hang out at the event for a few hours.
Please RSVP so we can plan accordingly for food and volunteers. You must show up in person in order to receive access to our services. It is first come, first served. We try our best to be able to meet with everyone however the clinic does end at 4 PM, so please plan accordingly. Come early, we have over 120+ RSVP'd to date and if you should arrive later in the afternoon or if we've reached capacity for the day, we may not be able to review your case.
If you have a multiple cases on your record, come early as determining eligibility takes time. We try to meet with every person that shows up. However, we cannot guarantee that we are able to see every person depending on the capacity and number of attendees.
While spending the afternoon with us, feel free to browse our Community Resource Fair which includes a dozen community organizations, such as CrossPurpose, Second Chance Center, Remerg, Denver Metro Fair Housing Center, fair chance employers and mental health organizations and more community partners providing support and resources for SNAP recipients and for event attendees.
IMPORTANT: Once you RSVP for this event, you will receive an additional email by Friday prior to the event on Saturday, Oct. 15th with additional information to help make the event as smooth as possible.
*We need your support* We are calling on our local community and Colorado businesses to donate towards restorative justice efforts. We could not do this work without the help of others that support and prioritize social justice and criminal justice reform efforts impacting 1.3M Coloradans that have a criminal record.
We are a 501c3 nonprofit, donations are tax-deductible. Donate online here.
Thank you to our main event Sponsor: Checkr
Grateful to our additional sponsors: Wana Foundation, Greenspoon Marder LLP, WYLD
Thank you to our legal advisors and volunteers including A. Moffitt Law and the Record Sealing Committee of the First Unitarian Society of Denver , Shorter Community AME Church and more
Shout out to our Community Partners: The Green Soluti
For more information on sponsoring, please email: expungecolorado@gmail.com
See past press on Expunge Colorado.
Thank you! We'll see you 11 AM to 4 PM Saturday, Oct. 15th at CrossPurpose.
- Team Expunge Colorado