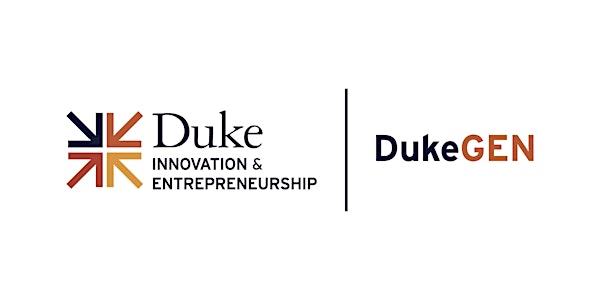 The 39th DukeGEN Multi-City Networking Event - New York
joint DukeGEN & Duke Venture Community in person event in New York
Date and time
Thursday, August 11, 2022 · 6:30 - 8:30pm EDT
Location
Starta Ventures 220 East 23rd Street #400 New York, NY 10010
About this event
Join the 39th DukeGEN networking event for entrepreneurial-minded Duke alumni and friends in partnership with Duke Venture Community and Starta Ventures.
We will have a panel discussion with Mark Peter Davis'01 from Duke Venture Community and Gabriel Arant from Starta Ventures folllowed by Q&A session moderated by Sergey Khusnetdinov MBA'13.
About Starta Ventures
Founded in 2013, Starta Ventures is a venture capital firm headquartered in New York, New York. The firm seeks investments in early-stage companies. The firm prefers to make investments in the agritech, business products and services, education, human resource, gaming and E-sports software, legal tech, fintech, and food-tech sectors. The Starta Ecosystem consists of Starta Capital (Investment Funds), Starta Accelerator, School of C (C-level) and Liqvest (Co-investing). They are on a path to become the biggest institutional player in the venture capital industry, whose strategy revolves entirely around early stage startups
About Duke Venture Community
Duke Venture Community (DVC) is a private community for Duke students, alumni and employees interested in all aspects entrepreneurship. The group welcomes members from any Duke University school, sector or industry function (e.g., entrepreneur, VC, lawyer, etc.). DVC seeks to foster entrepreneurship by facilitating communication, providing access to resources and creating community. Through DVC members meet every few weeks to participate in an array of events. Event formats might include idea incubation, demo events, educational panel and speaker events and happy hours.
About DukeGEN Networking Events
The DukeGEN Networking Events provide a chance for entrepreneurial-minded Duke alumni to meet one another. They happen three times a year, and are voluntarily organised by Duke alumni, for Duke alumni, students, faculty and staff. Since 2008, we've held over 499 networking events with a cumulative total of 25,000+ Duke attendees.
About the organizer
DukeGEN is one of the top organisations supporting entrepreneurship on Duke's campus. Started in 2008, we run over 30 events a year including the Elevator Pitch Competition, the Duke Start-Up Challenge, the DukeGEN Startup Speaker Series (formerly Entrepreneurship Education Series), the DukeGEN Start-Up Showcase Events, and the multi-city DukeGEN Networking Events. DukeGEN has over 9,000 members from Duke's entrepreneurial community and supports students, faculty, staff, alumni, parents, and friends of Duke.