As part of the 18th Annual Games For Change Festival, we are excited to invite you to a series of hands-on, collaborative workshops.
About this event
Games for Change is proud to present a week of hands-on workshops and professional opportunities for developers, educators, and intersectional experts who are interested in impact games.
These workshops offer a diverse range of learning experiences that explore unique subject matter from impact design methodologies to the power of games in the classroom. Participating attendees will have opportunities to connect and collaborate with their peers all while guided by expert facilitators from the Games for Change community.
These workshops are presented for three audiences:
Game Developers
Educators
Intersectional Experts*
* - For example: subject matter experts, non profit organizations, funders, and academics. If you are interested in games for impact, but aren't a game developer or educator - these workshops are for you!
Workshop Schedule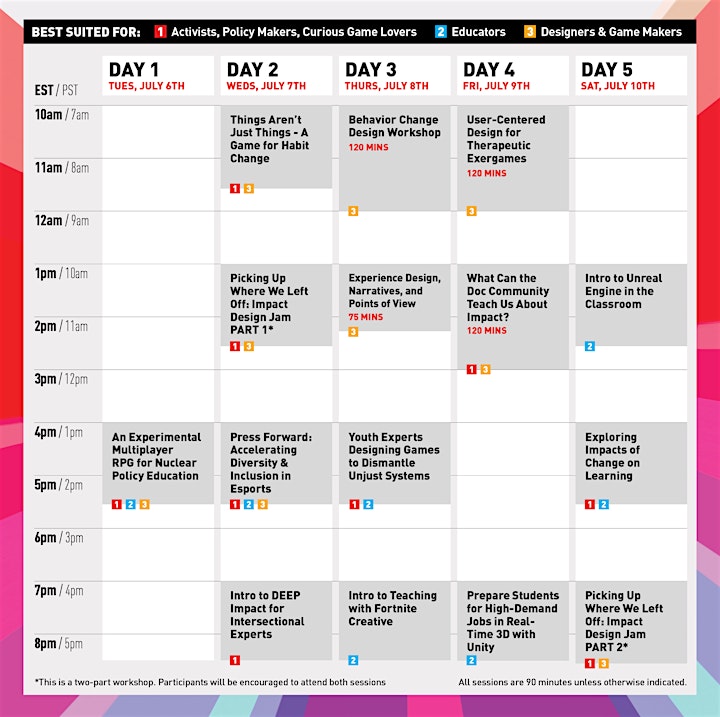 For a detailed workshop schedule including presenters and session descriptions please check out: https://festival.gamesforchange.org/workshops
Workshop Information
Please pay close attention to the details of each workshop
Some workshops require the use of certain technology, or proficiency in certain skills
All workshops will be offered on Zoom
Participants may receive pre-workshop materials to review, depending on their workshop.
****
**Scholarships available for students, indie developers, and those affected by the COVID-19 crisis.**
Games for Change makes a limited number of need-based discounts available by application for those who may find the registration fees difficult to manage.
Please apply: G4C Festival Workshop Week Scholarship Application
**All registration fees are non-refundable. If unable to attend, registrants may transfer their pass to another attendee within their organization by June 30th. You must contact audience@gamesforchange.org to initiate this exchange process.**