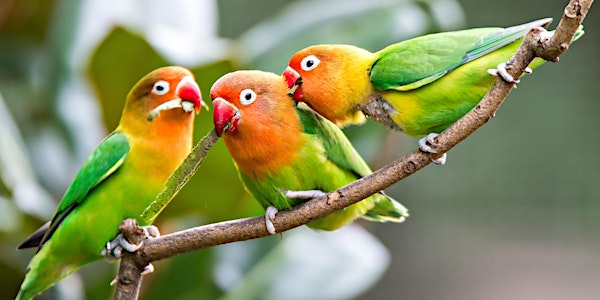 The 2018 Bird Song and Animal Communication Annual Meeting (at the Field Ce...
Event Information
Location
Center for Field Research in Ethology and Ecology, Millbrook, NY
Description
About the meeting:
The 2018 Bird Song and Animal Communication Annual Meeting at the Center for Field Research in Ethology and Ecology (Field Center) will be reinstated this year as a yearly meeting. Following a hiatus in the annual meetings as well as ongoing research at the Field Center with Dr. Fernando's Nottebohm's retirement, the FIeld Center reopened in January 2017 with Dr. Erich Jarvis' appointment as a Professor at The Rockefeller University. The meeting is also being expanded to all animal communication researchers throughout the world.
This year's meeting will begin Thursday, October 4th at 6 PM with a beer/wine welcome reception. The scientific program will take place from 9am to 5pm at the Cary Institute on Friday, October 5th and will include plenary talks, working groups, and a poster session. The evening reception will follow at the Field Center. Optional but encouraged Field Center tours will take place Saturday morning (ends by noon).
Registration includes access to all sessions, Thursday Reception, and meals/breaks on Friday. Registration does not include accommodations or travel. The full program will be available in September. Early bird registration closes September 20th, 2018.
Venue:
Cary Institute: Less than one mile from The Rockefeller Field Center, The Cary Institute's campus is situated on 2,000 acres in New York's Hudson Valley. The site is home to a research complex, analytical laboratories, an environmental monitoring station, classrooms, an education department, and an auditorium. The grounds are a laboratory for field research, with extensive studies on the ecology of Lyme disease. The Cary Institute is located in northern Dutchess County, New York, approximately 70 miles north of New York City and more or less the same distance south of Albany. The Plant Science Building, Auditorium, and Gifford House are on Sharon Turnpike, also known as Route 44.
Please note: because of a change in road designation, some online maps and GPS devices provide incorrect directions when inputting the street address (2801 Sharon Turnpike/Route 44) .
Latitude and longitude coordinates
Main Campus: 41.783622,-73.732357
Gifford House/Trail Head: 41.789588,-73.723959
The Rockefeller Field Center: Situated on 1,200 acres in Dutchess County, New York, about 80 miles north of the Rockefeller University campus, the Center for Field Research in Ethology and Ecology provides a setting for studying various organisms living under natural or seminatural conditions. The center has facilities for breeding and keeping animals indoors so that field and laboratory observations can be conducted in parallel. It currently supports a breeding program for the development of transgenic songbirds and field studies of different bird species. Past research has covered diverse topics, such as echolocation in bats, the incidence of stress in natural populations of animals, perceptual cues used during nocturnal migration, ant social behavior, the biology of vocal learning in birds and the production of replacement brain cells in adult free-ranging animals. Equipment and facilities are available for research under both field and laboratory conditions.
Logistics:
* Airport: The closest airports are John F. Kennedy (JFK) and LaGuardia (LGA); both are international airports.
* Ground Transportation: Taxis, Ubers, Lyfts, and other car services are readily available.
* Train: There are trains that take you from Penn Station in NYC to Poughkeepsie. You will need to take a taxi from the train to your accomodation.

* Accommodations: Room blocks have been made at the Cary Institute, Days Inn, Millbrook Country House, and Cottonwood Motel. Please mention the "birdsong meeting" for special pricing.
Cary Institute: Unfortunately, the Cary Institute is now completely booked, and rooms are no longer available. Available on 10/3-10/5. 18 beds have been reserved for this meeting. Guests must fill out this form. For "hosts name", please fill use the name Erich Jarvis and use ejarvis@rockefeller.edu as the host's email address. The cost is $41/night per person for a single room and $36/night per person for the double occupancy room. The hospitality basket is an additional $6 and consists of a bottle of water, some light snacks and shampoo/conditioner. Business hours are 8:30-4:30 but you can access your room keys at any time. Should you arrive after business hours and have any problems, there is a phone in the vestibule. Call Security at 9-224-7275 for assistance.
Days Inn: available on 10/3- 10/5. Group discount ($99 a night) available until 9/3/18. Room block ends on 9/10.
Millbrook Country House: only available on 10/3 and 10/4 (rooms range from $175-$250 a night)
Cottonwood Motel: only available on 10/3 and 10/4 ($110 a night for standard rooms, $125 for deluxe rooms)
Organizers: This year's meeting organization committee includes Erich Jarvis, Sadye Paez, and Lauren Shanker.
Posters/Abstract Submission: If you would like to submit an abstract, please use the following guidelines. Submissions are due by Monday, September 17, 2018, 5pm EST (email to Sadye, spaez@rockefeller.edu). Please indicate if you wish to be considered to present your abstract as a talk. Decisions will be made by committee and notifications emailed by Friday, September 21, 2018, 5pm.
Rules for Abstract Submission:
1. Report original research: at the time of abstract submission, the research must not have been previously published verbatim as a meeting abstract or article.
2. State the research objectives and rationale, summarize methods and results, and state the conclusions (300-word limit)
3. Students may only submit one abstract as a first/presenting author.
4. One of the authors should present the work at the 2018 Bird Song and Animal Communication Annual Meeting.
5. Poster setup begins on Friday morning.
6. Poster presentations will occur during breaks and lunch.
Please use the following format for your abstract submission:

Title
Authors: Last, First: affiliations (please also include an email address for the corresponding author)
Introduction
Research Objectives/Rationale
Methods
Results
Conclusions
Do you want your abstract considered for a talk? Yes/No
Questions: Please contact Lauren (Lshanker01@rockefeller.edu) with general questions or Sadye (spaez@rockefeller.edu) with poster/abstract submission questions.
Date and time
Location
Center for Field Research in Ethology and Ecology, Millbrook, NY
Refund policy