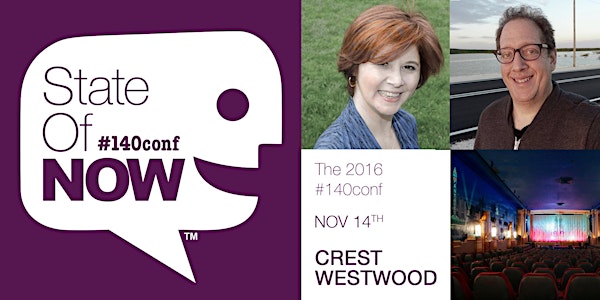 The 2016 #140conf
When and where
Location
The Crest Westwood 1262 Westwood Boulevard Los Angeles, CA 90024
Description
The 2016 edition of #140conf/State of Now will be taking place in Los Angeles on November 14th.
Join us for 10-minute talks and 15-minute panels from influencers in the areas of technology, lifestyle & health, and more, on how they have used the real-time web to improve their businesses and lives, as well as to inspire change.
Jeff Pulver (@JeffPulver) will host #140Conf along with Debra Eckerling (@WriteOnOnline).
In 2009 internet pioneer Jeff Keni Pulver began curating #140conf events across the United States and around the world. These conferences provide a platform for people to listen, connect, share, and engage with each other, while collectively exploring the effects of the real-time web on business and in their personal lives
The #140conf offers people the opportunity to meet and connect with others from different backgrounds and experiences. For the 2016 conference speakers are coming from across the United States, as well as Canada and the United Kingdom. The sessions are 10 minute talks mixed with a few 15-minute panel discussions, and are preceded and followed by networking. The talks are personal, introspective, and meaningful: some focus on business, others on being.
Confirmed speakers for the 2016 #140conf include:
Ala Shiban (@AlaShiban - Technical PM, Microsoft) Opening and Closing the Loop: How Mindfulness and Being Present Look in the Enterprise
Amanda Jablon (@amndajbln - Therapist and Blogger) Mental Wellness Tips from a Millennial Perspective
Andia Winslow (@AndiaWinslow - Founder, The Fit Cycle) How Body Made Voice
Andy Schroepfer (@shrepfur - CEO - Adestinn) Losing 30# and Vacationing
Anne Berube (@anneberube - Author) Be Feel Think Do
Ash Kumra (@AshKumra - Founder, Youngry) The Movement Economy - How to Create a Movement and Why the Economy is Moving this Way.
Chandresh Bhardwaj (@cbmeditates - Author) My Experiment with Courage
Dave Bjork (@bjork5 - Cancer Research Evangelist, National Foundation for Cancer Research) How I Became the #CancerResearchEvangelist
Dave Johnson (@DaveJoh - Editor-in-Chief, Techwalla) What I Learned from Becoming a Serial Podcaster
Devon Glover (@TheSonnetManNYC - Hip Hop Artist) How Shakespeare and Hip-Hop Changed my Life
Eric Greenspan (@EricGreenspan - Chief Clever Officer, 74 Systems) How Children Survive Your Failure(s) and Thrive
Eric Weaver (@Weave - Co-Founder, Precog Digital) The Five Horseman of Digital Disruption
Frank Neill (@FrankNeill - VP Content Marketing, Realtime Media) Zen Selling
Howard Rosenman (Producer, Father of the Bride, The Family Man) One Producer's Passion - Shepherd: A Tail of a Dog in World War II
J. Ivy (@J_Ivy - Author & Poet) Turning Pain into Power: The Act of Forgiveness
Jeff Pulver (@JeffPulver - #140conf/State of Now) Remember to Breathe
Jennifer Halweil (@JennAndBeyond - Filmmaker) Beyond the Boundary: Shifting the Focus of How Women are Portrayed in STEM
Jessica Gottlieb (@JessicaGottlieb) & Stefanie Pollard (Co-Founders - @thisismidlife) The Transition to Otherhood
Jessica Northey & Billy Shaw Jr (@JessicaNorthey - #cmchat & @BillyShawJr. - Musician) Everything I Know About Social Media I Learned From Country Music
Julie Yannatta (@NormalGrace - Yogi/Founder) Opening Stretch & Chant
Karen Putz (@AgelessPassions - Chief of Passion) Unwrapping Your Passion at Any Age
Linda Kandel (@LindaKandel - Business Consultant) The Time the Flight was Delayed
Liz Strauss (@LizStrauss - Author) Change Your Story, Change Your Life
Marina Yanay-Triner (@soulintheraw - Health Food Coach) Heal and Get Empowered Through Raw Food
Marsha Collier (@MarshaCollier - Author) How #140conf Personalized Social Media
Michele Meiche (@MicheleMeiche - Author) How Technology and Social Media are part of Spiritual Awakening and Soul Consciousness
Ori Bengal (@TheArtOfOri - Artist) The Art of New Beginnings
Philippe Coudoux (@PostureGuide - Founder) From Pain to Conscious Health
Pierre-Jean Hanard (@pjhanard - Co-Founder, SHAREPA) 3 Easy Steps to Reach the Heart of Potential Investors
Robert Rosenthal (@ShortOrderDad - Author) Redefining Fatherhood Through Food
Stacey Soleil (@StaceySoleil - Director of Community, RE/MAX CORNERSTONE) What's a Referral Really Worth?
Zoe Muntaner (@thesantamonica1 - Founder, Diversity Matters) Does Diversity Matter?

Plus:
Entrepreneurs Creating Community through Social Media - Lori Moreno (@LoriMoreno - AmbassadorsVIP.com) (moderator) with Lori McNee (@lorimcneeartist - Fine Artist) and Ryan Williams (@RyanJWill - The Influencer Economy)
The Influencer Marketing Debate - Vyqué Mendoza (@fasshonaburu - Digital Marketing Executive, Comedy.com) (moderator) with Lindsay Mauch (@LTSurf - LTM Digital) and Clint Schaff (@ClintSchaff - VP, Strategy and Development at Los Angeles Times)
Writer Panel - Debra Eckerling (@WriteOnOnline - Founder) (moderator) with Jen Jones Donatelli (@CreativeGroove - Freelance Writer/Editor) and Amy Friedman (@kellsmom - Author/Executive Director of POPS the Club)
And ... Table hosts: Adam Bell (@dataTV - Designer), Bob Choat (@BobChoat - MindHackAcademy.tv), Jennifer Friel (@JenFriel - Dropin, inc), Julie Spira (@JulieSpira - Cyber-Dating Expert), Terri Nakamura (@TerriNakamura - Designer), and Warren Whitlock (@WarrenWhitlock - SMTM Digital).
Technology provides great opportunities for conversations. However, meeting people in real life is the perfect way to start. At #140conf online connections meet face-to-face and new friendships are found. The event embraces serendipity and synchronicity, as people come together in The State of Now.
Note: All attendees will be entered in a drawing to win a 1-hour business consulting session with Jeff Pulver.
Stay tuned for more speaker and panel announcements, as well as info about our VIP networking party on Sunday, November 13, from 6 - 8pm. There will also be an after-party at The W in Westwood. In the meantime, join the Facebook event and start following speakers on Twitter.