Description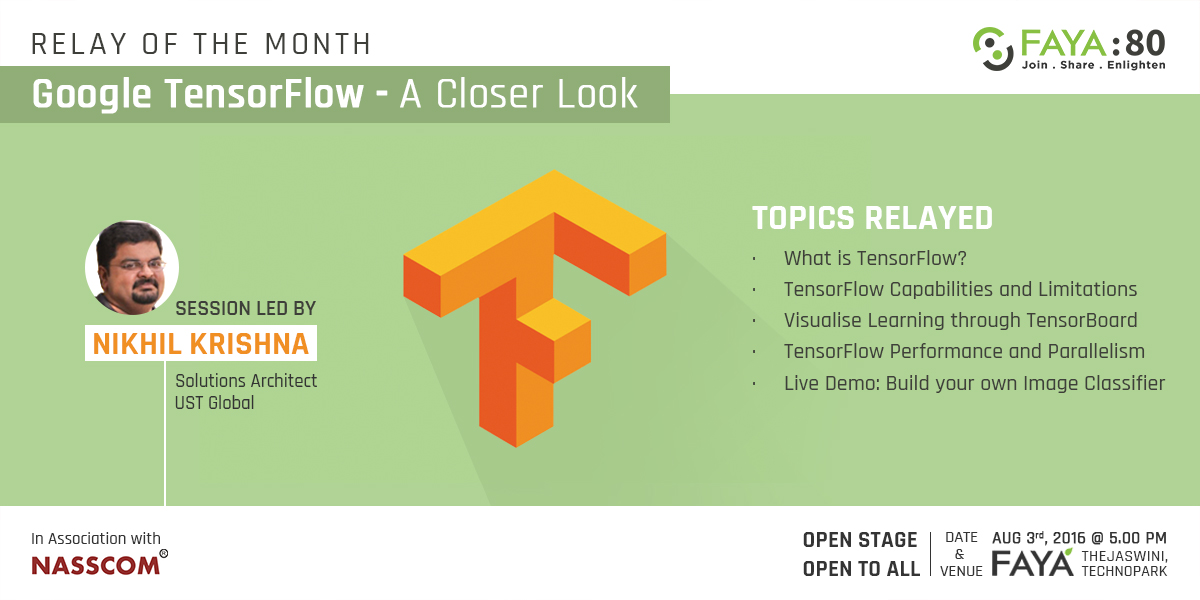 The last few years saw a huge hype in the popularity of Machine Learning. The July edition of FAYA:80 unleashed Machine Learning by breaking the myths and hypes around it. Now it's the time to make use of the Machine Learning capabilities to transform and re-engineer daily business.
The August edition of FAYA:80 provides the right opportunity with its session on TensorFlow.
TensorFlow isa highly scalable machine learning system open-sourced by Google.It paves way for any individual, company, or organization to build their own systems using the same software that Google does to fuel everything from photo recognition to automated email replies. TensorFlow is power-packed for the users to gain expertise in Deep Learning as well as in other forms of AI, including Reinforcement Learning and Logistic Regression.It can run on a single smartphone or across thousands of computers in datacenters.
Want to know more about TensorFlow?? Interested in building your own ML application??
Join us at the latest edition of FAYA:80 and take a Closer Look at TensorFlow!!
Registration
Registration is free but seats are limited. Click below link to register online.
Topics Covered:
What is TensorFlow?
TensorFlow Computational Model
TensorFlow Capabilities
Visualise Learning through TensorBoard
Tensor Flow Performance and Parallelism
Live Demo: Build your own Image Classifier
Sessions:
Techbites (Speaker: Rajeev J.S.)

TensorFlow – A Closer Look (Speaker: Nikhil Krishna)

Question Time

: Discussion on the top question raised by the community.
Submit your questions on the following form. http://goo.gl/forms/daE4bCyVDl
Date & Place
3rd August 2016 - 5pm at Floor of madness, FAYA.
About Speaker
The session will be led by Mr. Nikhil Krishna. He is a well-known Solutions Architect working in UST Global with over 16 years of experience in IT Consulting and Product Development. His areas of interest include Reactive and Distributed Systems, Programming Languages, and Bitcoin. He is passionate about programming for the web and its potential as a tool to transform user experience. His career spans across diverse roles from Dev Ops to Developer to Quality Assurance to Product Owner.
About FAYA:80 (Read as FAYA PORT 80)
In this era, technological advances have created a niche for themselves in the IT stratosphere. Newer technologies and related developments are happening at a sky-rocketing pace. Nurturing the power of being empowered in the right technology at the right time is the need of the hour. FAYA:80 provides a platform for the technocrats to keep at par with the latest tools and technologies in the IT industry. It inculcates a culture of community of practise for the technologists whereby they ignite the art of knowledge gaining and knowledge-sharing.
Come on… Push your Limits & Broaden the Horizons of your Knowledge!!!