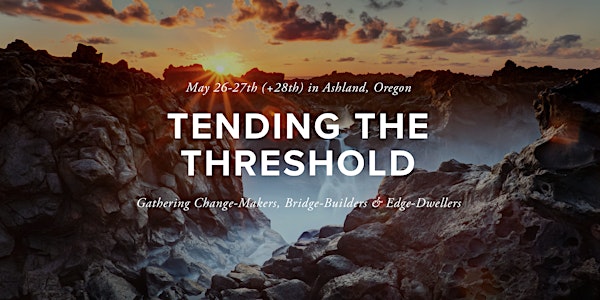 Tending the Threshold Conference & Workshops
When and where
Location
Ashland Hills Hotel & Suites 2525 Ashland Street Ashland, OR 97520
Description
Radical Attunement Work (RAW) presents
Gathering Change-Makers, Bridge-Builders & Edge-Dwellers
This "conference" is an invitation to gather, play, and create with fellow change-makers, bridge-builders, and edge-dwellers. It's a subversion of the status quo while stepping into the emerging new paradigm—a more beautiful world that's inclusive, connective, fierce, honest, and raw. We'll be fully engaged and embodied, creating a community of practice where we can explore liberation strategies together. We'll deepen our capacities for compassion and gratitude, elicit our inherent beauty, honor our grief, and engage in transformative justice.
COME JOIN US IN THE THRESHOLD, WE'RE SAVING YOUR SEAT IN THE CIRCLE.
---
We're committed to economic justice and to challenging white supremacy, capitalism, ableism and all systems of oppression in every aspect of our event. As part of that, we have a commitment to making our programs accessible and affordable to poor and working class people and people of color who are on the frontlines of social and environmental justice movements. We ask that people who have unearned power and class privilege, especially those who were raised upper-middle or owning class, buy the highest priced ticket possible and/or donate to the solidarity fund in order to support marginalized, poor, and/or working class leaders' participation.
We're committed to making sure money is not a barrier to participation. As such, we have a solidarity fund that sponsors people with marginalized identities and/or less financial privilege. Please contact us for a promo code if you would like a complimentary ticket. (Most of the wording regarding our commitment to economic justice and creating a solidarity fund was taken from Generative Somatics explanation of their sliding scale.)