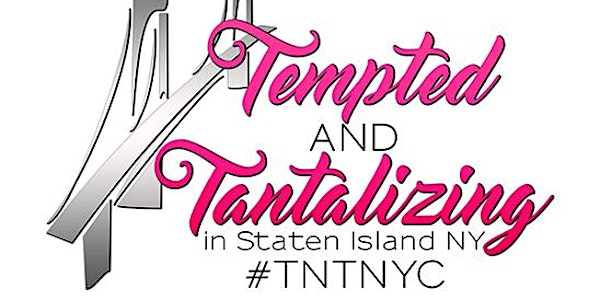 Tempted and Tantalizing in Staten Island, NY 2019
When and where
Location
Hilton Garden Inn New York/Staten Island 1100 South Avenue Staten Island, NY 10314
Description
Author Janine Infante Bosco & JB's Book Obsession are once again bringing your favorite authors and cover models to Staten Island, NY for their third annual signing event. It will be a weekend filled with fun, friends and books.
Come get Tempted and Tantalized at the Hilton Garden Inn Staten Island, NY Saturday September 21, 2019 for the main event.
Also join us for any of our mini events throughout the weekend.
ALL TICKET SALES ARE FINAL.
However, you may sell your ticket in our Facebook event group or the event Facebook page. Contact the event coordinators for details if necessary.
---
A NIGHT WITH THE KNIGHTS FRIDAY 9.20.19
*SOLD OUT (WITH BUS TICKET)* SATAN'S KNIGHTS PROSPECT REVEAL PARTY
TIME: 6PM-10PM
LOCATION: THE SATAN'S KNIGHTS CLUBHOUSE
$75.00
Description:
​Janine Infante Bosco and her Knights are taking you on a ride you won't forget. The Satan's Knights are cashing in on their longstanding contract with the bus company and have chartered a bus to transport you to their clubhouse, where three NEW prospects will be waiting to be patched in.
Confirmed models for shoot, Nick Bennett as "Blackie", Darrin Dedmon as "Wolf", Josh McCann as "Riggs", Charlie Dex Alexander as "Needle's" and Michelle Mcleod as "Maria Bianci"
Disclaimer: At the time of listing all models have been confirmed. However, should unforeseen circumstance happen, the shoot will go on as planned with the models in attendance. The
prospects will not be announced as attending models and will be revealed at the clubhouse. All have sign confidentiality agreements to secure the surprise.
*This is a separate event from the Saturday main event. If you are an attending author, PA or volunteer and would like to attend this mini event you need to purchase a ticket when they go on sale. *
​
Ticket includes bus transportation to the Satan's Knights clubhouse, two professional photo shoots, (one with the three prospects to be revealed the night of the party and one with the Satan's Knights originals in attendance for the event) and a special gift from the Knights to commemorate the evening. Dinner is also included with your admission to this event and there will be a cash bar available. But wait! There's more. You will also receive a $5.00 voucher which may redeemed on Saturday when you visit Janine's table and purchase the three Prospect paperbacks.
​
*CHECK IN AT THE LOBBY Between 5:15-5:45 BUS WILL DEPART AT 5:45 SHARP*
LIMITED TICKETS ARE AVAILABLE.
DINNER WITH THE KNIGHTS "WELCOME NEW PROSPECTS PATCH PARTY*
8:00 PM to 10:30 PM - $50.00 (Photo OP NOT included).
Missed your chance to ride to church with the Satan's Knights? You can still join Janine Infante Bosco and her Knights for dinner in the clubhouse!
Ticket includes admission into the clubhouse, buffet dinner and gift bag commemorating your time with The Satan's Knights. It is up to you to find your transportation to the event.
Unfortunately the photo shoot is sold out but you can still take photos of your own and hang with the club!
At the time of posting an uber to the location cost approx. 20.00
---
#TNTNYC19 VIP 9.21.19
*SOLD OUT* BREAKFAST WITH THE INDUSTRY PANEL & EARLY ENTRY TICKET
LOCATION:HILTON GARDEN INN,BRITTONS OAK BALLROOM
$60.00
Description:
VIP Breakfast Early Entry Ticket "INDUSTRY PANEL"
9:00 AM to 10:00 AM.
Ticket includes breakfast and admission to our "Industry Panel". Host, Janine Infante Bosco is grabbing the mic and putting the participating models, photographers and authors in the' hot seat'. Learn the ins and outs of the book world and how authors choose the perfect model to represent their work. We'll also get inside the heads of the models we love and respect, and discover how they became part of the industry. Also, she'll be passing the mic to other authors as they grill their models.
This VIP ticket also includes early entry to the main event ballroom at 10:30 AM to 3 PM, the official event tote bag with commemorative gift from our sponsors.
*Arrive at 8:45 AM for registration*
*IF YOU PURCHASE THIS TICKET YOU DO NOT HAVE TO PURCHASE A GENERAL ADMISSION TICKET THIS VIP EARLY ENTRY IS THE ONLY TICKET YOU NEED. *

---
#TNTNYC19 GENERAL ADMISSION 9.21.19
LOCATION: HILTON GARDEN INN, PERSIMMON, MAGNOLIA & JUNEBERRY BALLROOMS
$20.00

Description:
​INCLUDES OFFICIAL EVENT TOTE BAG AND ENTRY INTO THE MAIN EVENT BALLROOM FROM
11:30 AM TO 3:00 PM.
*ARRIVE AT 11:00 AM FOR REGISTRATION*
---
*SOLD OUT* #TNTNYC19 ALL ACCESS PASS
9.21.19-9.22.19
​$155.00
*LIMITED QUANTITY*

Description:
Saturday Breakfast VIP Early Entry Ticket/All day entry to the main event. 9 AM to 3 PM
Saturday Cocktail Reception Ticket
Sunday Patched Over Boozy Brunch Ticket (at O'Neill's – offsite venue)

TICKET HOLDERS WILL CHECK IN SATURDAY MORNING AND RECEIVE A SPECIAL ALL ACCESS PASS THAT EXCUSES THEM FROM CHECKING INTO THE COCKTAIL RECEPTION AND THE BOOZY BRUNCH. ALL ACCESS PASSES MUST BE SHOWN UPON ENTRY TO THESE THREE EVENTS.
---
*SOLD OUT* COCKTAIL RECEPTION 9.21.19
TIME: 7PM-10PM
LOCATION: HILTON GARDEN INN, LOBBY LOUNGE
​$55.00
Description:
Cocktail reception will be in the Lobby Lounge and will begin at 7:00 PM to 10:00 PM - light refreshments, DJ and cash bar.
*This is a separate ticket and is NOT included in any of the other tickets for sale*
---
*SOLD OUT* PATCHED OVER BOOZY BRUNCH 9.22.19
11AM-2PM
​O'NEILL'S
1614 FOREST AVE
​$45.00
Description:
Pass these 'Ol ladies a Bloody Mary and spend the morning with the authors of the #TNTNYC19 Patched Over Anthology. Get to know the women behind the badass characters and put them in the hot seat. No question is off limits—in fact, the more daring, the more fun had by all.
Featured Authors Include: Ambere Sabo, Cecile Tellier, Elizabeth Knox, Janine Infante Bosco, Khloe Wren, Linny Lawless, M. Merin & MariaLisa Demora….
But, this being TNT and all, you never know just who else might pop in..
​
Remember, "Patched Over" is exclusive to #TNTNYC19 and will not be in print anywhere else. You can preorder your copy and few will be available at the event along with other "Patched Over" merchandise.

Ticket includes admission into this three-hour event, brunch and a gift bag from the participating authors.
There are LIMITED seats available and none will be added. There will be a cash bar on site serving up Mimosas, Bloody Mary's and Irish Cordial Coffee.

Sunday September 22, 2019
O'Neill's
1614 Forest Ave
Time: 11AM-2PM

*This is a separate event from the Saturday main event. If you are an attending author, PA or volunteer and would like to attend this mini event you need to purchase a ticket when they go on sale. *
At the time of posting an UberX to the venue is $11.63
---
Event Link for all TNTNYC, tickets, website and social media pages, emails etc.
Go to our pages for up to date information on current attending authors over 80 of your favorites.