Description
Tempe Camera Presents: A Total Immersion Photography Experience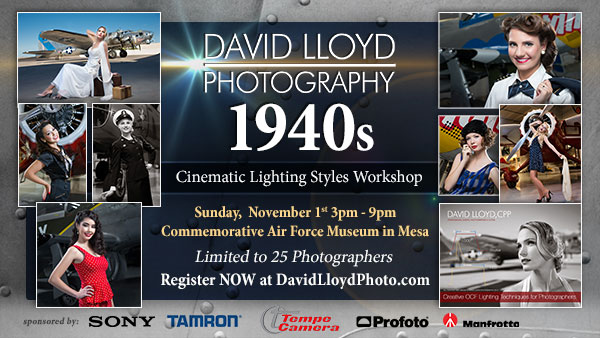 Imagine, walking onto a Hollywood studio, set in the 1940's and being on stage for the production of a major release Hollywood motion picture. One by one 40's attired celebrity models walk onto the set for an unparalleled fashion experience, while just outside the B-17, Sentimental Journey, taxis onto the tarmac.
Watch the Promo Video
An on-scene photographer with press pass, you will arrive at the Commemorative Air Force Airbase Arizona near Falcon Filed in Mesa. 2017 North Greenfield Road, ready with your camera and favorite lens. So be prepared to soar back into the Big Band Era, as you learn the Lighting techniques and style of Hollywood in the 1940's. Lighting Instruction, 40's styled models, indoor - outdoor sets, sponsored photo gear, meal and beverage provided.
Our Sponsors and Special Guests: Tempe Camera, SONY, Profoto, TAMRON and Manfrotto, will provide additional photographic gear for a very rewarding day of vintage styled 1940's fashion photography.
What: Lighting Workshop, highlighting the style of Hollywood in the 40's
Where: Falcon Field CAF Air Museum 2017 N Greenfield Rd, Mesa, AZ 85215
When: Sunday, November 1, 2015 3pm to 9pm.
Your Instructor: David Lloyd, CPP
Register Now!
Also, to be presented, David's New Book, "Creative OCF Lighting Techniques for Photographers."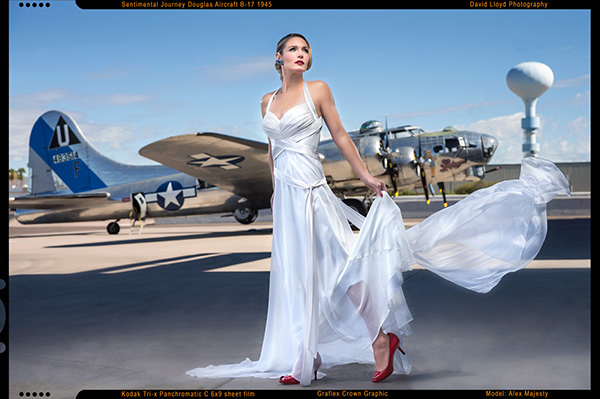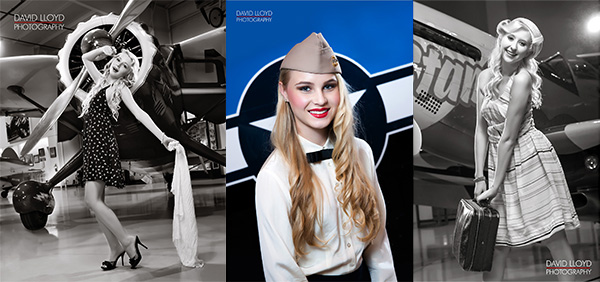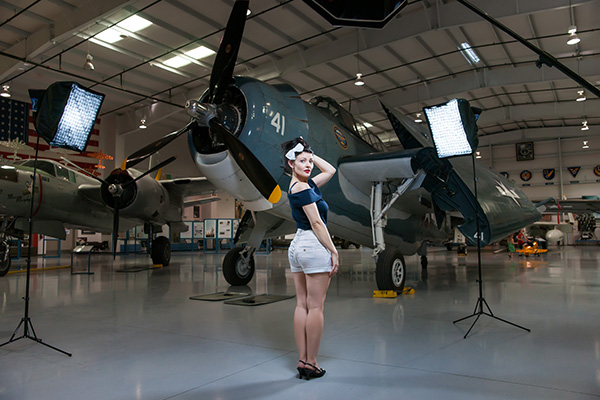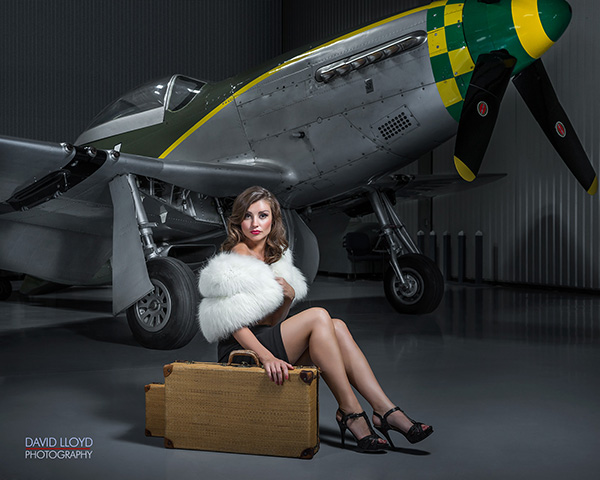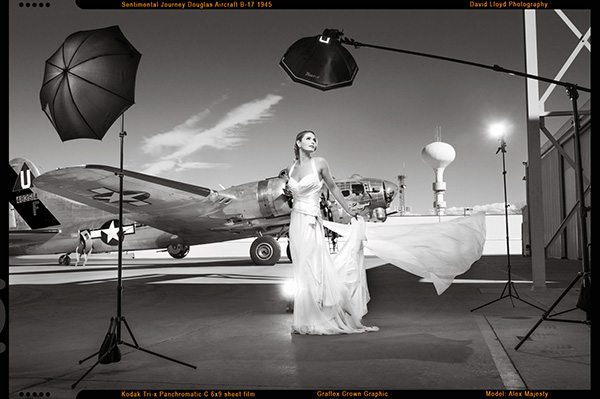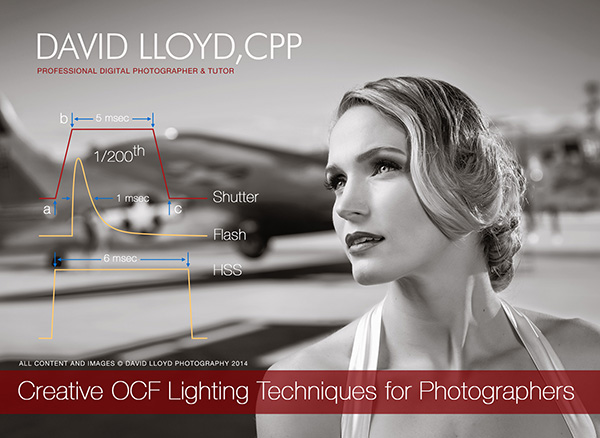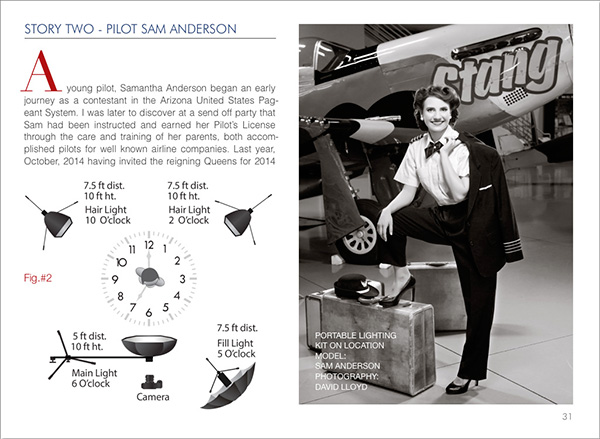 For a full description of this must have Lighting Book for Off Camera Flash, visit David's website: www.davidlloydphoto.com
Organizer of Tempe Camera Presents: 40's Hollywood Lighting Workshop with David Lloyd, CPP
Former New Product Design Engineer for the Vivitar Corp., a leader of innovative photographic products; Vivitar 283 and 285 Auto-Thyristor Flash, Vivitar Series One Lenses - Color Darkroom equipment, circa mid 1970's. Aerospace Engineer for Teledyne - Lockheed SR-71, Singer/Librascope, Lockheed Martin - Satelite Communications Power Systems. College Curriculum Photography Instructor, Professional Photographic Lighting, and Digital Tutor.
To ensure your success, you will receive expert Instruction with lighting and photographic composition by Certified Professional Photographer, Inventor, Author, and Lighting Expert.
Issued a U.S. Patent for an original "Portable Modular Flash System," David has now taken the next step and created what he calls "the ultimate approach to portable lighting." Fully documented and illustrated, with example photographs, lighting diagrams, setup pull-back photos and descriptive how to text, in this new Coffee Table Book on off-camera flash lighting techniques, "Creative OCF Techniques for Photographers."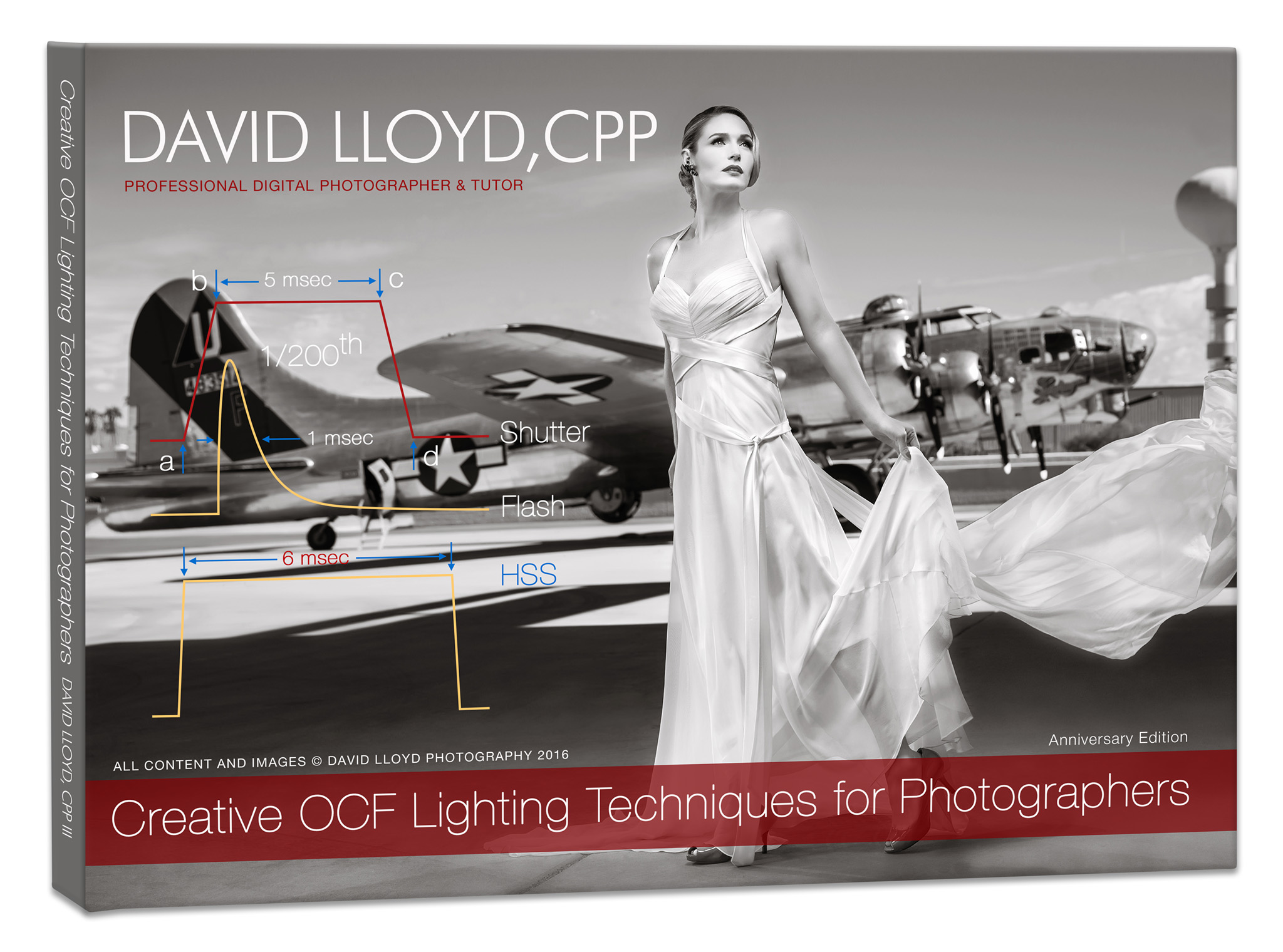 Testimonials:
By Bob Zimmerlich on March 16, 2016
"This should be in every photographer's library of essential lighting books for portraiture. David goes into great technical detail on the aspects of lighting, use of various light modifiers, as well as practical explanations with examples on how to use off-camera flash for indoor and environmental portraits.The published quality of the book is outstanding."
By Gus Zimmerman on April 2, 2016
"David Lloyd has written and produced a magnificent book containing many beautiful, inspiring images and a complete and lucid treatment of how to use off-camera flash to create great environmental portraits. What is special about this book is that David provides a rich set of examples and, for each, describes his artistic reasoning & intent with complete step-by-step instructions showing how the image was achieved. The book also includes one of the best and clearest discussions of all essential lighting concepts I have seen. In my view, this volume is a "must" addition to any photographer's library wanting to master environmental portraiture."
By Marc Morris on April 29, 2016
"You know, professional creatives fight all their lives to improve, to settle a style, to show their work is of a unique quality and worthy of consideration, so it is always something to celebrate when someone you know and respect reaches a true milestone in their career.
Today I wanted to put that spotlight on David Lloyd, one of the many talented photographers working at Tempe Camera Repair, and congratulate him on his new book. A truly beautiful labor of love that describes in detail what it takes to make extraordinary images when working with off-camera flash, David's exhaustive work is evident in every page as his images evoke that finished look a great many photographers strive to find in their daily grind.
Harnessing light is the essence of all photography. Controlling it is nearly a form of magic. If you're an established studio photographer looking for some helpful finesse or a student just looking to set out on the scariest journey of your professional life, there's no doubt that David has something in here for you. This book is worth picking up, no matter your skillset.
Photography challenges us at so many levels, getting a peek inside someone else's technique always inspires. David has been kind enough to share his creative process with the rest of us and I'm very pleased he did. Check it out and, sincerely, congratulations to David on the culmination of years of effort and creative burn. It's beautifully done, sir. Well played!"
To reserve your spot for David Lloyd's upcoming 1940s Lighting Workshop, or to purchase his coffee table book "Creative Off-Camera Flash Techniques for Photographers" visit www.DavidLloydPhoto.com and allow him to help you create some truly inspired photographic images for your personal portfolio!