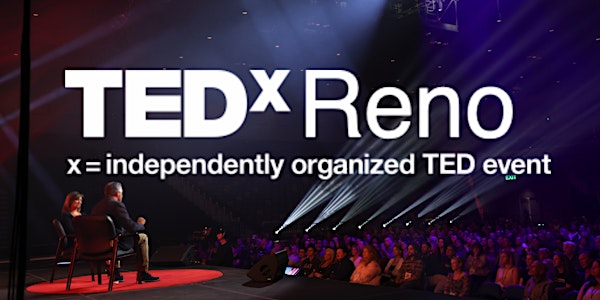 TEDxReno
TEDxReno is an Independently Organized TED Event
When and where
Location
National Automobile Museum 1 Museum Drive Reno, NV 89501
About this event
TEDxReno is is a half-day event where you get to see TEDx talks and performances that will inspire, educate, and transform!
***Only 100 Attendees ... this event WILL sell out so hurry!
This year, we are holding an exclusive VIP event which will be simulcast LIVE at a Watch Party at PBS Reno. Visit PBS Reno to purchase tickets to the Watch Party.
Immediately following the LIVE event, we will be hosting a catered luncheon with beer and wine.
Our AFTERPARTY will include a Q&A Panel with our A-List speakers followed by a meet and greet.
We are absolutely thrilled to announce this outstanding lineup of speakers and performers:
Francisco Aguilar, NV Secretary of State – Interview with Kaya Stanley
Dan Clark – (Former NFL Football Player, Author, Speaker) The Sound Of Silence: A New Perspective
Joseph McClendon III – (Founder, Neuroencoding Institute) Neutralizing The Thieves of Our Dreams
Roy Tuscany – (Founder of High Fives for Heroes) Adapting and Destroying Barriers
Dr. Ahmed Zaafran – (Anesthesiologist and co-founder of Lucid Lane) Data Driven Solution for Eradicating Opioid Addiction
Sandy Grigsby – (Branding Expert and Linkedin Influencer) Uncover Your Authentic Personal Brand With Four Words
Rhea Isaac – (University of Michigan Student). Comedian/Singer
Misty and Cody Rea – (Mother and Son Duo). Singers
For more information, visit Speaker Info
Schedule of Events (All PST):
8AM: Doors Open and Continental Breakfast is Served
9AM: Opening Remarks by Mayor Hillary Schieve and Program Begins
Noon: Catered Lunch with Beer and Wine
Immediately Following Lunch: Afterparty with Speaker Q&A Panel and Meet and Greet
****Simultaneous with the Live event is a LIVE Watch Party hosted by PBS Reno
***ALL TICKETS ARE NONREFUNDABLE***