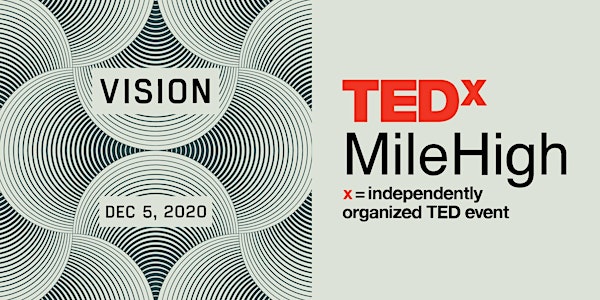 TEDxMileHigh: VISION - A Free Virtual Event
Join us as we come together for TEDxMileHigh: VISION
About this event
What do you see for the future, or can you see at all? The way forward is messy and clouded by complex challenges. And, while there is no magical formula for perfect vision, when we ground ourselves and look inward, we start to see more clearly and reconnect with our humanity.
And while there is no blueprint that will guarantee perfect clarity as we move forward, we can look to our guides: humility, curiosity, and ingenuity.
We can look to the past, knowing that a vision for what lies ahead cannot be divorced from remembrance of what lies behind. It takes courage to admit mistakes. It requires boldness to share your voice. And it takes vision to step back so that we can move forward together.
Every new idea was deemed impossible until someone came along and shared a new reality. We invite you to share your vision. We don't care what's possible. We want to know that you'll dream with us and that we'll awaken each other until we do the impossible.
Join us on December 5th, as we explore new ideas in science, art, health, poetry, and activism.
TEDxMileHigh is bringing the experience of our world-class events and ideas from Colorado's leading thinkers and doers to you at home for FREE! This virtual TEDxMileHigh event will feature eight extraordinary presenters and thousands of attendees. Don't miss the incredible opportunity to experience the power of big ideas and transformative thinking!
Meet the Speakers & Performers:
R. Alan Brooks, Emcee
Katherine M. Gehl, Political Reform Advocate
Leslie Herod, Criminal Justice Reformer
Ming Hsu Chen, Citizenship Law Expert
Alejandro Jimenez, Poet & Writer
Christopher A. Lowry, Mental Health Researcher
Kayla Marque, Singer-Songwriter
Dawn Spencer Hurwitz, Olfactory Artist
Joan C. Williams, Legal Scholar
To read about each speaker click here.
Support the Spread of Big Ideas
TEDxMileHigh is a small nonprofit that exists to accelerate big ideas and the community impact that follows. We are grateful for the opportunity to share educational content, and promote deep discussion and action during these important times.
The generosity of volunteers and donors makes our programming possible. If you are in a position to support us, we ask that you consider making a donation in place of what you would normally pay to attend one of our events. This will allow us to produce additional events in the future.
We are grateful for any contribution level, but here are some donation values for consideration:
$25: covers the cost of your ticket
$50: covers the cost for you and a friend
$100: covers the cost for a family
$250: covers the cost for 10 students
$500: covers the cost for one of our nonprofit partners
$1,000: covers a portion of our speaker coaching program
$2,500: covers a portion of our video production costs
We look forward to seeing you on December 5th!
Learn more about TEDxMileHigh at TEDxMileHigh.com