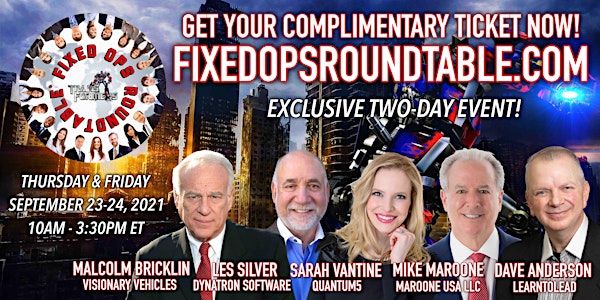 Ted Ings Presents FIXED OPS ROUNDTABLE: Transformers! 2-Day Virtual Event
Ted Ings Presents FIXED OPS ROUNDTABLE: Transformers! 2-Day Virtual Event, Thursday and Friday, September 23 and 24, 2021
About this event
Complimentary General Admission
Ted Ings Presents: FIXED OPS ROUNDTABLE: Transformers! 2-Day Virtual Event
Join us for an interactive roundtable among industry peers, featuring an in-depth discussion of fixed ops strategies!
Complimentary viewing ON DAYS OF THE EVENT ONLY. Rebroadcast is pay-per-view
We reserve the right to refuse admission to anyone
AGENDA - All times Eastern and approximate:
Day 1 - Thursday, September 23, 2021
10:00 AM - Opening: Ted Ings, Gene Girdley, Kara Delaine, Sarah Vantine, Elizabeth Martin, Erikka Wells
10:15 AM - Les Silver, Dynatron Software - Keynote
10:40 AM - Ed Roberts, Bozard Ford Lincoln - Exclusive Dealership Tour!
11:00 AM - Price Transparency Panel, sponsored by RepairPal, featuring Michael Weldon, Ernie Steagall, Alexandria Jenkins, Carol Kitts, Ryan Hamilton, Jill Trotta - Moderator
11:35 AM - Rob Leary, BG Products
12:05 PM - Jim Brewer, Light the Night
12:15 PM - Malcolm Bricklin, Visionary Vehicles
12:45 PM - Women in the Service Lane Panel, featuring Carol Kitts, Cindy Lentz, Amanda Mitchell, Elizabeth Martin, Cassandra Westfall, Alexandria Jenkins, Laurie Halter - Moderator
1:15 PM - John Traver, Traver Connect
1:25 PM - Anthony Greenhalgh, Rapid Recon
1:35 PM - The Qvale Way Panel, sponsored by UpdatePromise, featuring Drew Benson, Geno Walsh, Curtis Nixon, and Brandon Nixon - Moderator
2:10 PM - Millennial Service Advisors Panel, sponsored by Quantum 5, featuring Sarah Vantine, Dave Foy, and David O'Brien, Moderator
2:40 PM - Tim Troutt, Nitrofill
3:00 PM - Brad Paschal, Fixed Ops Digital
3:15 PM - John Fairchild, Live in the Drive
3:30 PM - Jim Roche, WarrCloud
Day 2 – Friday, September 24, 2021
All times Eastern and approximate:
10:00 AM - Opening: Ted Ings, Gene Girdley, Kara Delaine, Owen Moon, Ben Price
10:15 AM - Dave Anderson, LearntoLead - Keynote
10:45 AM - John Fitzpatrick, Force Marketing/GSM
11:05 AM - Dealership Operations in a Now Economy Panel, sponsored by Kimoby, featuring Nunzio Piccinni, Scott Gregg, Jeff Storey, Justin Pomeroy, Tully Williams, and Anastasia Gileva - Moderators
11:35 AM - Kaylee Felio, Parts Edge
12:00 PM - Mike Maroone, Maroone USA
12:25 PM - Why Warranty Flat Rate Has Technicians Leaving Panel, sponsored by AutoMax Recruiting, featuring Michael Weldon, Robert Stage, Shon Kingrey, Anne Lister, Marco Zwanenburg, Joe Lockerd - Moderator
1:00 PM - Randy Brenckman – Ask the Expert
1:15 PM - Fred Fordin, CDK
1:35 PM - Tires and Alignments Panel, sponsored by Tire Profiles, featuring Mike Vogel, Justin Pomeroy, Scott Gregg, Christian Ugarte, David Boyle - Moderator
2:15 PM - Anthony Monteiro and Jim Bauman, DRAIVER
2:30 PM - Kevin Winter, Team Velocity
2:50 PM - Po Duncan and Sean Reyes, Recall Masters
3:05 PM - Prepare for Promotion Panel, sponsored by Fixed Ops Magazine, featuring Corey Smith, Shon Kingrey, Ed Roberts, Sarah Vantine, Tully Williams, Ron Overs - Moderator
3:35 PM - Best Practice Awards Voting
3:45 PM - Announcements and Adjorn
See you on November 18-19, 2021 for the next big event!