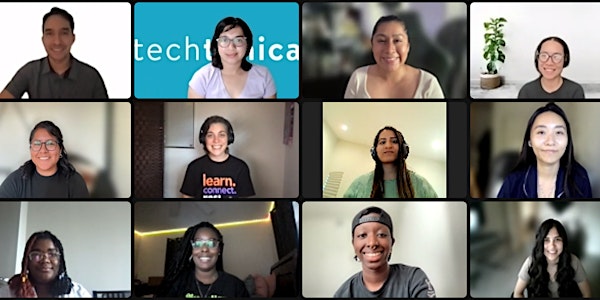 Techtonica Full-Time Program Info Session 2022 - 2023
Interested in applying for Techtonica's full-time program? Join this info session!
About this event
Techtonica's full-time program is a twelve-month program (six months of training virtual, followed by six months of placement or job search and community support) for women and non-binary adults with low incomes to transition into careers in the software industry. You can read more about the program here. This event will provide information to people interested in applying for Techtonica.
Welcome, introductions
Overview of program
Past graduate speaks
Q&A
You'll need a laptop, a camera, and Zoom. We will send out the Zoom video call link in a Google Calendar invitation the day of the info session.
There may be photography and videography at this event. By registering, you give Techtonica permission to use images or videos that may include you, and to contact you about future Techtonica-related topics, and you agree to Techtonica's Code of Conduct.