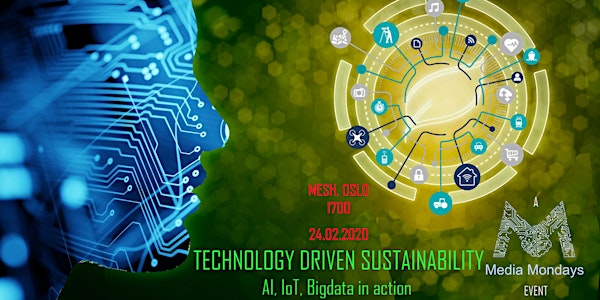 Technology driven Sustainability, AI, IoT, Bigdata in Action
When and where
Location
Mesh 3 Tordenskiolds gate 0160 Sentrum Norway
Description
Today we live in a society where we have an abundance of food, clothing, housing, raw material, knowledge, technology and other resources.

Unfortunately because human beings are such primitive creatures with advanced minds but paleolithic emotions, medieval institutions and godlike technology. This has led to a great disparity in our world. Where we see obesity on one side and the malnourished on the other. Unused luxury housing next to overcrowded slums. What is required is not technology, but a change in the mindset of how we humans use it.
Due to our primitive education system which hasn't been changed for centuries, we have created unhealthy business and social practices which has lead us to unsustainable ecosystems. Thus we see a cycle of financial, environmental and social crises.
As customers become more aware of corporate culture due to the great equalizers such as social media and other user-generated sharing platforms, we see industry giants fast losing market dominance and credibility. This has lead to downsizing in even fortune 1000 companies. Adding to this, the growing number of maturing startups that are disrupting the market making traditional companies and businesses irrelevant.
We would like to invite you to an exclusive event where we show you the business opportunities brought apron by this shift and how to use existing technology to transform your business into a more sustainable and profitable one.