Technology and Innovation Exchanges: Securing Mobile Network Infrastructure
About this Event
Innovation is the driving force behind the work of the Department of Homeland Security (DHS) Science & Technology Directorate (S&T)—the research and development arm of the Department—but in order to deliver the best technology solutions to DHS's end-users and operators, building and sustaining relationships with industry and innovation communities is essential.
The Technology and Innovation Exchanges: Securing Mobile Network Infrastructure engagement, a partnership between S&T and the Cybersecurity and Infrastructure Security Agency (CISA), focuses on the DHS operational mission of mobile network infrastructure, specifically protecting and securing legacy, current and 5G mobile network communications, services, and equipment.
During this engagement, innovators will have the opportunity to learn about the DHS mission, homeland security challenges and pain points to help identify cutting-edge technology solutions for DHS operational and end-users supporting this vital mission.
This event is closed to the press.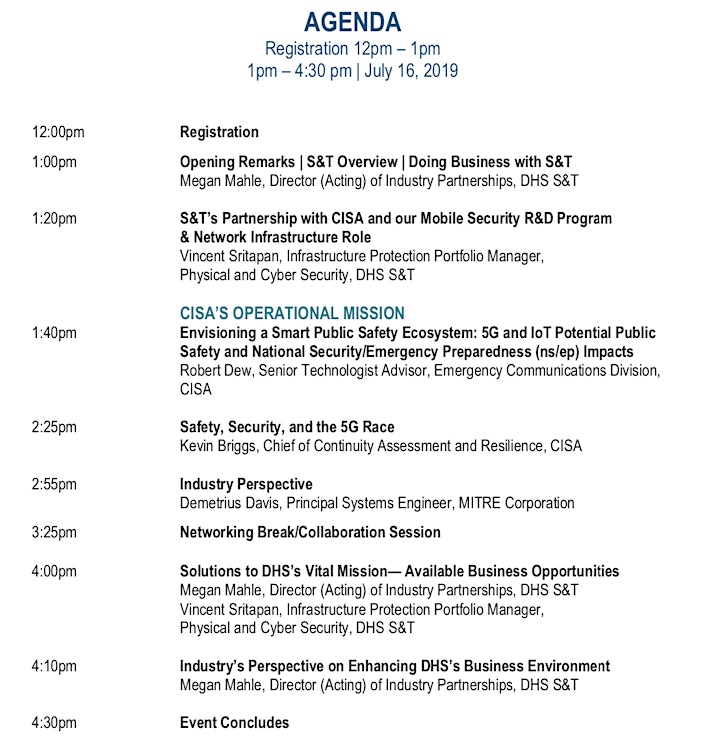 ABOUT TECHNOLOGY AND INNOVATION EXCHANGES
The Technology and Innovation Exchanges (TIES) program is a series of nation-wide collaborative events designed to engage, develop and foster relationships while educating industry and innovator communities about DHS's vast mission, homeland security challenges, and specific component operational needs.
ABOUT DHS S&T & CISA
DHS S&T
DHS S&T's mission is to enable effective, efficient, and secure operations across all homeland security missions by applying scientific, engineering, analytical, and innovative approaches to deliver timely solutions and support departmental acquisitions. Created by Congress in 2003, S&T conducts basic and applied research, development, demonstration, testing, and evaluation activities relevant to DHS.
CISA
The Cybersecurity and Infrastructure Security Agency (CISA) is the Nation's risk advisor, working with partners to defend against today's threats and collaborating to build a more secure and resilient infrastructure for the future. The threats we face—digital and physical, man-made, technological, and natural—are more complex, and the threat actors more diverse, than at any point in our history. CISA is at the heart of mobilizing a collective defense as we lead the Nation's efforts to understand and manage risk to our critical infrastructure.