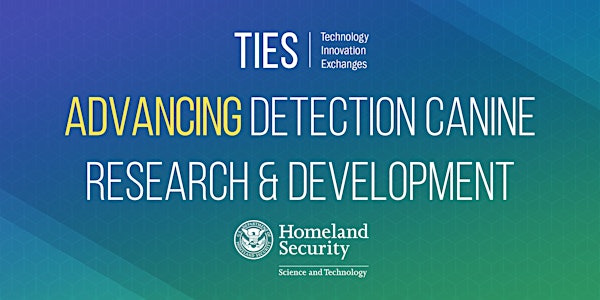 Technology and Innovation Exchanges: Advancing Detection Canine R&D
Connecting Homeland Security Needs with Innovation Communities
When and where
Location
Center for Innovative Technology 2214 Rock Hill Road # 600 Herndon, VA 20170
About this event
Innovation is the driving force behind the work of the Department of Homeland Security (DHS) Science & Technology Directorate (S&T)—the research and development arm of the Department—but in order to deliver the best solutions to DHS's end-users and operators, building and sustaining relationships with industry and innovation communities is essential.
The Technology and Innovation Exchanges (TIES): Advancing Detection Canine R&D engagement will focus on the DHS S&T Detection Canine Program's operational mission to provide the tools, techniques, and knowledge to better understand, train, and utilize detection canine teams.
This engagement provides industry and innovators the opportunity to hear from operational end-users and DHS S&T about the research challenge areas in the detection canine community and opportunities to work with us to support this vital mission. DHS S&T wants to engage with interested innovators to help identify impactful solutions for operational end-users, specifically to:
Develop and validate tools and techniques for the canine end-user community to optimize training methods and deployment strategies
Perform comprehensive canine research to maximize the abilities of odor detection dogs
Conduct chemistry of odor analysis and odor effects studies to reduce burden of training and maintenance of certified detection canines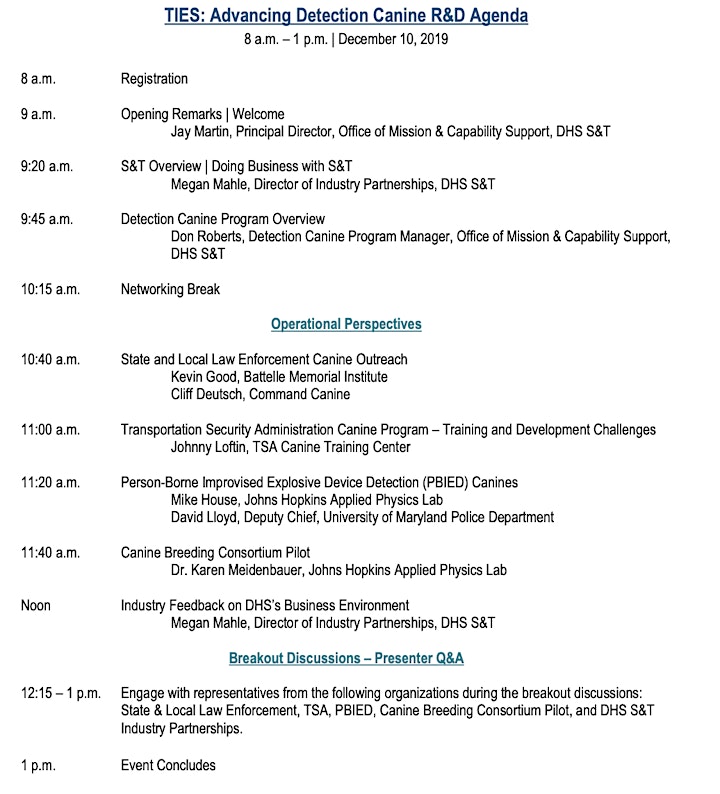 TECHNOLOGY AND INNOVATION EXCHANGES
The Technology and Innovation Exchanges (TIES) program is a series of nation-wide collaborative events designed to engage, develop and foster relationships while educating industry and innovator communities about DHS's vast mission, homeland security challenges, and specific component operational needs.
DHS S&T
DHS S&T's mission is to enable effective, efficient, and secure operations across all homeland security missions by applying scientific, engineering, analytical, and innovative approaches to deliver timely solutions and support departmental acquisitions. Created by Congress in 2003, S&T conducts basic and applied research, development, demonstration, testing, and evaluation activities relevant to DHS.