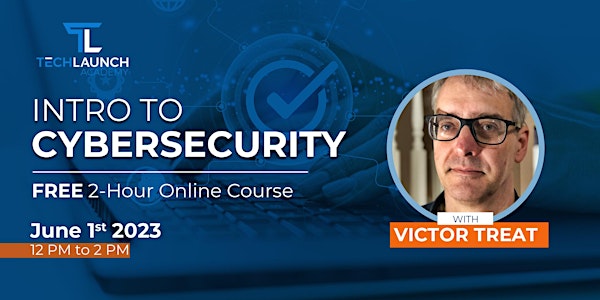 TechLaunch Free Online Class: Intro to Cybersecurity
TechLaunch Academy presents a FREE 2-hour class available to anyone who would like to learn about Cybersecurity.
By TechLaunch Academy Events
Date and time
Thursday, June 1 · 9 - 11am PDT
About this event
Are you fascinated by Cybersecurity, and are considering pursuing a career in Technology?
Are you looking to advance your IT career in the growing field of Cybersecurity?
If you answered yes, TechLaunch Academy's FREE Intro to Cybersecurity course is the perfect opportunity for you!
Reserve your spot in a FREE 2-hour virtual class, hosted by a live certified instructor, with over 20 years of experience in IT and Cybersecurity. Victor Treat, Senior Technical Instructor at TechLaunch has helped over 10,000 candidates prepare and pass IT certifications exams. Do not miss your chance and register today!
Class Details:
June 1, 2023 12:00 PM - 2:00 PM EDT
In the class, you will learn about the exciting world of Cybersecurity. Explore the basics of Computing, Cybersecurity Concepts, and Cybersecurity best practices. You will be able to participate in a class Q&A and earn a TechLaunch Academy Intro to Cybersecurity Completion certificate.
Key Topics of Discussion
What is Information Technology?
What types of devices fall under the umbrella of the Internet of Things (IoT)?
Learn about the different types and classifications of Security Controls.
Understand Malware threats and Anti-Malware tools.
Explore "Hacking the Human."
Learn how to use Authentication and Encryption to protect your information.
Register for Your Virtual Seat Now!
Your presenter is:
Victor Treat – Senior Technical Instructor, TechLaunch Academy
A Senior Technical Instructor with over 20 years of experience, Victor Treat has helped over 10,000 candidates prepare and pass IT certification exams. While the early emphasis in IT training centered around Windows Server certifications (starting with NT 4) and CompTIA certifications (beginning with the original A+ and Network+), Victor has continuously stayed current on emerging technologies. Over the past 15 years, he has trained students on ITIL best practices, while attaining high levels of certifications and student satisfaction. Victor has also placed an emphasis on Cybersecurity, culminating in numerous classes in Security concepts.
About the organizer
We host free webinars for anyone who is interested in learning about the world of Information Technology.