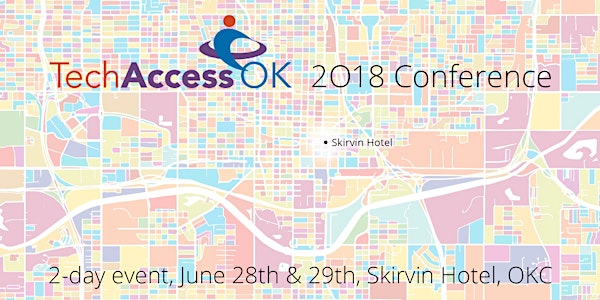 TechAccessOK 2018 Registration
When and where
Location
Skirvin Hilton Hotel 1 Park Avenue Downtown Oklahoma CIty Oklahoma City, OK 73102
Description
Oklahoma ABLE Tech is thrilled to once again bring you TechAccessOK, Oklahoma's information and communication technology accessibility conference!
This year's event takes place at the Skirvin Hilton Hotel in downtown Oklahoma City on June 28th and 29th. Thanks to our generous sponsors, the event is once again FREE to attend!
Thursday, June 28th will be a one day workshop on creating accessible PDF forms. Bevi Chagnon is back with us again this year to lead the workshop. This will be a bring-your-own-device session. A limited number of laptops will be available to use, but please bring your own laptop if you want to make the workshop hands-on.
June 29th brings in ICT accessibility experts from across the country to share their knowledge. The schedule is below:
7:30-8:30 AM: Registration

8:30-9:30: Jay Wyant and Jennie Delisi from the State of Minnesota, speaking about accessible multimedia and captioning

9:40-10:40 AM: Glenda Sims from Deque Systems, speaking about the new Web Content Accessibility Guidelines 2.1

10:40-11 AM: Break

11:00-12:00 Noon: Lainie Strange from the State of Missouri speaking about writing effective alternative text

Noon-1:20: Lunch

1:20-2:20 PM: Jessica Anderson, Sean Dixon and Nate Marshall from OU's Center for Public Management speaking about building an accessibility program
2:30-3:30 PM: Luis Garcia from eBay, speaking about testing for accessibility

3:30-3:45: Break

3:45-4:45 PM: Ashley Bischoff from The Paciello Group, speaking about using plain language

4:45 PM: Closing remarks
We will offer break refreshments in the morning and afternoon both days. Lunch is on your own, but being in downtown Oklahoma City there are lots of options.
There is a room block reserved at the Skirvin Hilton Hotel for those coming in from out of town. The rate is $95 for the night of June 28th. If you need a hotel room on Wednesday, June 27 and/or Friday, June 29, then please call the hotel directly at 405.272.3040 to make your reservation. Tell the associate that you have a discount code. The code is "OSU". The booking associate will book your entire stay at the lower rate.
Thank you to the Oklahoma State Department of Education, the Oklahoma Department of Rehabilitation Services and iPro Oklahoma for your generous support of this year's TechAccessOK!
The full schedule for TechAccessOK 2018 will be published soon on the website.
Above, you'll see a green "Register" button and by clicking that you can sign up for the either the 1st or 2nd day of the conference or both. Within a few days of registering, you will receive an email with a link to a form that will let you request any accommodations or specifiy dietary needs.
---
CODE OF CONDUCT
At its core, TechAccessOK is about the incredible community of accessibility practitioners and leaders in Oklahoma. While we never expect anyone to be anything other than fantastic when our community gets together we do have some expectations that must be met.
TechAccessOK will not accept behavior that is abusive or intentionally inappropriate. Examples of such behavior include, but are not limited to, the following:

Abusive verbal comments related to gender, gender identity and expression, sexual orientation, disability, physical appearance, body size, race, age and/or religion.

Sexual images in public spaces

Deliberate intimidation, stalking, or following

Harassing photography or recording

Sustained disruption of talks or other events

Inappropriate physical contact

Unwelcome sexual attention

Advocating for, or encouraging, any of the above behavior
TechAccessOK may act as it deems necessary to address any instances of abusive or intentionally inappropriate behavior. This may include expelling the offending party or parties from the event.
If you are subject to or witness abusive or intentionally inappropriate behavior, then you are encouraged to report it as soon as possible. Conference staff are available throughout the duration of the event. You can also report via email by sending a message to Rob Carr directly at rgcarr@okstate.edu. TechAccessOK will assess, respond and act accordingly.
All violations of the law should be reported to appropriate local law enforcement. Call 911 immediately in the case of an emergency. The Oklahoma City Police Department will respond to non-emergency calls at 405-231-2121.

By registering, you agree to the terms of this event.