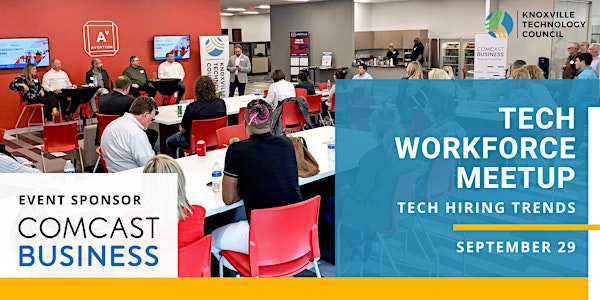 Tech Workforce Meetup: Tech Hiring Trends
Join Knoxville's tech workforce professionals for a discussion on hiring trends and where the market is headed for 2023.
When and where
Location
Avertium 1431 Centerpoint Blvd # 150 Knoxville, TN 37931
About this event
This meetup event is designed for technical recruiters, HR professionals, talent managers, and technology leaders to make new connections with peers at other Knoxville companies and discuss current trends in talent recruitment & workforce development for technical positions.
Our panel of experts will share their experience and insights on a variety of topics:
What they're currently seeing in the Knoxville job market, especially as it relates to technical positions
Solutions to address skills gap challenges (both technical and soft skills)
Tips for navigating compensation conversations
How to remain competitive and differentiate your organization
You'll also have the chance to ask your questions to the panel and discuss these topics with other attendees.
PANELISTS
Discussion Leader: Kelly Jo Grosser | Talent Acquisition Partner at Optiv
Joseph "Tike" Goddard | Talent Acquisition at CGI
Emma Lee | IT Account Manager at Patriot Talent Solutions
Sarah Miller | Director Human Resources - Residential Sales at Comcast
Whether you're in a hiring role or you manage a technical team, this event will give you a better understanding of Knoxville's tech workforce landscape so that you can plan and set strategic hiring expectations, while also gaining valuable tips to fine-tune your hiring & other HR practices.

We'll be gathering in Avertium's meeting space for a panel discussion and networking with appetizers and drinks provided.
This is a free event, but advance RSVP is requested. If you invite a colleague to come with you, please have them register as well so that we have enough food & drinks for everyone to enjoy.
Masks are not required, but we encourage attendees to follow social distancing and mask wearing according to their vaccination status and personal comfort level. The meeting space is a large, open area with plenty of room to move around.