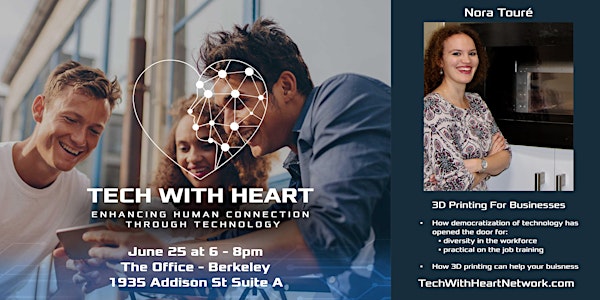 Tech WIth Heart - How 3D Printing Can Help Your Business
When and where
Location
The Office: Berkeley - CoWorking Space 1935 Addison St Suite A Berkeley, CA 94704
Description
Tech With Heart is an initiative to build a community of heart-centered, forward thinking business professionals, who want to quickly grow their businesses using emerging technologies and disruptive marketing techniques, while focusing on enhancing human connection through technology.
This monthly live event offers a positive, professional atmosphere, power networking opportunities, educational talks, and hands-on workshops. Our mission is to empower and enlighten, as we discuss emerging marketing technologies that enhance human to human connection.
***Audience participation is highly encouraged.***
You DO NOT need to be tech-savvy to benefit from this group!
About Our Special Guest Speaker:
Nora Touré is an Additive Manufacturing expert since 2010, passionate about how products are made: from design to manufacturing, using emerging technologies, such as the internet of things, artificial intelligence, virtual reality, robotics and 3D printing / Additive Manufacturing.
Named amongst the 20 most influential women in Additive Manufacturing, Nora also received the Certificate of Honor in Manufacturing by the City of San Francisco in 2017 for her work with Women in 3D Printing.
Nora founded Women in 3D Printing in 2014 to feature women leaders in the Additive Manufacturing industry by sharing their experience online. She also co-initiated and co-organizes #3DTalk, an industry-specific and educational event series featuring women in the 3D Printing and related industries. #3DTalks are global events hosted in San Francisco, New York and Paris, France.
--
YOU SHOULD ATTEND THIS EVENT IF:
You care about helping people
You value your customers
You want to stand out from your competition
You want to elevate your level of influence
You want to grow your business quickly
You want to build brand loyalty
You want to increase sales conversions
YOU SHOULD NOT ATTEND THIS EVENT IF:
You don't care about people
You only want to talk about yourself
You only care about making more money
TRAVEL INFO
Event location is .4 miles from Downtown Berkeley BART Station
Parking available onsite
***ID and ticket required ***
Dress - Business Casual
About Our Sponsor:
THE NEW PLACE TO STARTUP ISN'T A GARAGE–IT'S THE OFFICE.
Let's look at the perks of renting an office at a thoughtfully designed coworking space: lightning fast WiFi supplied by Sonic, catered lunches from local restaurants and food trucks, free conference rooms, free event hosting, and printing and reception services. Also, at The Office we've built an awesome communal kitchen & cafe too. We've got a giant stocked fridge, a water bottle fill up station, and multiple Chemexes for endless pour over coffee sourced from the best local roasteries. Plus, unlike the drafty garage, we've got central heating.
Our charm is best experienced in person. Come check us out!