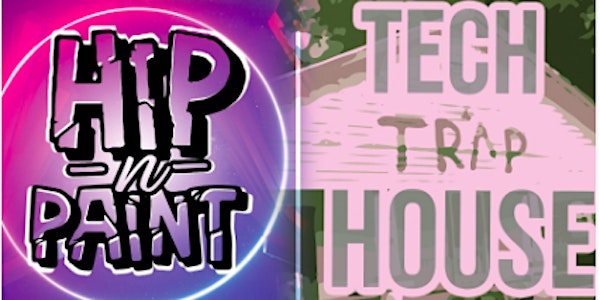 Tech Trap House (Glow UP Edition)
When and where
Location
NODE 1011 Kearny Street San Francisco, CA 94133
Description
The theme for our upcoming event is: The Glow UP! We will have glow in the dark paint for you to shine at night! The phrase Glow UP was created by Gucci Mane, and we want to help you see, visualize, and actualize your inner glow for everyone to see! The person with the best Glow in the Dark attire, and painting will win a "secret" prize.
Hip-N-Paint (HNP) is Sip and Paint with a Hip-Hop Twist. Bring your spouse, girlfriend, boyfriend, or whoever to sip some good dranks and express your creativity through painting. Hip-N-Paint starts at 6-9pm and continues until 12 am in conjunction with the Tech Trap House.
The Tech Trap House (TTH) was created to bridge the community gap between underrepresented communities and the tech industry using arts, music, and gaming. Hip N Paint (HNP) lasts for 3 hours and is geared towards painting enthusiasts. TTH is a 6-hour event where music and paint artists, techies, and gamers, come together to have fun with the purpose of closing the community gap.
Here's the Three Different TTH Zones:
1. Hip N Paint - Sipping drank and painting Picassos
2. TTH Corner, Indie Artist, & Music - Interview discussion,2 local indie artists perform and DJ spinning hip hop records
3. Smash Brothers Game - Gaming section for the gamers
Format:
6-9pm - Hip N Paint
9:15pm - Announcements
9:20pm - TTH Corner w/ Shamika Abraham: How to Break into Cybersecurity
9:45pm - TTH Q&A
9:50pm - Soundcheck
10:00pm - Najee
10:20pm - 1am
10:25pm - DJ music
12:00am - Cleaning Party
TTH Corner:
Shamika Abraham: Facebook, LinkedIn, Twitter
Shamika Abraham is blossoming cybersecurity professional currently working at Twilio Inc. as a Senior Security Customer Trust specialist managing security assessments for global enterprise customers in a range of industries. Shamika is an east Oakland native born to parents plagued with struggles of drug addiction, incarceration and low expectations.
She was left to take her journey into her own hands. She adopted a hustlers mentality approach to her career and fell into finance as a pre-teen. She started studying finance in college in Sacramento but quickly realized it wasn't for her, walked out of class one day and never looked back. Seeing education as very a la carte she's intellectually curious but on her own terms, preferring to take a class or attend a conference on subjects she's interested in vs the traditional college experience.
Shamika's career in "tech" began in 2013 when she landed a role as a compliance specialist for a solar startup in Oakland. This exposure magnified her interest in the fast paced industry; she's has had a lifelong curiosity for technology but couldn't quite figure where she fit in. She investigated coding to become a developer and working in IT but it wasn't until she found a love for cybersecurity and started studying for her first security certification that she knew she was on the right path. Last year she decided to leave finance for security after over a decade when she landed her current role. Shamika has begun pursuing opportunities to encourage women of color, specifically black women, to develop an interest in security. She's noticed that her nontraditional background has already made an impact in her current role and wants to support building a more diverse talent pool for this rapidly growing industry especially considering that a lot of the roles in cybersecurity are non-technical. In her free time Shamika loves sunny Sundays at Lake Merritt, reading, brunch and international travel.
Indie Artist Highlights:
Najee Amaranth: Website, Facebook, Twitter, Instagram, YouTube and Spotify
He is a Bay Area Native and The Oakland Mind Founder, who uses music as a vehicle for social change. He blends conscious hip hop lyrics over lush instrumentals to create an atmosphere of inspiration and celebration.
1 A.M.: Website, Facebook, Twitter, Instagram, YouTube and Spotify
1 A.M. is a young but experienced hip-hop artist from Gilroy, California-a bay area native. 1 A.M. has been making and producing her own hip-hop music since she was 17. She has15 different projects out as of this year which seamlessly blends hip hop, her raw life experiences, and worldview. She clearly sits within the realm of hip-hop, but at the same time never limits herself to only hip-hop influences. Her music combines elements from various other genres to create her unique sound and convey her message.
You will get four drinks with your ticket. Food will be served by Senor Versace at $10 a plate. DJ Ball-D will be on the ones and twos!
This is event has been done in collaboration with Corey Harris, Blackchain Founder, and DeBray and Talea Carpenter. Node is a 24/7 community, university, event space and social club, with events and seminars revolving around blockchain development. Join us now! -> www.nodeworldwide.com