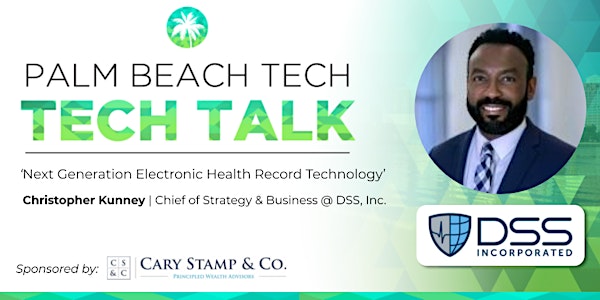 TECH TALK | 'Next Generation Electronic Health Record Technology'
Our Tech Talks are monthly happy hours to network, learn and engage with local technology & entrepreneurial leaders.
About this event
ABOUT THIS TALK
The Covid-19 pandemic presents the U.S. health care system with a mind-boggling array of challenges. Sorting through large amounts of information and finding the value clinical insights that apply to a particular patient's situation is something that current Electronic Health Record systems ought to be good at. Unfortunately, clinicians still have problems understanding what data is important and what is the right treatment and prevention plan for each patient.
Christopher Kunney, Chief Strategist and Business Development Executive at DSS, Inc ( Developers of Juno EHR) talks about how his company leverages technology to make better clinical decisions, improve disease management, boost the efficiency of the patient delivery process, and increase interoperability. He shares the goal of the company, the impact of integrating legacy technologies with cloud-based technologies, explains why his company calls it an EHR revolution, anecdotes and insights, and more.
ABOUT SPEAKER
Christopher Kunney serves as DSS Inc.'s Juno EHR product line. As an experienced healthcare information technology executive and strategist Kunney works with hospitals, healthsystems, accountable care organizations, clinically integrated networks, ancillary service providers, and physician-owned entities to provide guidance and insights specific to emerging healthcare technology offerings, compliance-related issues, and technology adoption. Before joining DSS, Inc., Kunney served as Senior Vice President of Healthcare Information Technology for Coker Group and Managing Partner and IT Strategist of IOTECH CONSULTING. He also served as Entrepreneur in Residence at The Combine, Director of Emerging Healthcare Technology for AT&T, Vice President and COO for Health Innovations, and Vice President and CIO for Piedmont Healthcare.
ABOUT PARTNER
DSS Inc. is a health information software development and systems integration company, providing services and solutions used daily by thousands of clinicians and administrative staff nationwide, in the public and private sectors.
For over twenty-five years we've led the way for healthcare innovation, creating solutions that improve revenue cycles, regulatory compliance, interoperability, and above all, patient care. Our employees and partners include experienced clinicians and Veterans who work closely with customers every step of the way.
DSS is one of the nation's leading healthcare IT vendors, recognized for the fourth consecutive year in 2018 as a Healthcare Informatics 100 company.
ABOUT SPONSOR
Cary Stamp - Is an asset-wealth management firm and principled financial advisor to help you achieve financial freedom. We are dedicated to helping clients achieve true wealth in every phase of their lives. Our advisory team provides sophisticated wealth management and financial planning solutions founded on the CFP® (CERTIFIED FINANCIAL PLANNER™). For those who have a need for planning, we create comprehensive, holistic plans—often in collaboration with clients' attorneys and accountants— that align with client goals and aspirations, their needs, investment objectives, risk tolerance, and time horizon.
Wealth management and planning that builds, protects, and extends the financial health and legacy of our multigenerational client families. Based in Palm Beach County, FL and Fairfield County, CT with clients throughout the U.S.