Description
活躍科技界30年的「矽谷美華科技商會」5月5日舉辦"Tech Talk"高科技論壇,邀請到十位矽谷科技界的菁英,涵蓋了風險投資、國際化企業、Startup等,來分享他們事業成功和失敗的寶貴經驗。並探討電子商務亞馬遜、臉書、谷歌等公司如何影響到我們商務業主的未來?新興起的機器人會取代傳統的工作模式嗎?我們要如何因應電子商務所帶來的衝擊與改變?此時是我們的機會,還是更大的挑戰?千萬別錯過了,這個關係到我們未來的論壇! (矽谷美華科技商會facebook).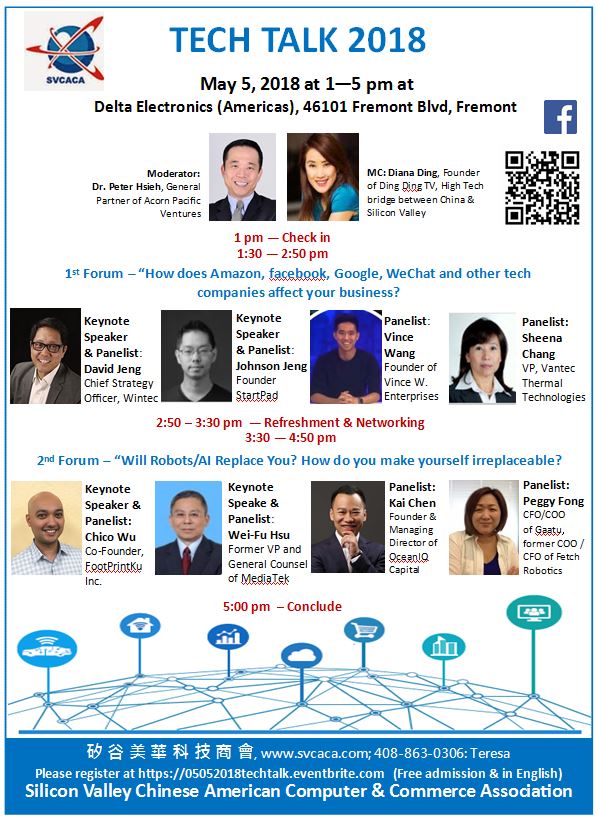 Peter Hsieh is the General Partner of Acorn Pacific Ventures, and one of the few venture capitalists that has about 10 years of direct venture capital experience in Silicon Valley, and another 10 years of the same in China.

Diana Ding is the founder & CEO of Ding Ding TV, 1st Chinese American Internet TV, content and connection for Global Entrepreneurs. As a Silicon Valley media entrepreneur and business development & Operations Leader, Diana specializes in: Innovative Media Meets Smart Marketing.

David Jeng is the Chief Strategy Officer, Wintec and a member of the Board for Wintec. Prior to this role, David served as Vice President of the Retail division where he pivoted the business to a scalable business model. David also served as Vice President of Operations in which he oversaw the logistics and operating portions of the business.

Johnson Jeng is Founder @ StartPad.co , Klear Bottle, Elium, who is a brand and marketing specialist, a Silicon Valley Accelerator. Johnson has helped raised more than 20M+ on crowdfunding and help launched more than 60 products globally. Johnson currently advises startups on growth hacking, scaling, product design, and manufacturing.

Vince Wang is the founder of Vincent W. Enterprises LLC who runs/owns multiple E-Commerce brands and do marketing for a bunch of companies.


Sheena Chang is the Vice President of the global headquarter of Vantec Thermal Technologies in Fremont founded in 1993. Vantec established Taiwan branch office in 2001 and Shenzhen in 2007. Vantec is a leading brand of computer accessories that provides a complete line of Storage, Thermal, and Mobile solutions.


Chico Wu is co-Founder of FootPrintKu who is an entrepreneur with over a decade of hands-on engagement in the EDA field. As the design captain, Chico led PalPilot's design division to record growth by focusing on value creation. Pinpointing challenges caused by manual processes, he co-founded FootPrintKu to increase representation of active automation in hardware design by harnessing robots and adaptive learning in hopes to transform EDA library development.

Wei-Fu Hsu was former Corporate Vice President and General Counsel of MediaTek, Inc. until late 2016. He joined MediaTek in late 2003 and has since built up the MediaTek's legal department to become one.

Kai Chen is the Founder & Managing Director of OceanIQ Capital. As the company head, his primary role is to provide strategic vision, investment advisory, and relationship management. He started his investment management career at Goldman Sachs Private Wealth Management, specializing in asset allocation and investment strategies. He later spent 12 years at Credit Suisse and was most recently a Director and Relationship Manager.

Peggy Fong is is the CFO/COO of Gaatu. She is a senior executive with extensive experience in finance, operations, product plans, sales & marketing and executive functions. Peggy has experienced in VC funded, public and privately held companies. Peggy has worked in all sizes of organizations from early start up to multi-billion global organizations with experiences in both IPO and M&A, including COO / CFO of Fetch Robotics.