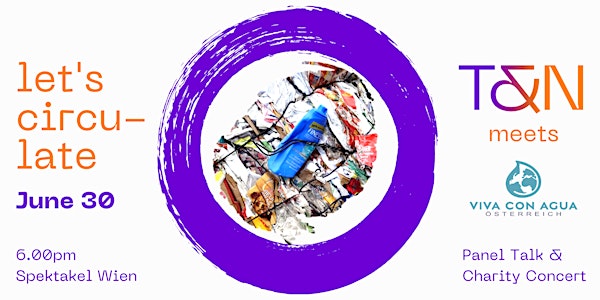 Tech & Nature - Let's Circulate ft. Nunu Kaller & LÖVEN
Ein vielseitiger Abend rund um Kreislaufwirtschaft und die zentrale Frage: Schaffen wir es unsere Ressourcen zirkulieren zu lassen?
When and where
Location
Spektakel Wien Hamburgerstraße 14 1050 Wien Austria
About this event
ENDLICH IST ES WIEDER SOWEIT!!!
Nach den langen Wochen des Lockdowns freuen wir uns, die Tech & Nature Community wieder persönlich sehen zu können und euch endlich wieder zu einem Event einladen zu dürfen!
Unsere erfrischende Veranstaltungsreihe der etwas anderen Art geht in die zweite Runde und dreht sich diesmal rund um das Thema "Circular Economy". 
Wir haben Online-Events satt und sehnen uns nach Interaktion, Co-Kreation und zwischenmenschlichen Begegnungen. Es ist wieder Zeit gemeinsam aktiv an Lösungen für unsere ökologischen Herausforderungen zu arbeiten - natürlich unter Einhaltung sämtlicher Corona-Sicherheitsvorgaben.
Trending Topics presents ****TECH & NATURE - LET'S CIRCULATE****
Am Dienstag, den 30. Juni laden wir zu einer besonderen Soirée mit anschließendem Charity-Konzert ins Wiener Spektakel ganz nach dem Motto "SCHAFFEN WIR EINEN KREISLAUF DER RESSOURCEN!" 
★ KEY NOTE von Umweltaktivistin & Bloggerin Nunu Kaller
★ PROJEKTVORSTELLUNGEN unserer regionalen Top-Player im Kreislaufwirtschaftsbereich
  → Refurbed ft. by Peter Windischhofer
  → Too Good To Go ft. by Georg Strasser
  → Kern Tec ft. by Sebastian Jeschko
  → Plasticpreneur ft. by Florian Mikl
 → Refished ft. by Sissi Vogler
★ FRAGE SESSION von unseren geladenen "Experts of Scientific Wisdom"     
→ Oliver Holle: Co-Founder & Managing Partner von Speedinvest
→ Andreas Tschas: Entrepreneur & Co-Founder von Pioneers.io
→ Maria Baumgartner: Entrepreneur & CEO von Speedinvest Heroes
→ Gerald Kühberger: Communications Manager vom Handelsverband
→ Elisabeth Pinter : Wissenschaftliche Mitarbeiterin am FH Campus Wien
★ PANEL moderiert von Chefredakteurin Sara Grasel
★ CHARITY-KONZERT in Kooperation mit dem Non-Profit Viva con Agua und der Rock-Pop-Band LÖVEN   
Drei Millennials aus Wien mit Beats, Bässen, Dance und Pop sowie Texten über Niederlagen und Siege.
→ Sämtliche Spendenerlöse werden in Wasser-, Sanitär- und Hygieneprojekte in Malawi fließen
WAS STEHT NOCH AN?
★ IMPACT BOOTH AREA 
→ Hut & Stiel: Pilzdelikatessen aus auf Kaffeesatz gezüchteten Austernpilzen 
→ Refished: Fair Fashion with <3
→ ZIRP Insects: Insekten zum Vernaschen (Ähm, ja ihr habt schon richtig gehört...) 
→ Rebel Meat: umweltfreundliche Burger mit weniger Fleisch und herzhaften Pilzen
Sei dabei und sichere dir dein Ticket… lieber schnell sein, denn die Plätze sind super limitiert ;) .
WIR FREUEN UNS AUF EUCH UND EINEN ERFAHRUNGSREICHEN ABEND!!! 
Euer Tech & Nature / Trending Topics Team <3
CASH ONLY 💸 - Im Spektakel gibt es keine Möglichkeit mit Karte zu bezahlen!
Kleiner Eindruck gefällig? Hier das Video zu unserem letzten Tech & Nature Event im November 2019.
KEY FACTS:
Datum: Di, 30.06.20
Dauer: 18:00-23:00
Location: Spektakel Wien, Hamburgerstraße 14, 1050 Wien
Moderation: Sara Grasel
18:00 - Eintreffen der Gäste 
18:30 - Welcome Speech: Tech & Nature
18:45 - Keynote: Nunu Kaller 
19:10 - Projektpräsentationen: Refurbed, Too Good To Go, Kern Tec, Plasticpreneur, Refished
19:35 - Expert Circle: Fragerunde an Startups
19:50 - Panel: Schaffen wir es unsere Ressourcen zirkulieren zu lassen?
20:10 - Q&A Session
20:20 - Getränkepause & Networking
20:45 - Projektvorstellung & Konzert: Viva con Agua
21:30 - Networking