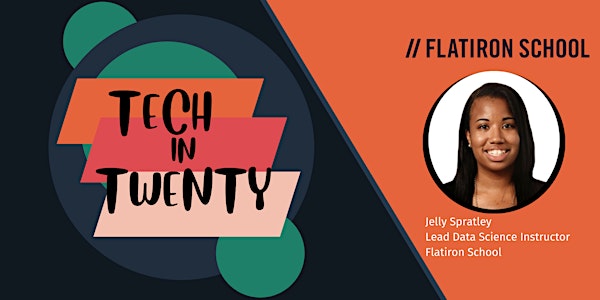 Tech in Twenty: The Human Story Behind the Data Point | Online
Join Flatiron School for a dynamic conversation focused on ethical and impartial best practices in Data Science with Jelly Spratley.
About this event
Jelly Spratley is a Data Analyst whose research examines the human story 'behind' the analysis. She is one of Flatiron School's lead Data Science instructors and has her MS in Analytics. Her career in data analytics has focused primarily on higher education and the pharmaceutical industry. Join Jelly as she discusses data ethics and data bias and the importance of these topics when presenting analysis to clients and deploying machine learning models.
Who is the workshop for?
Hoping to break into tech or looking for your next opportunity? Bring all of your questions and get ready to be inspired from the source.
We welcome people from all backgrounds to attend this event, as well as people of all technical backgrounds - newbies thinking about breaking into tech to professionals with flourishing careers.
About the Host
Flatiron School teaches passionate, creative people how to launch careers in tech. At Flatiron School you learn how the future is being built, so you can change anything, starting with a new career in code, data science, cybersecurity, or product design. To learn more about Flatiron School, visit www.flatironschool.com.
Click here to schedule a 10 minute chat with one of our admissions representatives.