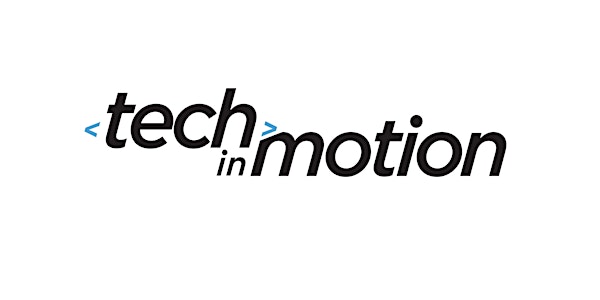 Tech in Motion + Verizon Present: Data and Design Tech Talk (SF - Free Even...
Location
Autodesk Gallery
1 Market Street
#200
San Francisco, CA 94105
Description
Join us for our next tech talk presented by Verizon.
We're going to explore --What's more important (Data v. Design)? How are Designers + Data Scientists working together to create more consumer friendly products? How does data help/hinder design? How does design aid in the collection of data?
The event is hosted by Autodesk in their high tech Gallery location right on One Market Street. Please take a moment to confirm your RSVP to this event. Currently SOLD OUT - More RSVPs available on our meetup page. http://www.meetup.com/TechinMotionSF/events/228922098/
**Fill out this survey for a chance to win a $50 Amazon gift card from Verizon: https://www.surveymonkey.com/r/vztechpre
Interested in Speaking, Demoing, Presenting, Promoting, or Partnering with us for any event? Reach out to our event organizers to find out more info. http://www.techinmotionevents.com/sponsors
Program for the Evening:
6:00 - 6:30 pm | Check In
7:00 - 8:00 pm | Panel Discussion - Including Q&A
8:00 - 9:00 pm | Wrap Up Networking
Moderator:
Nellie Bowles | Reporter at Guardian News & Media
I'm a reporter for The Guardian covering Silicon Valley. I'm writing a book for Hachette and working on a show for Fox TV that's based on my startup coverage. Some of my favorite clips are stories on: Startup culture, teenagers,Burning Man, local parks, local characters, and major lawsuits. My background is in science. I coordinated research for a UCSF study on telomere length and stress, published peer-reviewed papers onneuroscience and hypnosis during a fellowship at McGill, and worked at a mental health clinic in Peru. I have a BA from Columbia University and was the 2011 Fulbright Fellow to Swaziland. I live in the Castro with two stray kittens (Lovely and Egg). I'm always looking for good stories. email me: nellie.bowles at theguardian dot com
Speakers:
John Walker | Director of Operations Technology | Verizon Wireless
John Walker serves as the Director of Operations Technology for Verizon Wireless. With a diverse background leading teams across Network Engineering, Strategic Planning, IT and Operations, he is currently responsible for Performance Management and Design Execution of Verizon's retail stores, agent locations and telesales channels. John and his team are specifically focused evolving the customer experience. Whether it be developing innovative new sales systems or injecting new technology into existing processes and interfaces, his focus is ensuring the simple and fun experience for the customer. John is a graduate of the University of Pittsburgh with Master's Degrees in both Strategic Planning and Finance.
Vicki Tan | Product Designer at Lyft
Vicki Tan is a product designer at Lyft. With nearly 2 years under her belt at the rapidly growing rideshare company, she is focused on the in-app passenger experience. Prior to Lyft, Vicki worked in hiring experiments at Google and oncology research at Stanford. She received her degree in behavioral psychology at UCSD. When not designing, you can find Vicki rock climbing and riding motorcycles.
Amir Mirzaee | Waze Global Business Development at Google
As a Growth for APAC, EU and the USA, Amir oversees B2B partnerships and in particular the Waze SDK program to drive growth through partnerships. Before joining Waze in January 2014, he was a 3 year Googler in Hamburg, Germany, where he oversaw Commerce, Shopping and Ads business development for the DACH region. An entrepreneur at heart, Amir founded a VC funded startup age 24 in Berlin, followed by Skillnet, a Hamburg, Germany based business consulting firm leading in online strategy, media convergence and corporate finance consulting. Amir holds a German Diplom degree at the University of Applied Sciences Hamburg
Jane You | Product Manager | Autodesk
Jane You is an experienced programmer, manager and digital analyst of world-class high-tech products. At Autodesk, Jane is a Product Manager for Analytics where she drives data-driven practices across divisions throughout 20 office locations worldwide. Jane leads a product intelligence team and works closely with designers and UX developers to provide a better data experience internally and help product teams build better for the customer. Jane also shares her knowledge and analytics tips at Autodesk DataCamps.
Read more about our sponsors below:
Verizon delivers the promise of the digital world. At the center of today's connected world, we work independently and with tech industry partners to put simple, yet incredibly powerful digital tools in the hands of our customers. With the nation's most advanced and reliable 4G LTE mobile networks and FiOS fiber-optic, Verizon's customers enjoy the benefits of the digital lifestyle, while we provide the communities we serve with new ways to prosper and grow in the Internet Age – connecting them to the global economy, expanding access to opportunity, and offering new approaches to the challenges of health care, education and environmental sustainability.
- The Autodesk Forge program is for partners building Cloud based apps and is offering an intensive week of learning in San Francisco this June http://forge.autodesk.com/conference/
- Forge also includes a US$ 100 million dollar start-up investment fund.
The Future of Making Things.
Learn more about design and engineering data at the inaugural Autodesk Forge DevCon on June 15-16 at Fort Mason in San Francisco. The first 50 people from the Tech In Motion community to register here, gets a FREE ticket (a $500 value)!