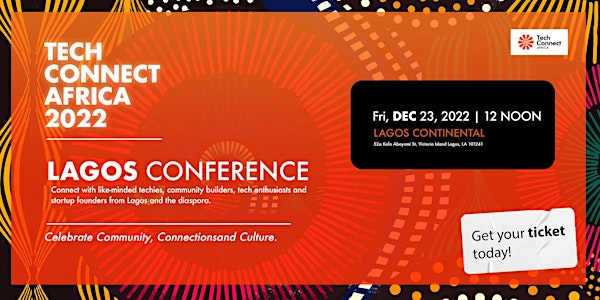 Tech Connect: Lagos - Opening Networking Event & Conference
Join techies in Lagos on Dec 23rd for a Networking Summit at Lagos Continental
When and where
Location
Lagos Continental 52a Kofo Abayomi St, Victoria Island Lagos, LA 101241 Nigeria
About this event
For the culture. By the culture. Celebrating Black Excellence
This summit will provide the diaspora with the chance to connect with the global African diaspora. You'll rub shoulders with employees at Meta, Google, Tik Tok and startups alike…individuals who are all committed to building a future of tech that embodies our culture, connection, and community.
Both the welcome evening and summit will provide you with the chance to learn about recent developments in the tech space, advancement of Web 3 across the continent, African founder stories and the rise of the creator economy in Nigeria.
You'll be able to meet and mingle with leaders and experts across Nigeria and the world who are engineers, HR professionals, recent graduates, startup enthusiast, FinTech professionals and content creators
You'll be greeted with canapés, specially curated cocktails and live music. It's not to be missed.
Get ready to be entertained, learn about trending technologies, network in one of Africa's finest hotels.
Dress code:
Celebrating Black Excellence! We invite you to wear your best African Attire.
What to expect:
As a community for Black tech professionals, we are celebrating 'Detty December' in a huge way. This networking event is designed to connect you with tech professions, inform you about innovations taking place in Africa and leave you feeling inspired, connected, and uplifted.
Who is Tech Connect Africa?
Tech Connect Africa is a global social enterprise. Our mission is to unify the global African diaspora and build a future of tech that embodies our culture, connection, and community. We are creating a world where the African diaspora is leading technological innovations in their communities. We welcome you to our networking dinner and networking summit in Lagos
To join our community and for more info: https://techconnectafrica.com/
Please note, this ticket provides you with access to the location only. Food and drinks will need to be purchased separately.