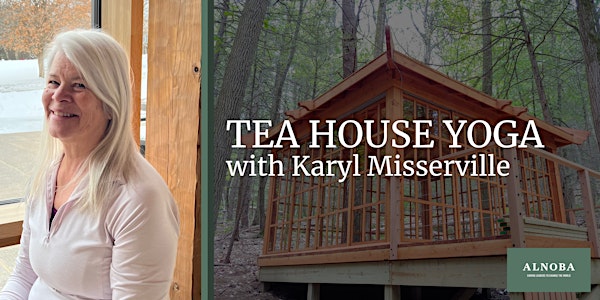 Multiple dates
Teahouse Yoga Classes
An intimate yoga class inside Alnoba's woodland Teahouse with Asana & Pranayama yoga instructor Karyl Misserville.
Date and time
Tue, May 2, 2023 10:00 AM - Tue, Oct 17, 2023 11:30 AM EDT
Location
Alnoba 24 Cottage Road Kensington, NH 03833
About this event
Tickets $25 per person | Limited to 5 participants.
All proceeds donated to support Sawyer Park.
Enjoy an intimate personalized yoga class inside Alnoba's stunning woodland Japanese Teahouse and relaxing stroll through our Winkley Brook forest area.
The Japanese Teahouse at Alnoba sits on a hillside overlooking the winding brook and a majestic stand of white pines. It is built of Pacific redwood to traditional specifications for a light, airy experience that makes you feel as though you are floating among the trees.
These classes are limited to just five people. We are looking forward to more added sessions this year.
About Karyl Misserville
Karyl is a registered yoga teacher with over 400 hours of training in Asana, Pranayama, Meditation and Philosophy. She has additional training in Yin, Restorative and Yoga Nidra. Karyl teahces Ashtanga-based Vinyasa as well as Chair Yoga. Karyl loves helping students develop a mind-body connection through slow, strong movement and breath awareness.
Rules and Guidelines
• Walk to the teahouse starts at 10AM. Please make sure you are in the parking lot before then. Guide will meet you there.
• Guests must stay with the guide at all times.
• Wear appropriate footwear and bring a bottle of water. You will be walking on wooded trails.
• Alnoba's buildings are closed. Guests may use the portable restroom in our parking lot.
• Please bring your own yoga mat with you. You will need to carry it up to the teahouse.
• No dogs are permitted on the property.
Refund and Weather Policy
Tickets are non-refundable. Please note that all events at Alnoba are rain or shine. If an event is cancelled due to extreme weather you will receive an email notification. If you do not get an email notifying you that the event is cancelled, that means the event is still going forward as scheduled.
Your Ticket Purchase Supports Getting Kids Outside
All proceeds from these events go to support Kensington's Sawyer Park. This public park is 30+ acres of safe, beautifully-maintained space where families from across the Seacoast gather to meet, play and enjoy the outdoors. All proceeds from this event are donated and ticket sales are therefore nonrefundable.
About the organizer
Alnoba is dedicated to developing courageous leadership and sustainability models to help change people's lives, create stronger communities, and save the earth we share. We believe that it is through deep personal reflection and connection to our humanity and the natural world that we access passion and purpose—transforming how we lead, live, love, build communities, and honor our planet. Lead from anywhere. Make a difference. Go deep inside to come out strong. Care about community. Connect. Live mindfully. Walk the earth. Be wild again. Eat local food. Access passion. Find your purpose. Take risks. Give back.