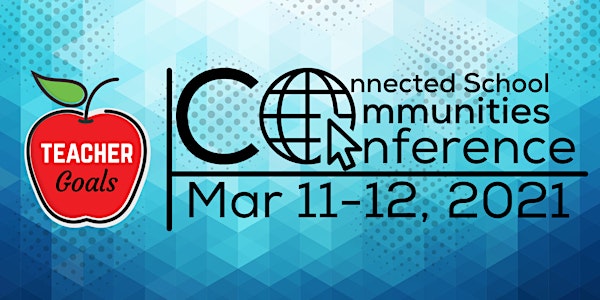 TeacherGoals Conference: Connected School Communities
Welcome to our inaugural conference! This action-packed event will focus on best practices and strategies for educators.
Refund Policy
Contact the organizer to request a refund.
Eventbrite's fee is nonrefundable.
About this event
Hosted by TeacherGoals, the "TeacherGoals Connected School Communities Conference" will focus on best practices and strategies for educators and some laughs along the way!
This inaugural conference will be action-packed and accessible worldwide!
This year's conference is...
Friday, March 11, 5:00 PM-9:00 PM EST
Saturday, March 12, 9:00 AM-7:30 PM EST
will feature up-and-coming speakers from across the world.
will feature giveaways and goodies from our amazing sponsors and presenters.
Can't make the event LIVE?
Don't worry we have you covered.
Grab our VIP ticket that gives you unlimited access to all sessions online for 90 days after the event for only $25. You can go back and view any sessions that you did not get to see live, or rewatch your favorite sessions! VIP tickets will grant you access to over 30 sessions! You will also get some digital SWAG only available with the VIP ticket!
Our all-star line up includes:
Keynote Speakers:
Jennifer Gonzalez, Editor in Chief at Cult of Pedagogy- "The Symbiotic Curriculum: Where "Real Life" and School are the Same."- For generations, many of our schools have operated apart from the communities that surround us. We prepare students for the "real world" without giving them real access to it. We seek expertise from textbooks and websites, missing the wealth of resources right down the street. We experience the consequences of community problems, but rarely see ourselves as the ones who can solve them. Now the world has changed: School has been brought home, improvisation and change are a daily occurrence, and communities have had to think critically about the value of education and how best to make it happen. Now more than ever, we have an opportunity to break with tradition and create a symbiotic relationship between school and community: tapping into local resources, solving local problems, and becoming truly active citizens of our communities. By hearing the stories of teachers and students who have done just that, we'll be able to imagine the possibilities for all schools.
Dr. Sheldon Eakins, Director of the Leading Equity Center- "Home Grown Advocacy: Empowering Families to Challenge Schools to See Beyond Race, Ethnicity, and Class."- This session discusses ways parents can learn to advocate for their children at schools. Dr. Eakins will share personal stories on helping parents ensure equitable practices for their children's needs.
Brad Weinstein, Founder at TeacherGoals- "Conference Welcome and Closing."- If you're an educator, this is the event for YOU! Brad Weinstein will be joining us to open and close out our virtual conference. This means he'll provide some opening remarks before getting into questions from educators around the world who want more knowledge on how they can improve their classroom management skills in order to create an engaging atmosphere full of creativity.
Comedy By:
Kc Mack, Teacher and Comedian- "Comedy Night with Kc Mack."- In this session watch as Kc Mack teaches from his own experiences, gives helpful advice on how not to fail in school or in life, and shares entertaining stories about students that need extra attention. You won't be able to stop laughing when you see this guy's epic performance with unforgettable dance moves too.
Brianna Richardson, Teacher and Comedian- "We Can't Make This Stuff Up." - Hey Friends! Join me as I address all things teachers. I want teachers to feel ready and well equipped for the rest of this crazy year in the classroom. I hope to give you all the tips and tricks to help you succeed and a few laughs along the way!
Featured Sessions:
Phyllis Fagell, School Counselor and Author- "12 concrete ways educators can help middle schoolers stay engaged and bounce back from anything."
Mathew Portell, Principal-"In the Midst of Opportunity: Trauma-Informed Education."
Malia Hollowell, CEO of Playdough to Plato- "Secrets to Powerhouse Classroom Management in the Primary Grades."
Zoe Weil, President of the Institute for Humane Education- "Educating the Solutionary Generation."
And more........
Brian Dinkins, CEO of the Center for Empowering Education- "Advancing Equity by using Emotionally-Inclusive Practices in the Classroom."
Mike and Nick Fio, Blankets of Hope Founders- "A Fun and Simple SEL Project for Grades K-12."
And many more to be announced! Find out more at www.teachergoals.com/conference