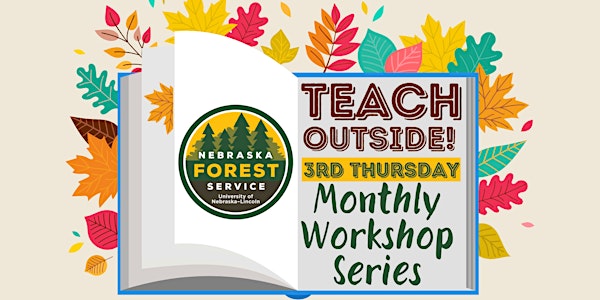 Teach Outside! Monthly Outdoor Learning Educator Workshop Series
Prepare for outdoor learning! Learn how to engage students in environmental education with activities featuring Nebraska Nature!
About this event
The Nebraska Forest Service is proud to announce a continuation of its FREE monthly workshop series for educators across the state, and country, for 2022-23. Join NFS and affiliated facilitators monthly on the 3rd Thursday at 3:30 pm CST to learn about how to better connect your students to the outdoors this school year!
Each month will feature different topics that highlight various resources and activities, promoting environmental and STEAM education in your educational setting. Network with other passionate educators while gaining new teaching strategies for connecting youth in your life to the outdoors. This workshop series is focused on formal teachers, but is also great for afterschool educators, early childhood teachers, nonformal educators, and everything in-between.
Participants will receive certificates for 1.5 in-service hours for childcare licensing and the background knowledge to lead STEAM-focused hands-on nature-based activities in their educational setting.
Questions?
Jack Hilgert - PLT and WET State Coordinator, Conservation Education Coordinator, Nebraska Forest Service, jack.hilgert@unl.edu, 402-472-9727
What Educators Say About Nebraska PLT Workshops
I love that I am able to implement the curriculums into program so easily! I have what I need at my fingertips! It's been fun to bring more nature into my classroom and the kids are eager to learn more and nature! Phenomenal trainings!
I learned different activities and ideas to implement activities in all areas of development and bring nature into my work with young children. The resources are very helpful. I recommend these workshops to other colleagues and friends!
I love going to the Nebraska PLT workshops and utilizing the curriculum because it enables me to get my students outside while learning. Every time I go to one of these workshops, I learn a new activity and ideas to share with my students, even after 21 years in education.
ABOUT THE CURRICULUM:
Project Learning Tree® (PLT) provides educators with high-quality professional development, hands-on activities, and multi-disciplinary supplemental curriculum that can be easily integrated into lesson plans for all grades and subject areas to help teach youth about trees, forests, and the environment.
Project WET stands for Water Education Today. Water is a part of everything we are, everything we eat, and everything we use. Yet most people do not even know where their water comes from, let alone their larger water footprint. Project WET provides educators, natural resource professionals, and more real-world, relevant, and hands-on lessons, that create an interdisciplinary learning environment focused on the most essential aspect of life—water.