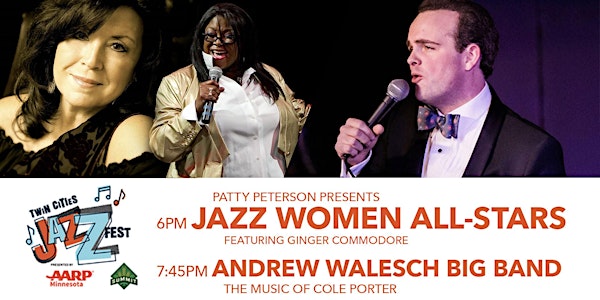 TCJF - Andrew Walesch Big Band / Jazz Women All-Stars
Presented by AARP and Summit Brewery
Performers
Patty Peterson, Mary Louise Knutson, Ginger Commodore, Linda Peterson, Sue Orfield, Joan Griffith, Jendeen Forberg
Andrew Walesch
Location
The Belvedere at Crooners
6161 Highway 65 NE
Minneapolis, MN 55448
This year the Twin Cities Jazz Festival takes up residence at Crooners for 3 exciting days of world-class music!
About this event
6-7:15pm - Patty Peterson Presents Jazz Women All-Stars featuring Ginger Commodore
7:45-9pm - Andrew Walesch Big Band The Music of Cole Porter
Also available virtually on Crowdcast HERE.
Friday night kicks off with Patty Peterson Presents Jazz Women All-Stars. In 2016, the Jazz Women All-Stars made a terrific debut at the Twin Cities Jazz Festival. This ensemble celebrates the great women of jazz artists in the Twin Cities, instrumentalists as well as vocalists. Patty has, once again, organized a prestigious line-up featuring Mary Louise Knutson piano, Joan Griffith bass, Linda Peterson vocals, Ginger Commodore vocals, Patty Peterson vocals, Sue Orfield sax, Jendeen Forberg drums.
Following the All-Stars is local favorite Andrew Walesch with his 10-piece big band celebrating the music of famed American songwriter Cole Porter. He has been featured on NPR's Mountain Stage.
The Twin Cities Jazz Festival, established in 1998, is a non-profit organization, with a mission to keep the art form of jazz alive and well in our community. Support for the 2021 Twin Cities Jazz Festival is provided by AARP and Summit Brewery.