Multiple Dates
Taza Truffle Making Workshop and Wine Tasting to benefit Project Bread
Description

Taza Truffle Making Workshop and Wine Tasting to benefit Project Bread
Presented by The Trustees
Chocolate and wine - the ultimate pairing! Satisfy all your wildest cravings and share a sweet moment with friends, family or a significant other making chocolate side-by-side. Plus, all the profits of this special class will go to our friends at Project Bread, a non-profit dedicated to preventing and ending hunger in Massachusetts. Help our community while eating chocolate and drinking wine? Yes, please!

This hands-on workshop has three delicious parts:
First, our Taza chocolate expert will teach you how to make dark chocolate ganache from scratch using the highest-quality stone-ground chocolate and farm-fresh Appleton Farms cream. You'll work in teams to create a pot of hot ganache and dip bread and cheese into this delicious treat (it's like fondue).
Then, Taza will join forces with the experts at the Massachusetts Wine Shop to lead the group through a mini wine and chocolate tasting & pairing class with three different wines and three different chocolates. You'll taste all the most popular Taza chocolate flavors of all intensity levels paired expertly with local Massachusetts-grown wines.
And last, you'll roll decadent dark chocolate truffles by hand; made with chilled dark Taza ganache. You will dip your dozen truffles into four to five different toppings and take them home in a box - to either share or horde.
We'll also have a local cheese board from Appleton Farms, the Boston Public Market's purveyor of over 100 Massachusetts cheeses.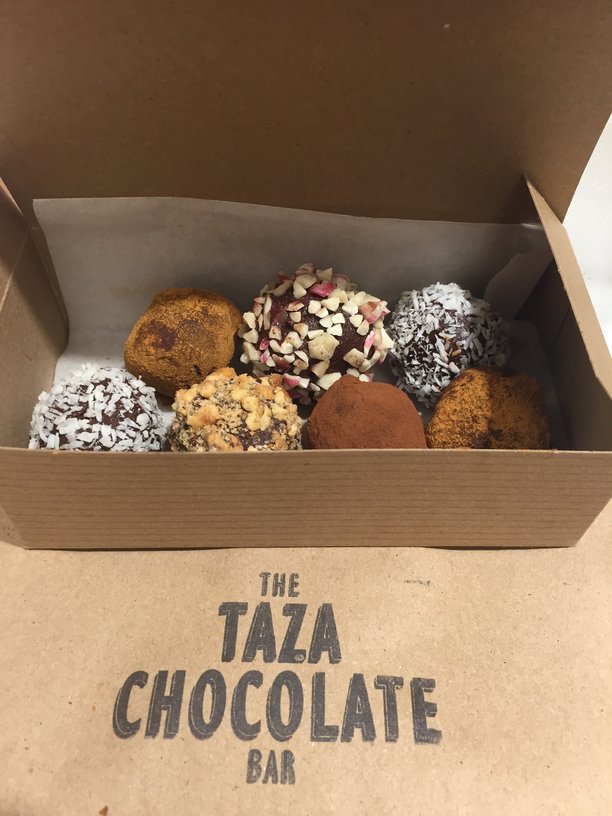 Decorations: We'll provide 4-6 decorations in which to roll your truffles. Toppings may include: cocoa powder, cinnamon, crushed peppermint candy, graham cracker, pretzel, and cocoa nibs.
Tickets: Each ticket comes with a dozen truffles. Tickets cost $60 per Trustees member and $75 per non-member (general ticket). Join The Trustees and save! Members save between 20-40% off all classes in The KITCHEN. Join the Trustees and show us your membership email and get the member rate. Join here.
Please note: We can provide a vegan truffle option, but all Taza chocolate contains traces of nuts, and so will the chocolate for this class. Please select VEGAN truffles in Eventbrite when you're buying your ticket.
About Project Bread
Project Bread is committed to preventing and ending hunger in Massachusetts. We provide access to food for people who are hungry today while working to break the cycle of hunger through advocacy, education, and community action. With the support of our partners, donors, corporate sponsors, individuals—and tens of thousands of Walkers—we work to break the cycle of hunger and poverty by devising, funding, advocating for, and facilitating solutions that change lives across the Commonwealth. As the only statewide anti-hunger organization, we listen and learn, identify needs and opportunities, and connect people, resources, and programs—in ways both tried and new.
Project Bread and the KITCHEN also partner together in one of Project Bread's community based programs. During school vacations, Project Bread's chefs teach children and families how to prepare healthy, tasty and low-cost recipes using fresh and local products from the Boston Public Market. Proceeds from your ticket sales will help support programs like Project Bread's classes in the KITCHEN.
Learn more about Project Bread at http://www.projectbread.org/
About Taza Chocolate
At Taza Chocolate we make stone ground, organic chocolate. Cacao is so complex in flavor that we want to let it shout loud and proud. That is why we do less to bring you more. We stone grind cacao beans into perfectly unrefined, minimally processed chocolate with bold flavor and texture, unlike anything you have ever tasted. Taza founder Alex Whitmore took his first bite of stone ground chocolate while traveling in Oaxaca, Mexico. He was so inspired by the rustic intensity that he decided to create a chocolate factory back home in Somerville, MA. Alex apprenticed under a molinero in Oaxaca to learn how to hand-carve granite mill stones to make a new kind of American chocolate that is simply crafted, but seriously good. To source the best cacao for Taza Chocolate, we cultivate direct relationships with growers and pay a premium over the Fair Trade price. We pioneered the first third-party certified Direct Trade cacao sourcing program in the U.S., to ensure transparency and fairness for all.

At the Taza Chocolate Bar, located in the Boston Public Market, visitors can watch as cacao is ground on-site in stone mills to craft fresh hot and iced chocolate drinks. Taza's full product line is also available for purchase. In addition to our Direct Trade Cacao Certification, Taza is Certified USDA Organic, Non-GMO Project Verified, Certified Gluten Free, and OU Kosher Pareve. Taza Chocolate is also dairy free, soy free and vegan.
About The Trustees and The KITCHEN
As one of the largest owners of agricultural land and the premier steward of the cultural and natural landscape of Massachusetts, The Trustees extends its leadership to transform the local food system by connecting residents and visitors back to the land and sharing the Commonwealth's collective agrarian heritage through innovative retail and educational experiences at the Boston Public Market in the heart of downtown Boston.
The KITCHEN is a community gathering place, managed by The Trustees, that is restoring the craft of seasonal cooking in Massachusetts, New England, and beyond through hands-on classes and educational experiences that celebrate the farmers and artisans of this region. Partnered with the Boston Public Market, The KITCHEN embraces a whole-food approach to eating and promotes cooking as an essential cornerstone of a sustainable food system.
Join The Trustees and receive 20%-50% off all classes, workshops, and events at The KITCHEN and all Trustees properties.
Program Refunds/Cancellations: In the event that a program is cancelled due to severe weather, low enrollment, or other circumstances, we will notify you as soon as possible by email and issue you a full refund within 14 days of the cancellation. If you cannot attend a program as planned, contact kitcheninfo@thetrustees.org at least 7 days prior to the start of the program to receive a full refund. Refunds will not be granted for registration cancellations placed fewer than 7 days before the start of the program. There are no refunds for missed classes. The KITCHEN reserves the right to change program locations, schedules, or instructors when necessary.