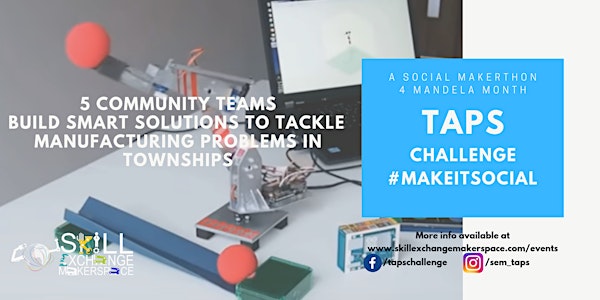 TAPS Challenge 2019
Come build solutions for Sebokeng's community challenges in Manufacturing to help solve real 21st Century problems.
When and where
Location
VUT Southern Gauteng Science & Technology Park, Sebokeng 5 Moshoeshoe Street , Sebokeng Vanderbijlpark, Gauteng 1983 South Africa
Refund Policy
Refunds up to 30 days before event
About this event
Join Skill Exchange Makerspace and it's league of DO-ERS- flagbearers of a problem-solving culture, as we host our first ever social Makerthon dubbed, TAPS Challenge.
TAPS Challenge is a problem-solving platform and social innovation concept that is being designed to facilitate community solutions design and development.
Today, innovation continues: We want to equal opportunities in South African townships. Which is why we have built this platform, to start, advise, lead, and invest in community-led social innovation. We call this TAPS: Team Action Problem-Solving and we would like to invite notable Makers, entrepreneurs, public stakeholders, community champions, activists, slacktivist and you, our partners to collectively solve Manufacturing related challenges faced by communities in and surrounding Sebokeng, a township in southern Gauteng, South Africa near the industrial city of Vanderbijlpark.
Our challenge statement is....
What Might Happen If : 5 multi-disciplinary community teams living and working in & around Sebokeng, redesign & build an effective response experience to manufacturing related problems using low-cost technology components to improve lives of community members socially & economically.
The workshops are designed to co-create community-led technology products & services with multidisciplinary stakeholders and end-users. The workshop will adopt the design thinking process incorporating IoT. The workshop will follow a 1 day Participant Induction, a 4 day Design sprint structure followed by a 2 day Prototyping live product development event for two shortlisted designs. Creating opportunities from solving local challenges over the social month of July.
Participant Induction
Day 1: Introduction, Preparation & Participant Screening
Design the Solution
Day 2: Empathize & Define
Day 3: Ideate
Day 4: Prototype & Testing
Day 5: Product pitch and prototype selection
TAPS Challenge Event I: Alpha Phase Workshop (Making)
Day 6: Proof of concept prototype
Day 7: Appearance Prototype
Requirements
Community Participants: Speak & write English, between ages 16 to 35 years, living, working or hometown is within the Vaal Triangle region. Completed or still to complete grade 12. Will be available throughout the event activities.