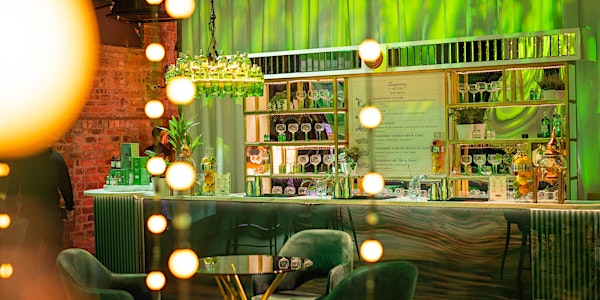 Tanqueray Townhouse: The Ultimate Experience for Gin Lovers
When and where
Location
Bloomsbury House 2-3 Bloomsbury Square London WC1A 2RL United Kingdom
Description
Baby it's cold outside. So join us inside our enchanting Tanqueray Townhouse this Christmas.
190 years on, we're back in Bloomsbury. Home to Charles Tanqueray's first bottle of gin. And for nine days, from 6th-14th December, we're inviting you into the elegant Bloomsbury House for some beautifully crafted cocktails, multi-sensory experiences, and if you're in the right place at the right time, access to our secret, mind-reading bar. How intriguing.
Start your experience in the Gifting Room – an emporium of limited edition Tanqueray gifts. Here you can add a personal touch to your chosen gin at the calligrapher's table, with labels, wax bottle seals and bespoke wrapping paper ready for you to get creative with.
Next, with your complimentary Tanqueray No. TEN and tonic in hand, ascend the grand staircase to the Library. Settle into a chesterfield, or dive into 200 years of Tanqueray's history as you sip on your T&T.
Explore the next level up and uncover more of the townhouse where rooms such as the Lounge await – let our bartenders showcase their enchanting craft from a menu filled with classics, like the Tom Collins, or new masterpieces like the Bloomsbury Sour. Then there's The Aura Room. Using facial recognition technology, this unique photographic experiment will pick out your perfect gin cocktail based on the colour of your aura portrait. It's true!
Last but not least, see if you can spot the inconspicuous telephone. If you linger near it long enough, you might be the recipient of an inviting call to the Townhouse's Hidden bar. Inside is an extraordinary gin experience. For lucky guests, you'll have your brainwaves analysed as you respond to the scents of various Tanqueray No. TEN botanicals. These results from your taste profile are then used to create a scientifically-tailored cocktail, ready for you to enjoy in the lounge.
So there we have it, for nine days this iconic townhouse is transformed into a home that's unmistakably Tanqueray. And you're invited to be part of our family. Step inside, make yourself at home and celebrate the festive season with us in style. Cheers!
Useful Information
When:
December 6th – 14th
90-minute ticketed sessions
Inclusions:
Tanqueray No.TEN & Tonic
Cocktail of choice
Bar nibbles

Where:
Bloomsbury House
2-3 Bloomsbury Way
Bloomsbury WC1A 2RL
Unfortunately, due to the nature of the townhouse there will be no disabled access.
Additional drinks available for purchase - card payments accepted only.
Access to the gifting room from street level – no ticket required to enter this space.
PLEASE CLICK ON 'TANQUERAY TOWNHOUSE' BELOW TO ACCESS ALTERNATE DATES