Celebrate Mid-Autumn with an enchanting night of Chinese music old and new, curated by Dr. Cheng Yu, culminating in two world premieres
About this event
From the traditional ensemble that dazzled the world on the Shang Chi soundtrack, comes a mesmerising experience of music both ancient and new.
Boasting a once-in-a-blue-moon instrumentation featuring the 4000-year-strong guqin, ear-tingling pipa, iridescent yangqin, cello, clarinet and more, this spirited programme will carry us through the evolution of Chinese music from antiquity to today.
Reflective melodies from 15th-century China dovetail with two exciting world premieres from trailblazing Belgian composer Johan Famaey and rising star of London's new music scene, composer Alex Ho.
The star of this concert is the beloved leader in the UK's Chinese music scene Dr. Cheng Yu (pipa, guqin), who will be joined by fellow members of the Shang Chi-featured Silk String Quartet – Wang Xiao (erhu), Muqi Li (guzheng) and Reylon (yangqin), alongside Colin Alexander (cello), Dennis Lee (xiao) and Rowan Jones (clarinet).
Programme:
Prelude to a delightful Evening 良宵引 for qin and xiao
Harmony between God and Man 神人畅
Flowing Water 流水
Ambushed from Ten sides 十面埋伏 for solo pipa
The Last Lord Li* by Johan Famaey 写南唐最后的皇帝李煜 for clarinet, pipa and cello
Three Six 三六 - Silk String Quartet
On Silk and Paper* by Alex Ho - Silk String Quartet
Butterfly (collective improvisation) - Full Ensemble
*world premiere
--
A Note on the Lineup: an earlier version of this event included the artist Jasdeep Degun (sitar) in the programme who has now had to withdraw from the event due to unforeseen circumstances. We have added new repertoire to the programme to make up for this change.
*** PLEASE READ: IMPORTANT COVID SAFETY PROTOCOL **
Our top priority is to keep our audiences and artists safe, so we will be taking precautions to ensure this event is COVID-secure.
ALL ATTENDEES WILL BE REQUIRED TO:
1. Present proof of full vaccination (both shots) on the door OR a lateral flow negative test result from the prior 24hrs
2. Wear a facemask for the duration of the concert, unless exempt
We will also be conducting temperature checks at the door.
Those who do not comply with the above precautions will be asked to leave the venue. We apologise for the inconvenience - these are necessary steps we need to take to make sure the event is safe and enjoyable for everyone. Thank you for your understanding.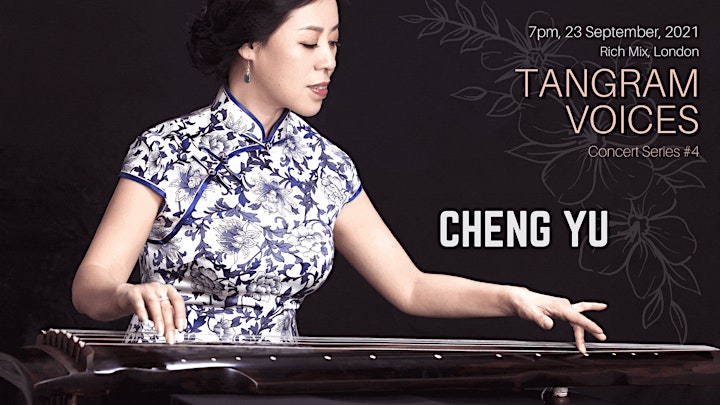 Cheng Yu is an internationally renowned pipa lute virtuoso and scholar. She holds BMus, MMus, and PhD degrees from China and the University of London. She is also the founder of the UK Chinese Music Ensemble and London Youlan Qin (seven-stringed zither) Society.
Born in Beijing, Cheng Yu grew up in the Gobi desert in Gansu, Northwest China, where her family was exiled during the Cultural Revolution. She studied the Pudong pipa style from her father from the age of seven and the Pinghu style from experts; she also studied guqin in the Xi'an Conservatory of Music and graduated with distinction in 1987.
Since 1990, she has been based in London and currently researches and teaches the pipa and guqin at SOAS. In addition to mastering and performing traditional music, Cheng Yu seeks to develop and explore the Chinese sound world in the West.
She has worked with contemporary composers including Tan Dun, Chen Yi, Xu Yi, Barrington Pheloung, Randy Edelman, Carl Jenkins, Trevor Jones and Fabien Tehericsen, and has performed with orchestras including London Sinfonietta, Lyon Ensemble Orchestral Contemporain, Avignon Orchestra, Edinburgh String Quartet and the World of Strings.
For more details, please visit www.ukchinesemusic.com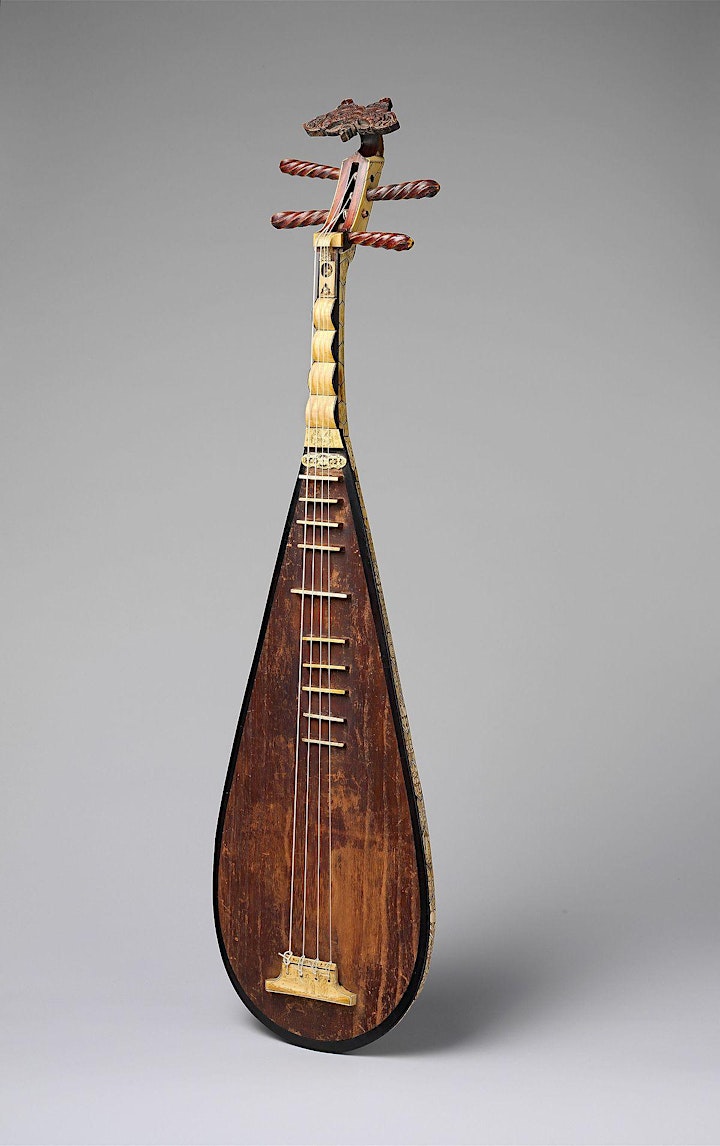 The Pipa
Descending from Middle Eastern and Central Asian lutes but distinct, both the four and five-stringed pipa arrived in China some 1,600 years ago. Transformed and musically expanded, they flourished during the Tang Dynasty (618-907 CE), and were exported eastwards to become the pip'a in Korea and biwa in Japan.
In 2003, Cheng Yu set out to re-create the five-stringed pipa and bring it back to life. The new instrument and its commissioned music acknowledges historical and geographical origins but is at the same time distinctively modern. The lower pitched fifth string enables the range to expand to beyond four octaves, and gives potential to form additional chords and a greater variety of tone colours.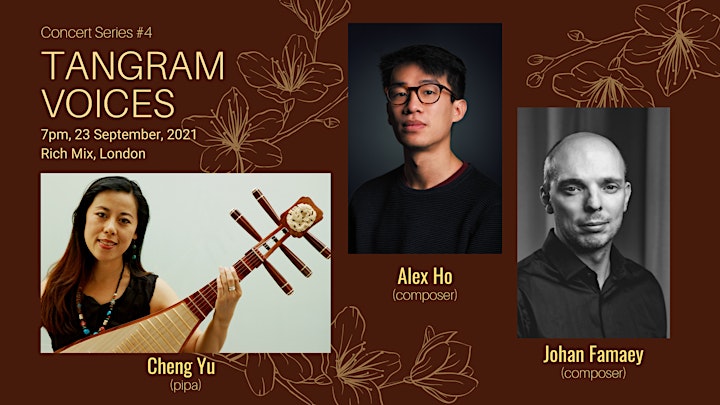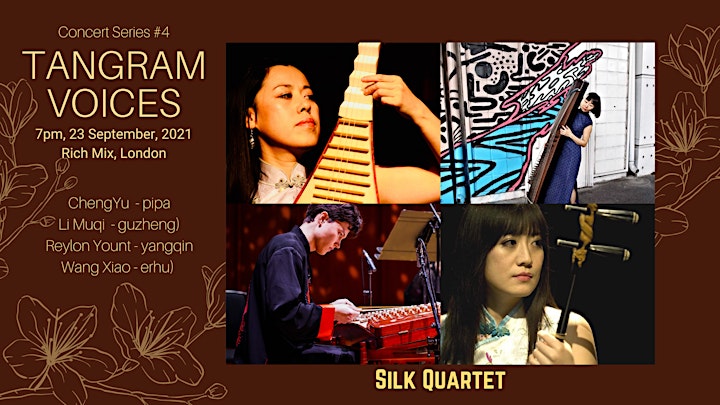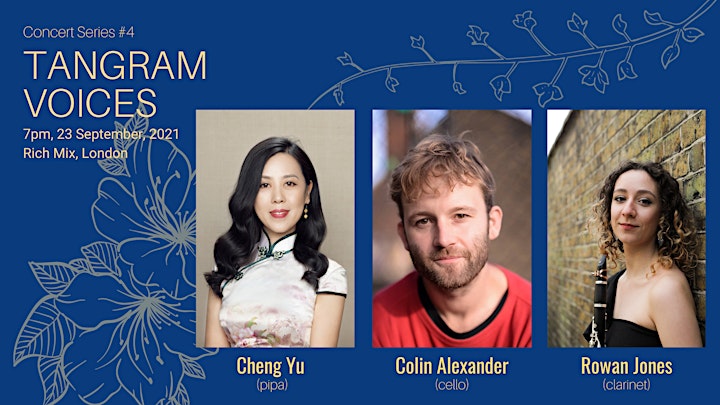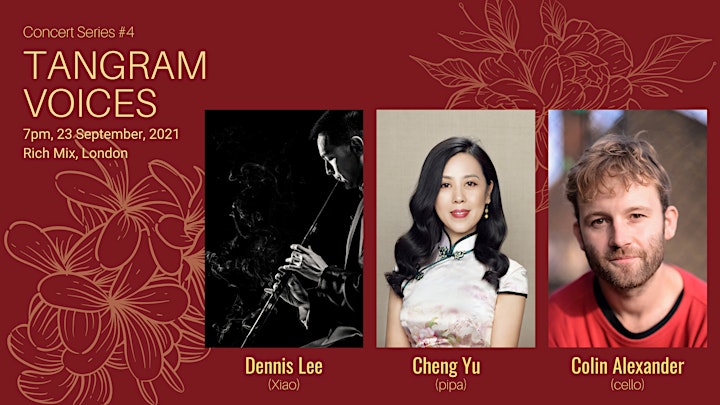 Alex Ho (composer)
Alex Ho is a British-Chinese composer based in London who has been commissioned by LSO, LPO, BBC Radio 3, Royal Opera House, Riot Ensemble and London Sinfonietta. He studied at Oxford University and is now completing a doctorate at Royal College of Music funded by a full AHRC scholarship.
Johan Famaey (composer)
Belgian composer and pianist Johan Famaey performed and composed with and for different ensembles in Europe and China. He has won the 'Verdi Keurmerk' and 'Cantabile Piano' composition contests in 2019.
Dennis Lee (Xiao)
Lee has been playing various traditional Chinese musical instruments since his early teens, and has taught and performed professionally for over 40 years. On the xiao flute, Lee specialises in traditional and crossover pieces and classical duets with the guqin in the "scholarly music" style. Over the years Lee has performed at various venues including the British Museum, the Victoria & Albert Museum, Covent Garden Royal Opera House, The Bramall (Birmingham), Rich Mix, The Place (Euston), the Trafalgar Square Chinese New Year Celebrations and the Cultural Olympiad "New Music 20x12" at the Southbank Centre.
Colin Alexander (Cello)
Having studied at the Guildhall and Royal College of Music, Colin Alexander is a composer and cellist working across a range of disciplines and traditions. Whilst performing with groups such as the BBC Symphony Orchestra, London Symphony Orchestra Ensemble, Royal Philharmonic Orchestra and 12 Ensemble, he also has written for the London Philharmonic Orchestra, London Contemporary Orchestra, Contrechamps and Le Nouvel Ensemble Contemporain.
Rowan Jones (Clarinet)
Rowan Jones is a London based clarinet player completing a BMus (Hons) at the Royal Academy of Music, where she holds a scholarship. Rowan has enjoyed performing with the RAM Symphony Orchestra and has also performed with the Academy Opera Sinfonia as Principal Clarinet. A keen chamber musician, Rowan is a founding member of Sylva Winds, a wind quintet formed at the RAM in 2019 where they received 1st place in the Nicholas Blake Woodwind Ensemble 2019/20 and the Digital Chamber Music Prize 2021.
Muqi Li (guzheng)
Muqi Li is a guzheng (21-string zither) performing artist, educator, and improviser from Beijing, China. She has lived and actively performed throughout China, England, Australia, and USA, developing a unique style informed by free improvisational and story-telling models as much as her traditional Chinese musical background. She has received a bachelor degree in Music Education from Capital Normal University in Beijing, a master's degree in Music Performance from SOAS, University of London, and a Graduate Diploma in contemporary improvisation at the New Englanatory of Music. Her interdisciplinary collaborations include improvised theatre, visual arts, electronic music, film noir and sound effects.
Reylon Yount (Yangqin)
Reylon is a yangqin player, Silkroad Artist and 2020 City Music Foundation Artist who has performed internationally at venues such as the TED mainstage, Lincoln Center and Xinghai Concert Hall. He made his recording debut alongside Yo-Yo Ma and Rhiannon Giddens on the 2016 GRAMMY Award-winning record "Sing Me Home." He holds a Tier 1 talent visa, and has won grants from Arts Council England, Help Musicians UK and Royal Philharmonic Society for his music.
Wang Xiao (Erhu)
Wang Xiao was born in Luoyang China, she learnt the erhu from the age of six and graduated from the Wuhan Conservatory of Music, China. Xiao was an erhu soloist in the Headquarters Arts Troupe of the Henan Provincial People's Armed Police. In 2001 she won the Gold Prize of erhu solo in the Henan Provincial 'Hundred Fountains Cup' Young Instrumentalists Competition. She then became the erhu and banhu fiddle soloist of the Luoyang Symphony Orchestra. Her performances took her to prestigious venues, such as the Purcell Room, the Royal Opera House, the Dartington Great Hall and LSO St Luke's.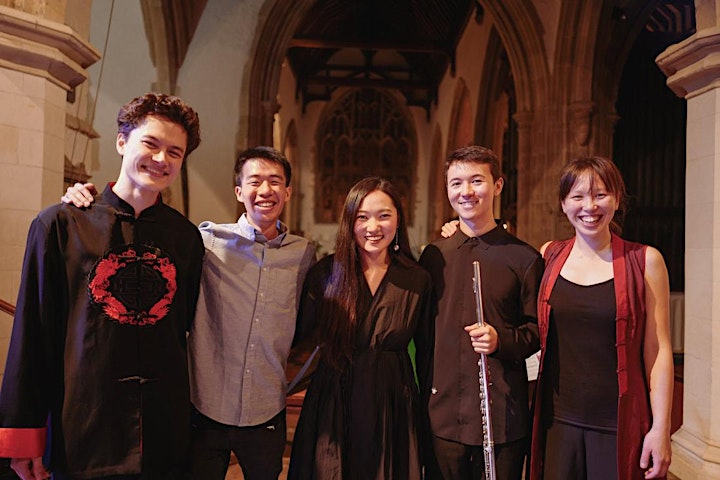 Tangram is a movement of transnational artists envisioning a future beyond the China-West divide. Tangram Voices is a new concert series providing a platform for emerging performers and composers to engage creatively with this vision by curating their own concerts. You can read more about our work at https://www.tangramsound.com/.
Stay up-to-date on our concerts and conversations by following us on social media:
A Note on Accessibility from Rich Mix:
The Stage is fully wheelchair accessible for audience members. The seats are all folding chairs arranged on the flat, so we would remove a seat to create a space for a wheelchair user if they were to book. We can accommodate any number of wheelchair users up to the ticket capacity limit.
If you have inquiries about access to the venue then you can speak to the Rich Mix box office team on 020 7613 7498 or visit their access page: https://richmix.org.uk/visit-us/accessibility/