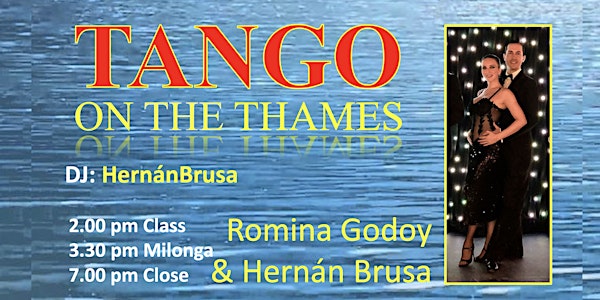 Tango on the Thames with Romina & Hernán
FLOORCRAFT IS AN ART! Hernán Brusa & Romina Godoy help you with "Changes of direction and turns in close embrace for a crowded dancefloor"
Date and time
Sunday, February 23, 2020 · 2 - 7pm GMT
Location
Saint Thomas's Hospital Westminster Bridge Road London SE1 7EH United Kingdom
About this event
In a 90-minute Special Workshop, they will generously share their expertise with us – after which Hernán has agreed to DJ for us and both of them will perform, too!
£20 Class + Milonga
£15 Milonga only
(…collected at the door).
The Shepherd Hall
St Thomas's Hospital
Westminster Bridge Rd
Lambeth
London
SE1 7EH
How to get there?
Whack the address into Google Maps, or…
BY TUBE:
Either WESTMINSTER, cross Westminster Bridge, St Thomas's on the right-hand side
…OR WATERLOO, Walk south-west on York Rd towards Chicheley St, Turn left onto Forum Magnum Square, Turn right onto York Rd, Turn left onto Westminster Bridge Rd/A302
BY CAR:
There is a pay car park at St Thomas's Hospital, which you approach from the south.
2.00 pm - 3.30 pm Workshop
3.30 pm – 7.00 pm Milonga
Romina Godoy
Romina Godoy, a professional dancer, choreographer and teacher of Tango Argentino. Romina was born in Buenos Aires, Argentina, and began dancing at the age of four years. She has developed her great attitude to dance through the study of various disciplines such as Gymnastics , Jazz , Hip – Hop and Ballet. She played the roles of dancer and choreographer for Argentine television and for famous theatres around the world, becoming a well-established professional on the scene. In 2001 Romina decided to devote her career to the Argentine Tango and began working in the most prestigious "casas de Tango" in Buenos Aires , where she was noticed by Miguel Angel Zotto , who wanted her in his company " Tango por dos " , with which she performed all over the world. In 2006 she moved to London where she began a distinguished career, receiving immediately enthusiastic accolades from the critics, both there and in Argentina and in Europe, as well Asia and in rest of the world, teaching and performing regularly in the most important festivals and congresses of Tango Argentino. In London she founded "Tangosoul", the largest Tango school in the city, which she directed until 2012 . In 2012 she participated in the play "Midnight Tango", which ran for over four months in the prestigious West End of London, with great success with audiences and critics, and toured all over the UK . At the beginning of 2013 she participated in the show "Tango Macho" that has been on tour in Italy for more than three months, in more than 50 cities . She currently lives in Genoa where Romina continues her career as a dancer and teacher of Tango Argentino in her new school, the "Tangodoy Academy".
Hernán Brusa
Hernán Brusa was born in Buenos Aires, the heart of Tango. He discovered this wonderful rhythm thanks to his grandfather, who had been a 'milonguero' during the golden age and always listened to Carlos Di Sarli and Aníbal Troilo in his house. When he lost his dear grandfather in 1996, Hernán's curiosity took him to a tango lesson with his sister- they started a weekly course with a disciple of the famous tango couple 'los Dinzel'. But he only discovered his passion when he first set foot in a milonga in 1997. Since then, his feet have not left the dance floor anymore.
He studied with many famous tango masters- with Alejandra Mantiñán, and Gabriel Angió & Natalia Games being the ones who shaped his style. He has been teaching since 2002 in various cities in Argentina, America, Europe and Asia. From 2003 to 2008, he dedicated himself to stage tango, performing every evening in the shows of Buenos Aires.
In 2009, he lived in Tokyo to work in a Tango school there. In 2010 he decided to take a break from tango as a career. Returning from Japan, he felt that something in his tango was not the way he wanted it and that his dance had not matured enough. He took on a "normal" job, continued to take private classes with his masters just for pleasure, and danced in the milongas almost every night until dawn for 4 years. Until he found his style. In September 2014 he went to live in Europe, where he returned to tango as a profession, dedicating himself mainly to teaching Tango Salón. He has brought Argentine tango to Italy, the UK, Belgium, Spain, Denmark, Israel, Turkey, Portugal and Switzerland, transmitting the style of the Buenos Aires milongas and the passion that has been in his blood for 2 generations.
Tango for Hernan is not just a profession, it is a way of living, a way of expressing himself by embracing someone and breathing together, of getting lost on the dance floor to the rhythm of an orchestra whilst time stops. In tango he has discovered a fabulous way to be happy.
About the organizer
For many years, Peng Newman and Tony Walker worked hard to make Tango on the Thames one of the best-loved Milongas on the London Tango circuit.
Peng is now the sole organiser of Tango on The Thames.