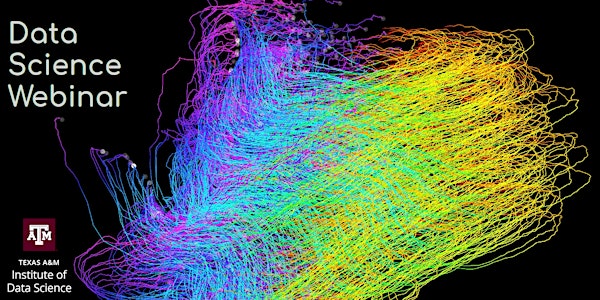 TAMIDS Data Science Webinar Series
Description
The Texas A&M Institute of Data Science invites you to attend the data science webinar series from Apr 1 to Apr 15, 2020. This webinar series is to introduce the fundamentals of data science (with python) to students and researchers from the Texas A&M University system.
Registration: FREE
Please register with your TAMU email address. If the tickets run out, the registration with non-TAMU email addresses will be canceled.
Prerequisites:
Familiarity with the basic programming, fundamentals such as functions and variables.
Agenda:
9:30AM - 11:30AM, Apr 1
Introduction to Data Science
9:30AM - 11:30AM, Apr 3
Graph Analytics with NetworkX
9:30AM - 11:30AM, Apr 8
Exploratory Data Analysis with pandas and matplotlib
9:30AM - 11:30AM, Apr 10
Machine Learning with scikit-learn
9:30AM - 11:30AM, Apr 15
Deep Learning with Keras
Webinar Instructions:
Depending on the number of participants, we may host the webinar on different platforms. We will use Zoom by default.
1. Please make sure that Zoom works fine.
https://it.tamu.edu/services/audio-video-and-telecommunication/audio-video/zoom/
2. Install Jupyter Notebook or JupyterLab on your laptop.
You can follow the instructions on https://jupyter.org/install to install Jupyter Notebook.